Cumbria-based Hyundai dealer Taylor & Braithwaite has sold the very first Hyundai R125LCR-9A in the UK to Stephen Smith Plant Hire, also based in Cumbria.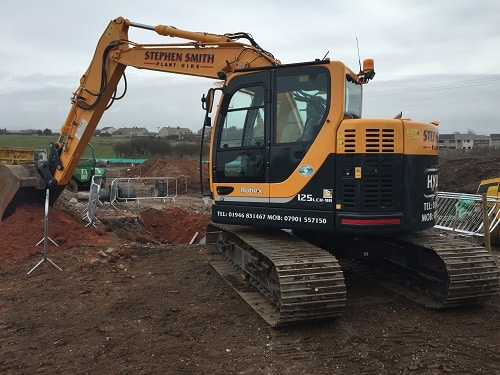 One man and his digger!
Stephen Smith is a 'one man one machine operator' who works all-around the Cumbrian region on building projects which include new-build housing developments. The brand new machine is currently being put to work on a small building project in the village of Seascale on the Irish Sea coast of the region.
Excellent customer service.
Stephen Smith said, "I have had two other machines from Taylor & Braithwaite (Caterpillar and Case) and I could not fault their customer service, which is why when I was looking to replace my old machine T&B was my first port of call. I saw the specification on the new Hyundai machine and was very impressed – the machine was not yet in the UK so I had to wait almost 12-months to get one!"
Short tail swing makes machine easy to maneuver.
Stephen continued, "I did consider the R145LCR-9A (14.5 tonne) but it was a bit too big for what I wanted so I decided to hold out for the smaller 12.5 tonne machine. The R125 machine is perfect for working on smaller sites where it's difficult to maneuver. The short radius swung it for me, no pun intended!"
"I am chuffed to bits with my new machine and every day working on it is a pleasure. I would like to thank T&B too for their continued support – a top notch local company." Concluded Stephen.
Taylor & Braithwaite's sales director, Ian Burton said, "We are delighted to continue our long term working relationship with Stephen and we're very pleased with the new Hyundai R125LCR-9A as it fills a gap in the Hyundai range, it is a perfect machine for building site/ groundworks and have high hopes for this machine. It is very important to our business ethos that we consistently look after our customer's however small or large their machine fleets are. I hope Stephen enjoys operating his new machine and brings him a good return on his investment."

About the R125LCR-9A
The 12.5 tonne midi short tail swing crawler excavator from Hyundai fits perfectly between the R80LC-9A, 8 tonne and the R140LC-9A, 14 tonne machines. This new weight class machine was first launched in 2014 at the Hillhead exhibition and, as Stephen Smith pointed out, is perfect for the UK market for use in urban areas where space is limited and where maneuverability is a problem. The boom is not offset, which makes the machine more compact when operating in 'tight spots'.
The midi excavator offers arm digging force to 6,140kgf and a bucket digging force of 9,200kgf. The machine has an operating weight of 12,500kg's and a maximum digging depth of 5,060mm. The R125LCR-9A cabin structure has been fitted with stronger but slimmer tubing for added safety and improved visibility. Low-stress, high strength steel is integrally welded to form a stronger, more durable upper and lower frame.
The R125LCR-9A is fitted with a Perkins 1204E Engine. The Tier 4 interim/Stage IIIB compliant engine provides maximum power, reliability, optimum fuel economy, and reduced emissions. Electronically controlled fuel injection and diagnostic capabilities add to the engines efficiency and serviceability.
The machine is also fitted with 'Hi-Mate' which is a unique remote management system, developed by Hyundai Heavy Industries. Through its GPS-satellite powered technology, customers can now enjoy an unmatched level of service and product support. With one press of the button, users are able to remotely evaluate machine performance, access diagnostic information and verify machine locations. It's even possible to program a virtual 'geo-fence' to prevent the machine from leaving a specific area.
Hyundai -9A series excavators are engineered to be extremely fuel efficient with a proven 5% fuel savings in comparison to previous models. New innovations like the variable speed remote fan, two-stage auto decel system and the new economy mode help to conserve fuel and reduce the impact on the environment.