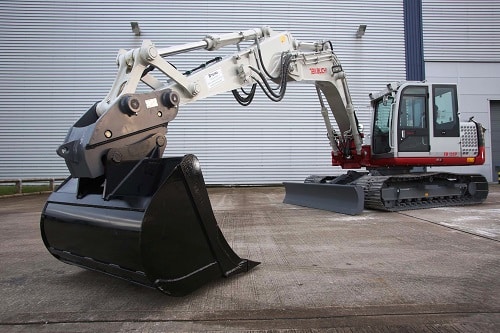 Hill Engineering Ltd is again exhibiting their multi award winning hydraulic quick coupler – TEFRA and a selection of their TITAN bucket range. In addition to this, Plantworx 2015 sees Hill Engineering exhibit two new ground breaking products – the new TEFRA Tilt and Tilt Rotate couplers. These two new product innovations are the latest editions to the award winning TEFRA family, which take all the advantages of the TEFRA Coupler, and provide their customers with the added benefit of increased productivity and versatility in multiple applications. The TEFRA Tilt and Tilt Rotate will be available for machines sizes ranging from 7-55 tonne, and like the TEFRA Coupler, they have been specifically designed to be almost maintenance free.
You can watch the video here – let Mike Roby, Hill Engineering's Sales Director talk you thorough the TEFRA and its many advantages – film made at Plantworx 2013…. TEFRA – The number one Coupler in the UK.

You can also find more about the TEFRA by visiting the Hill Engineering website..
http://www.hillattach.com/tefra-an-introduction/
Visitor registration is now open for PLANTWORX and entry is free for more details and to see a full exhibitor list visit
www.plantworx.co.uk
. Put 2nd, 3rd and 4th June in your diary and we'll see you at Bruntingthorpe Aerodrome, Leicestershire.