Nothing stands in the way of US contractor, Century Companies and its Volvo pavers, including runways, highways, athletic tracksand parking lots.

The Volvo 7110 paver creates a smooth mat finish
Tucked on the edge of the Rockies in picturesque Lewistown, Montana, Jack Morgenstern founded Century Companies Inc. in 1975. Over the past 40 years operations have grown from asphalt paving to concrete paving, excavation, underground utilities as well as heavy civil and construction management.
The company's major projects include asphalt recycling for Yellowstone National Park highway reconstruction and runway paving for regional airports. Century has four asphalt paving crews and eight portable hot asphalt plants, so it can supply its own asphalt mix. The company uses Volvo Construction Equipment (Volvo CE) pavers, including two of the latest P7110, 10-foot tracked pavers. The company has operated Volvo CE's Blaw-Knox pavers for many years and also has two Blaw-Knox PF510s, two PF3200s and a PF410 as well as Volvo DD70, DD118 and DD25B double drum compactors.
Paving for parking
About 10 miles from the North Dakota border on the periphery of the Bakken Formation is Sidney. The 'Bakken' is peppered with more than 6,000 active oil wells and is the largest oil field in the world, meeting 10% of US demand. With demand increasing Sidney and its neighboring towns are still struggling to keep up with the burgeoning demands on infrastructure.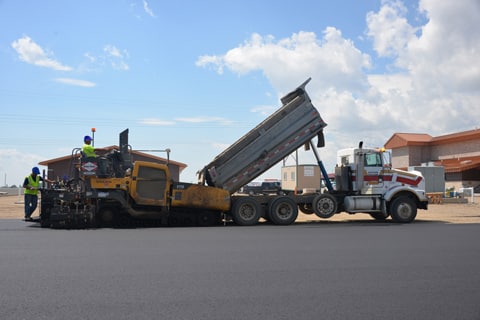 Town Pump, a major Montana fuel station and convenience store, is building a super truck stop just outside Sidney at the 'four corners' intersection on Montana Highway 16/200. Century was contracted for this project – one of its largest parking lot paving contracts – laying more than 5,000m2 (18,000 ft2) of asphalt. The crew laid two three inch (7cm) compacted base mat layers and a two inch (5cm) top layer.
"Overall the Volvo 7110 paver is a great machine," says Casey Vose, paving foreman at the Town Pumps project. "The greatest benefits are the ease of setting up the screed and the paver speed controls, which are very steady. You can set them and continue paving at a consistent speed."
Also, 20 minutes away in Lambert – a town of around 400 people – Century is paving a new athletic track and parking lot complex at Lambert Public Schools, a 120-student facility, benefitting from the region's sudden oil development and the revenues that go with it.
"The P7110 is very easy paver to operate, with smooth hydraulics and it gives a very nice crown," says Ken Damon, Century foreman at the Lambert track.
Performing on all projects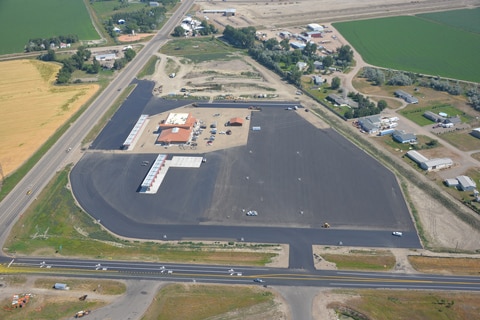 "We take on complicated, high spec jobs that demand a strong project management focus," says Century president and CEO, Tim Robertson. "We go where others won't and perform at a high level. There's vast distances between projects and there's less people and services in these remote locations, so we have to have reliable equipment in order to make a living out here. We have to be self-reliant, stay working and not lose any hours in the day. We squeeze a lot of work into seven months and can't afford downtime."
When the company purchased two Volvo 7110 pavers, Century sent a number of paving employees to Phoenix, Arazona, to attend a Volvo Road Institute course for operator and maintenance training on the Volvo 7000 Series pavers in order to prepare for the arrival of their new machines and upcoming paver season.
"Profitability is an important factor when purchasing machinery, says Jeff Patnode, VP of Century, who manages a fleet of 500 machines in total. "A large part of our decision comes down to owning and operating cost. As owners we want the best product. Asphalt is expensive. If there is any downtime and the asphalt cools, it's wasted. If you lose 40 tons of asphalt waiting at a job site while the paver is down, it gets costly pretty fast."
Peak paving
At peak season Century employs more than 165 people. Crews go out in April for the long haul, sometimes spending months away from home to hit deadlines. The company employs a full-time pilot who has two aircraft that transport parts and people from Lewistown at a moment's notice. About 95% of Century's projects are 100 miles (161 km) or more away from Lewistown as operations extend into Montana, North Dakota, Wyoming and Nevada.
"Century performs a mix of commercial and highway paving and finds the size, low profile and 360-degree visibility of the 7000 Series Volvo paver to be the right fit for its applications," says Tom Hunt, sales representative from local Volvo CE dealer – Tri-State Truck & Equipment. Century needed the pavers in Montana for spring so placed its trust in Tri-State and Volvo to receive delivery in less than eight weeks from the day the order was signed.
Volvo's pavers are equipped with the Omni 318 screed. The proven front mounted extension design provides superior control in every application. The front mounted extensions provide visibility across the full width of the screed and operators can easily maintain the correct and consistent mat when making adjustments to their paving speed, width and depth.
"There's been a definite shift in construction activity in eastern Montana that we have not seen in 40 years," says Patnode. "There's more competition, the job specifications continue to get more stringent and the equipment has to perform to a higher standard. The Volvo P7110s have allowed us to be more efficient and provide a higher quality finish for our clients."