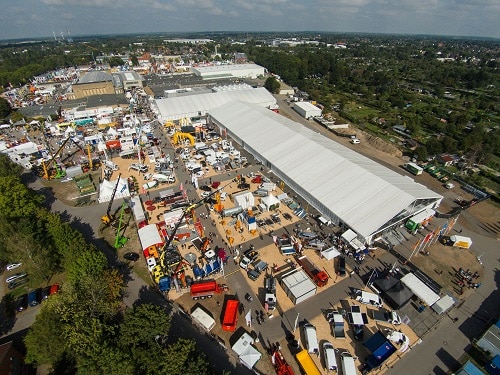 Neumünster. – Once more this year, the NordBau (9th to 13th September) in Neumünster offers a wide range of machinery and equipment for municipalities, cities and towns.
In addition, exhibitors in this field offer a complete range of services as well as services for gardeners and landscapers.
Visitors and professionals of the North German compact building fair are looking forward to the "Municipal and Environmental Engineering Best Practice Forum". The Schleswig-Holstein Association of municipalities together with the Contractors Association and the Road Construction Department and Transport of Schleswig-Holstein have been invited to the presentations.
Among other things, the topic "Quality often beats cheap" will be discussed. It shall be communicated that this is not only a benefit for the municipal budget, but also the satisfaction of the employees is encouraged. This seminar shows, for the first time, examples from different areas of municipal responsibilities, which, when viewed over several years, prove to be less expensive than the cheapest option or the cheapest offer.
That the NordBau has evolved into an idea exchange for professional machine use will be demonstrated once more in the open area in front of the Holstenhallen. Experts from the local authorities as well as employees from the "green industry" can expand their knowledge of diversity and quality in the use of modern technology. Here again: the cheapest option is not always the most affordable. The visitors will learn how to properly and effectively use municipal tractors, sweepers, mowers, rotary tillers or garden shredders and even how to properly and effectively spread salt at the booths. It also applies in the 60th exhibition year: The NordBau was and is like each year – whether in theory or practice – the main forum for municipal engineering in Northern Germany.
The event organizers are once more expecting a huge influx of young people at the Apprentice Exchange "nordjobBau". More than 1,400 girls and boys are expected at the exhibition grounds. They come from Mecklenburg-Vorpommern, Hamburg, Schleswig-Holstein and the northern Lower Saxony. Many of them have already made appointments with the exhibitors. Not only will their thirst for knowledge be satisfied. Besides countless special promotions and practical demonstrations on the topic "Fascination of a career in construction", they will also be assured of the excellent prospects in the building industry. The aspiring apprentices and students will be offered a colourful variety of training opportunities – from civil engineers to carpenters, from draftsman to technical system planners. And more importantly: the professionals will point out perspectives for the young people. So it is now possible to further one's studies with a master craftsman's certificate.
Every year, on approximately 69,000 m2 of outdoor area and over 20,000 m2 of hall space, the industry platform in the north offers over 900 exhibitors space to present the entire spectrum of construction with modern building materials and components, powerful machines, municipal machines and attachments for construction and trade as well as the latest energy technology.