Polish cement company, Cementownia Warta's Volvo EC750E crawler excavator is the first of its kind in Eastern Europe, powering productivity at its limestone operations.

Cement is arguably the most important construction material. Buildings, technical and industrial constructions, infrastructure facilities, dams, roads and bridges – you name it, they need it.
Thanks to cement, a Polish company, Cementownia Warta has constructed a rock-hard business. Founded in 1964, Warta has built a solid reputation in Poland for producing cement that is used for road construction, airports, dams and water stations.
The company has enjoyed a steady flow of ongoing work throughout the years. "The cement industry is stable, but we anticipate EU-funded infrastructures in the near future," says Dariusz Gawlak, managing director of Warta and vice president of the Polish Cement Association. The uptick should come as soon as next year, with figures set to rise by over 2.5% by 2018 according to the latest reports from the Polish Cement Association.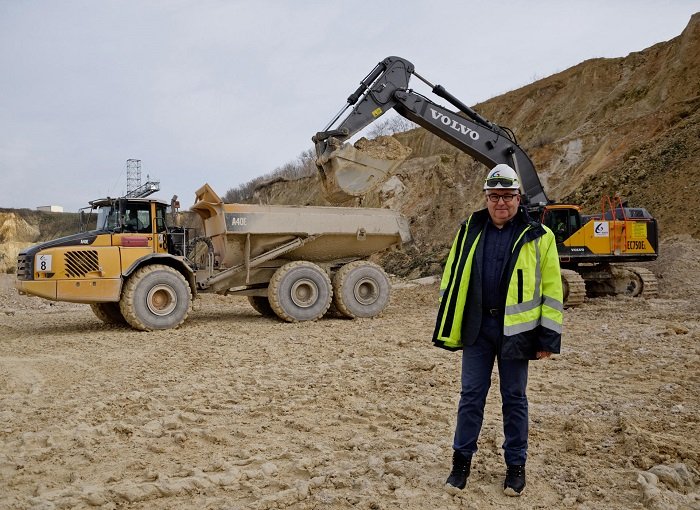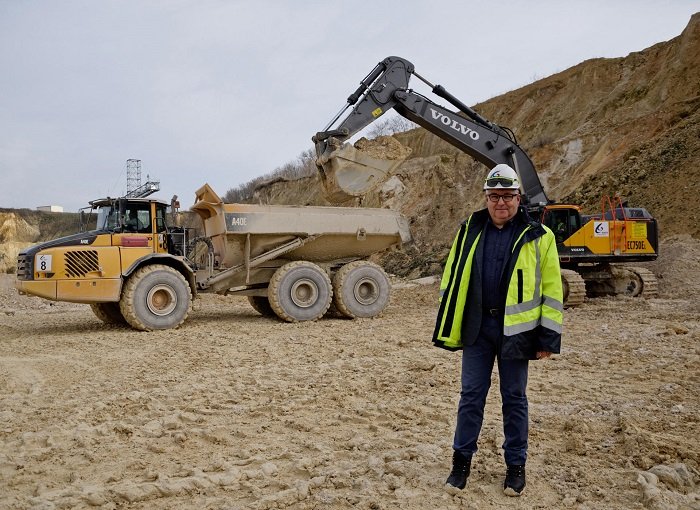 GREAT EXPECTATIONS
The future of the industry is bright, but the work is not for the fainthearted – particularly during the winter months, when the mercury can drop to sub-zero temperatures. To withstand the bitter cold winters, the company needed machines that could be relied upon to start. "Machine availability is the key issue," says Gawlak. Working throughout the entire year is necessary to support the high demand for cement and gypsum.
The key to mining limescale is the right equipment, and Volvo Construction Equipment is meeting Warta's demand by supplying a Volvo EC750E crawler excavator – a first for the company and region.
"It is great to be the first customer in Europe to receive the EC750E," Gawlak adds.
So keenly was its arrival anticipated that even before the 75-tonne crawler excavator had been unveiled at the Bauma exhibition in Munich last year in April 2016, Warta had already put in an order.
Warta is no stranger to Volvo CE. The company bought its first machine in 2008 – an L120F wheel loader, which is still working in the quarries. Over the last nine years, the fleet has expanded to include 20 Volvo machines: four crawler excavators (EC700B, EC700C, EC290C and now the EC750E), five wheel loaders (L350F, L220F, L120F and L120G) and 11 of Volvo's 40-tonne articulated haulers (models A40E and A40G).
"With so many Volvo machines already in our fleet, the decision to purchase another was obvious," says Gawlak.
DIGGING DEEP
The EC750E excavator was delivered to Warta in October and was immediately put to work in its limestone quarries.
"Our machines are required to work long hours while maintaining efficiency, so operator comfort and extended uptime are key requirements. It was for these reasons that the EC750E was the perfect fit for our needs," says Gawlak.
The EC750E offers innovative electro-hydraulic technology, optimized to operate in harmony with the robust engine, providing greater operator control and productivity. The model's cab delivers a low-noise operator environment Warta was looking for. Ergonomically positioned interfaces – including the joysticks, keypad and LCD monitor – and clear all-around visibility ensure maximum efficiency and ease of use.
Although the machine had only been operating on site for a few weeks, Gawlak expressed his approval of its performance. "It is a pleasure to be able to present the excavator in its natural environment, doing what it does best. So far, the EC750E is living up to expectations. It's also compatible with our Volvo A40E haulers, and when fitted with articulated hauler side extensions on the hauler body, gives 15% more hauled material with the same fuel consumption," he adds.
"Not only do the machines meet performance requirements, but Volvo has a good aftersales presence, which is essential to ensure machine uptime and ultimate productivity on site," says Gawlak.
PRIDE OF PLACE
The delivery of the EC750E to Poland is an important step for both Warta and Volvo CE. To celebrate its arrival, Volvo CE attended the handover ceremony in November at Warta's headquarters. The two celebrated the machine's 'launch' in the style of an ocean liner – by smashing a bottle of champagne over its flanks.
"There is no better way to celebrate this moment than to see the machine hard at work," says Rob Lane, business manager at Volvo CE. "Moments like this complement our customer's purchase experience, supporting and continually strengthening our working relationship."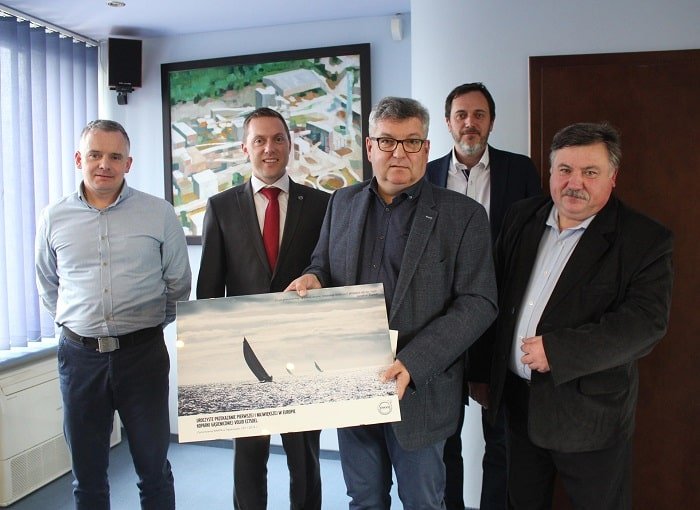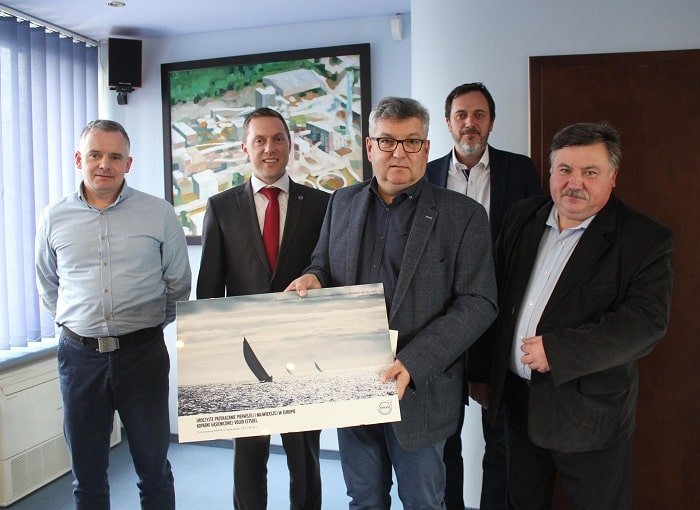 Caption 2: Warta managing director, Dariusz Gawlak on site.
Caption 3: L-R: Sebastian Broncel, Volvo CE; Rob Lane, Volvo CE; Dariusz Gawlak, Warta; Mariusz Wisniewski, Volvo CE; Slawomir Goszczak, Warta.