A dynamically changing situation in the Polish construction market has a direct bearing on the structure of the complementary market of construction machinery. The changes concern both the level and structure of imported machines and profitability of companies offering construction machinery and equipment. In the coming years, we expect excavators and backhoe loaders to represent a significant market share; we also anticipate low-level stabilisation in the category of tower cranes and a shrinking in the market of road rollers.
According to a report prepared by PMR entitled "Construction machinery market in Poland 2012 – Development forecasts for 2012-2014", only 20% of the absorptive power of the construction machinery market in Poland is satisfied through domestic production. Therefore, the construction segment generally must rely on imports of construction machinery.
An analysis of the structure of net imports of construction machinery shows that, for many years, Polish builders have remained focused on universal construction machines which can be used for various types of construction work. Different types of excavators and loaders remain unquestionable leaders. For many years, they have been the core of construction machinery stock and account for more than 80% of construction machines annually imported to Poland. Imports are largely represented by rotary machinery, which accounted for nearly 40% of total imports in 2011.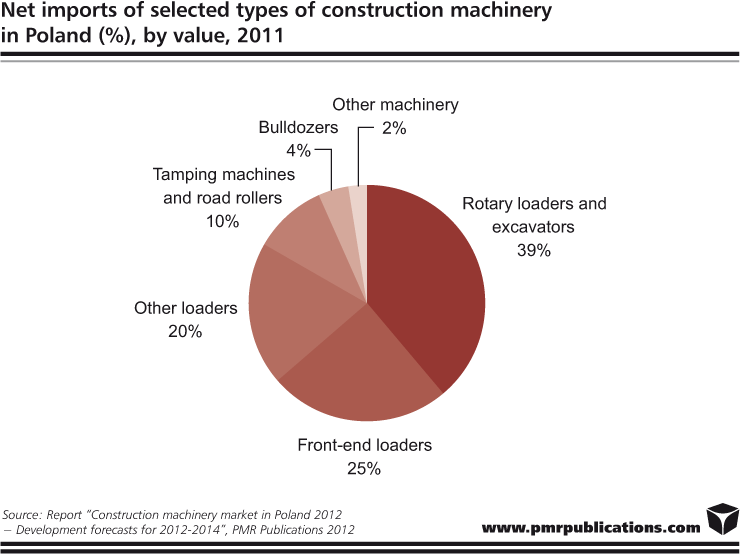 The years 2007-2011 saw major changes regarding the key types of construction machinery used in road and railway construction projects, which reported a marked increase. However, in all probability, the fleet of equipment intended strictly for road projects should be expected to shrink in the coming years. Since capital expenditure of the General Directorate for National Roads and Motorways (GDDKiA) is expected to fall as of 2013, capital spending on new construction machines will decrease and changes to the structure of the existing construction machinery fleet will follow. Furthermore, many companies have announced plans to transfer part of their machinery stock outside of Poland to markets where they will intensify investment efforts, e.g. to Russia where numerous sport-related investment projects will be underway soon.
In the recent years, the most significant changes occurred in the market of tower cranes. While in 2007, which proved an excellent year in terms of the value of construction machinery sales, the sales of cranes accounted for approx. 8%, the following years saw considerable declines. It was already in 2010 that their share decreased four-fold, while in 2011, tower crane accounted for a mere 0.5% of total imports of construction machinery. A direct cause of these developments could be attributed to the significant changes which occurred in the building construction segment. Slowdown in the segment of property developers, which started in 2008, curbed demand for more cranes on the market. Despite the recent recovery in this market segment, the coming years are unlikely to see any major changes in the cranes market. In our opinion, the market is well-saturated and the current stock of cranes is sufficient to meet the demand generated by construction companies.
However, in the long-term, companies operating in the construction machinery market in Poland should not have any reason for concern, partly because of the expected inflow of EU funds in 2014-2020 and the periodic need to renew construction machinery fleets. In addition, a review of the financial situation of the 35 top manufacturers, distributors and rentals of construction machinery shows that after margins recorded a dramatic decrease in 2008, they have steadily improved since 2009. The most recent data shows that the average margin generated in the segment was approx. 3%, while 20% of the companies post losses (compared to 26% in 2008).
This press release is based on information contained in the latest PMR report entitled "Construction machinery market in Poland 2012 – Development forecasts for 2012-2014".
Source: PMR