With a growing global population, the need for new or renovated infrastructure is becoming ever more prevalent. But how do we go about making sure that this infrastructure is sustainable? Dr. Paul Toyne explains on behalf of Volvo Construction Equipment (Volvo CE) how the circular economy, combined with an investment in technological innovation, is our most powerful tool in shaping the infrastructure of tomorrow.
Infrastructure provides all the vital services to keep an urban area functioning – that can be anything from transport and energy to utilities such as waste disposal. Regardless of whether it is sustainable or not our need for infrastructure is growing. This is for two main reasons: we have a growing global population which means a higher demand for infrastructure and, on top of that, a large proportion of this population is being born into or migrating into cities. Currently, over 50% of the global population live in cities and that figure is set to rise to 60% by 2030. With a staggering $350 trillion estimated to be invested in global urban infrastructure over the next decades surely, we need some seriously strong incentives to make sure that we build sustainably?
A JOURNEY OF LEARNING BUT… HOW LONG HAVE WE GOT?
Policy and industry attitudes are changing but is this change happening fast enough to mitigate the huge effects of climate change? In my opinion, public procurement strategies should be setting targets which are far more challenging to the industry, particularly on the environmental impact of the materials used and the finished asset in operation. But we are going to need a lot more than political will to mitigate pollution and improving efficiency in the construction industry. We will need further research and development (R&D) into areas such as digitalization, electromobility, virtual reality, 3D printing, new materials, the redesign of existing products, and the subsequent trialing of these innovations. This will involve new types of collaboration and business models.
Sectors such as energy are already investing heavily in R&D, for example in battery storage, and consequently advancements in efficiency and decarbonization. As this sector and others advance, the need for the construction industry to make changes becomes ever pressing. But in an industry that is so risk-averse, how can innovation and collaboration be promoted and invested in? One movement that aims to support collaboration between researchers, key industry players, and environmental specialists is the Construction Climate Challenge initiative hosted by Volvo CE. These different groups come together to share knowledge, costs, risks – and ultimately the benefits – of working collaboratively to develop new innovative ways to cut carbon in the construction and procurement industry. Presenting their experience demonstrating efficiency and associated cost savings helps advance new ways of working within the construction industry.
THE BENEFIT OF GOING ROUND IN CIRCLES
The definition of sustainable development is the process of maintaining a balanced environment that meets life's needs now and, in the future. The sustainable element of infrastructure is not just in the upfront design, construction methods and use of materials in the asset, but also its operation, maintenance, and disposal; and this is the basis of a circular economy. A circular economy is an economic system aimed at minimizing waste and making the most of resources. So, when designing and building infrastructure the whole lifecycle needs to be considered. We can then focus far more holistically on how to make the asset more sustainable – be that design for deconstruction or complete recyclability.
And the value of understanding the life cycle of materials is being widely recognized by industry and policy. The EU has estimated that by extracting maximum value and use of raw materials – through waste prevention, eco-design, and reuse – EU businesses could save €600 billion while reducing greenhouse gas emissions by up to 4%.
We're increasingly seeing more understanding of product responsibility and this has been reflected in a number of policies and product standards particularly in the EU. The EU's Circular Economy Package's (CEP) revised text states that improving the efficiency of resource use and ensuring that waste is valued as a resource can contribute to reducing the dependence on the import of raw materials and facilitate the transition to more sustainable material management and to a circular economy model.
Once we've identified all the steps in producing, using and decommissioning our infrastructure we have to go about making these steps not only sustainable but affordable. This will require investment to build capacity to execute these steps, which will, in turn, lead to the added benefits of upskilling the industry and creating jobs to support this new infrastructure. Procurement strategies, also known as balanced scorecards, help identify the best possible design to maximize the social economic and environmental performance of a whole project, and this is absolutely key. But these strategies need to be more ambitious to further stimulate innovation.
PAVING THE WAY FOR SUSTAINABLE INFRASTRUCTURE
One project that has come a long way in this regard is the Stockholm Metro Extension project. The entire project comprises of 20km of new track and 11 new stations. To aid the design process a template station was developed as a model for all the stations. To reduce the carbon footprint for the stations, the project team first calculated the cost and the carbon footprint for the template station (Figure 1). Concrete and steel were the main contributors to the carbon footprint.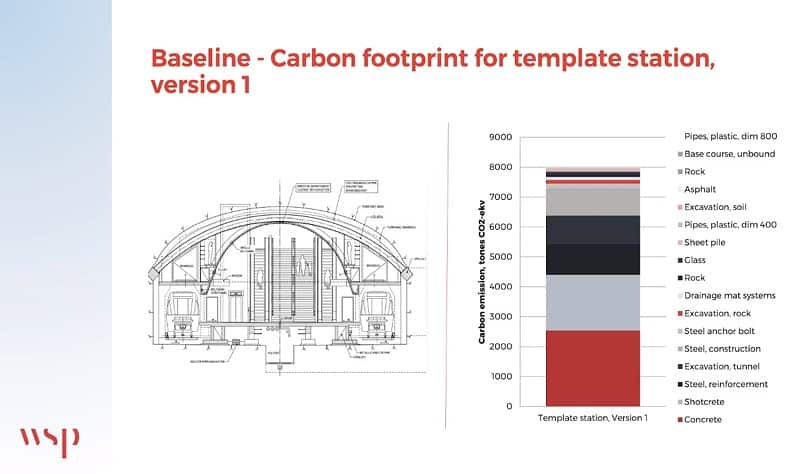 They then identified measures for reducing the materials and redesigning the station. The biggest carbon cuts came from the reduction of steel and the incorporation of recycled steel and other materials. The final step was to follow up the results and make a new carbon calculation to reduce the carbon even further for the second version of the template station (Figure 2). By following this process, not only was carbon reduced by 40%, but costs were also reduced by as much as 30%, as well as the physical amount of construction materials used.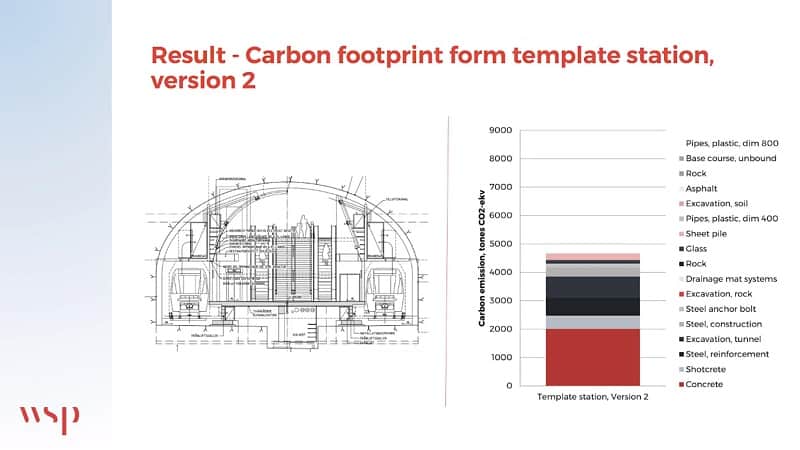 There is a long way to go but one thing is clear, conventional construction methods and processes with existing materials are not the future. We need to redesign products infrastructure and policy in an integrated way if we are to build a better tomorrow.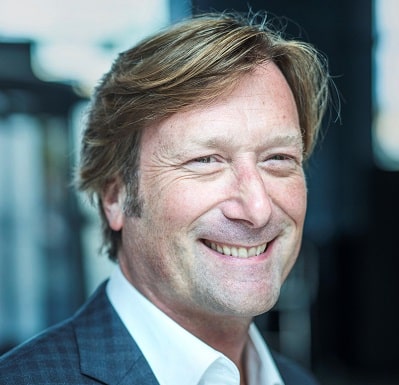 Dr. Paul ToyneDr. Paul Toyne is a non-executive director and independent advisor to business and government, specializing in the sustainable built environment. Prior roles include Director of Environment and Sustainability at both Balfour Beatty and WSP, as well as Head of Sustainability at Bovis Lendlease. His roles and associations today include; London Sustainable Development Commissioner, as appointed by the Mayor; membership of the Green Construction Board's Infrastructure Working Group; Chair of Constructing Excellence's Sustainability Group. To learn more visit: www.paultoyne.com


Source: Volvo CE Press