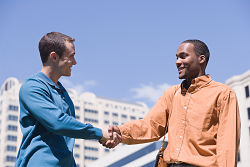 Construction events provide an excellent arena to meet new people and build relationships for mutual gain. Most businesses rely on networking of some type to win important contracts, meet new clients and connect with new partners.
It's now easier than ever to network and connect with new people. Here are some tips to keep in mind for your next construction event.
First impressions count. There's a limited time frame with business networking, so making a good impression will give you more influence. Presentation counts. Be dressed well, speak well , make eye contact and be professional.
Make it win/win. The best relationships are built on win/win situations. From the word 'go' you can set up your relationship with your contact in this way by allowing for a two way conversation.  Start by introducing yourself and then ask what the other person is looking for at the construction event when it comes to making contacts. Explain what your business does and ask people what their business offers. Determine together whether and how you can help each other.
Make it easy to connect. There are many ways to connect these days. For example Facebook and LinkedIn are popular methods. Ensure that your business card has several methods of connection to you listed.
Prepare for the event. Do your homework to find out who will be attending the construction event. There is usually an attendee list made available by the organisers. Some events provide an app where you can view business  names and contact before the day. Determine who you would like to meet and make a list.
Help others to connect. Although your goal will be to find people who you can work with to provide you with greater opportunity, you can build your relationships by connecting others together. This will increase your value to your connections and they will return the favour.
Network naturally. Just as you socialise with your friends, lose yourself in the moment. Your mind shouldn't be on the mechanics of networking but on enjoying the moment. Sounds a little Zen – well it is!
Good networking requires good preparation and a clear goal. Invest time prior to the event to prepare yourself to mingle with success by learning your pitch and identifying potential partners. On the day come across as relaxed, friendly and casual and you'll achieve what you want.