Revisions reflect latest industry best practices
The Association of Equipment Manufacturers (AEM) safety manual for Cold Planers (Milling Machines) and Soil Stabilizers (Recyclers/Reclaimers) has been updated to reflect the latest industry best practices for safe equipment operation, safe operation guidelines, and important equipment maintenance.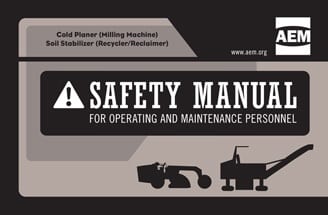 The manual is clearly written and illustrated with new pictorials. Key updates include:
Best practices for reducing dust created during operation
Modified hazard avoidance information to include both the cutting drum of a cold planer and the rotating drum of a soil stabilizer
Outlined responsibilities of all crew members, including ground personnel
Specific direction on hazard avoidance when the machine is operating
Manufacturers promote safety
AEM safety manuals are industry-consensus safety documents that offer a convenient and cost-effective way to provide safety information to operators. (The AEM safety manuals are not a substitute for manufacturer manuals.)
The AEM cold planer/soil stabilizer safety manual was developed by member company representatives working through the Association's Compaction & Paving Machinery Technical Committee (CPMTC).
"As a safety engineer, I am very pleased that technical groups like CPMTC work together to provide industry-consensus AEM safety materials that are widely known and accepted by operators, regardless of which brand they are using," said Georg Piller, a CPMTC member and director, product safety for Wirtgen GmbH.
All AEM safety manuals, videos, and related safety and training products are available online at the AEM Store (http://shop.aem.org). Some safety materials are offered in downloadable files or in DVD format. AEM members receive discounts on select material.
AEM safety materials cover more than 40 types of equipment used in agricultural, construction, forestry, mining and utility applications. Select materials are available in Spanish, Chinese, Russian, French and French Canadian.
For more information, contact AEM's Bobby Hoffmann ([email protected], tel: 414-298-4105).