Infra Oman, one of the exhibitions organized by Al Nimr expo, in an outstanding achievement has been awarded the most admired event in the Middle East at the CMO Asia- Event Industry Awards held in Singapore.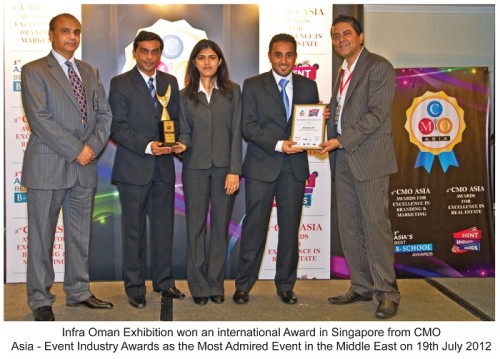 Salim Omar Al Hashmi, CEO, Al Nimr Expo, accepted the Award with gratitude saying, "For a young Omani exhibition company to be recognized and honored internationally is a proven testimony of our team efforts and hard work."
He also added, "I would like to take this opportunity to appreciate and thank HE Zakariya Hamed Al Saadi, Oman's Honarary Consul General in Singapore for attending the Award ceremony and heightening our achievement."
Melwin D'cunha, Director, Al Nimr Expo said, "This is the first exhibition company not only from Oman but the Middle east to win such an accolade. This award is followed by the Al Roya Award for the Best Business Enterprise –Private sector in January 2012 held in Oman and the Oman web awards for the best website in the event management category held in December 2011."
Jenitha Martin, project manager said, "Infra Oman is the ideal platform for all contractors and developers to meet, thus giving them an opportunity to present their projects and achievements and source their requirements. Infra Oman has grown significantly since its debut last year, thus establishing itself as the Middle East's leading infrastructure and industrial projects exhibition."
Al Nimr Expo is a well-established exhibition organizing company in Oman, comprising of an enthusiastic team of young, experienced and dynamic professionals, who have the passion and requisite skills to organize high profile events for prestigious exhibitors and clientele. Al Nimr conducts high quality and high-profile B2B trade fairs, country specific shows, corporate events, conferences, event management and festivals.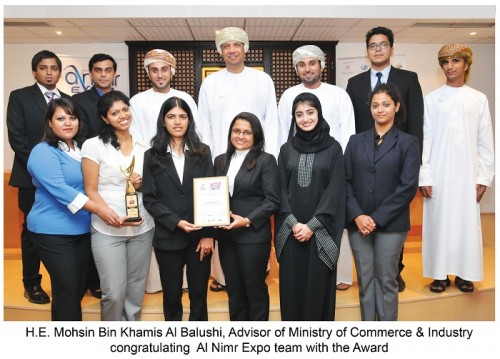 Al Nimr Expo is a member of UFI (Global Association of the Exhibition Industry) and a member of the International Association of Exhibitions and Events (IAEE). Al Nimr Expo are the organizers of the Infra Oman Exhibition, MedCon – International Medical Exhibition and Conference, Media and Advertising Exhibition, The Sports and Luxury Auto Show, The Indian Property Show, The International Textile and Clothing Exhibition (ITCE) and the Al Nimr Shopping Exhibition.

Source: Infra Oma News Room