The first two Volvo PL3005D pipelayers ever sold in Latin America are helping to build a 48 mile pipeline, transporting gas from an offshore platform to a processing plant in Tierra del Fuego.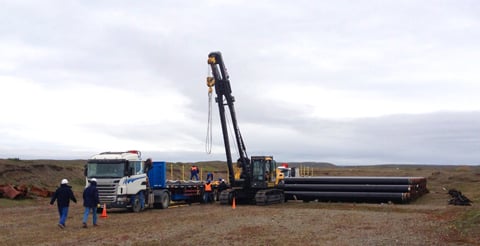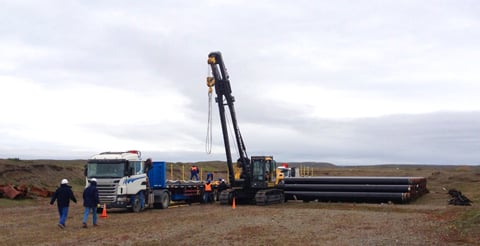 Tierra del Fuego also known as the 'Land of Fire' is part of the remote southern archipelago off South America. Chile and Argentina share its territory and the area's striking landscape guards hidden treasures, such as some of the world's largest shale gas reserves. Major investment from Argentina means that it will soon produce enormous quantities of gas and boost the country's struggling economy.
Argentina's increase in shale gas production has seen a leading engineering and construction company, EDVSA, embark on a project in Tierra del Fuego for Total Austral – a subsidiary of France's Total. The company has operated in Argentina since 1978 and contracted to lay 2.5 miles (4 km) of 24 inch (610 mm) wide pipes in order to transport gas extracted from an offshore platform on the Atlantic coast to its processing plant in northern Tierra del Fuego.
The project is part of a larger development to build a sea field just south of Tierra del Fuego's main island. The Vega Pleiades Onshore Facilities Project and Sealines Onshore Vega Pleiades Works consist of constructing a 26,000 ton platform (jacket and topside) and laying 48 miles (77 km) of pipeline. Once completed, the underwater field will produce 10 million cubic meters of gas per day.
At the center of the action
Two Volvo Construction Equipment (Volvo CE) PL3005D pipelayers are helping to build the onshore part of the pipeline. A crew of about 100 people, 15 of them pipelayer operators, are handling the work. Using their upper structure swing capability, unique to Volvo rotating pipelayers, the PL3005D's unload the pipes from the trucks and smoothly position them alongside the trench in preparation for welding.
The area is so isolated and sparsely populated that Volvo's dealer – Escandinavia del Plata, has been providing on site machine support. The company has been Volvo's dealer in Argentina since 2005 and the two new Volvo machines, built in South Korea, were shipped to the capital, Buenos Aires, and transported to Tierra del Fuego by truck.
"Tierra del Fuego is so remote and far south that it's safe to say Volvo's pipelayers are the most southerly located machines of their kind on earth,"
says Federico Lazaroni, Escandinavia del Plata's marketing and communications manager.
"The project took place early this year because it's the area's warmest months – with 20 hours of sunlight during the day and temperatures hardly surpassing 9 °C (48 °F). Engineers and operators have to acclimatize to the region's sub polar, oceanic climate."
Best tools for the job
"It's not an easy place to get to,"
adds Lazaroni.
"That's why it's very important to have a good support network in place for parts replacement and routine maintenance, so we can guarantee the project runs on schedule and on budget. Fortunately, we've been able to provide EDVSA with all the support they need. The machines are so efficient and reliable that they do not need to work extended shifts. They're so easy to maneuver and competent at what they do. Construction crews have to take advantage of what can't be controlled by people. We've been supporting EDVSA on this project and its operators are astonished by the machines' excellent performance."
Energy-sufficient future
Experts believe that there is substantial energy deficit to tackle because Argentina currently imports gas from other South American countries such as Bolivia. The discovery of shale gas reserves in Tierra del Fuego, as well as other areas in the country, makes Argentina the second largest owner of energy reserves in the world. Gas reserves were also recently discovered in the Vaca Muerta (Dead Cow) basin, near Neuquén. Some of the reserves are as big as Belgium.
The gas extracted at the Total Austral's Vega Pleiades platform is converted into Liquefied Natural Gas (LNG) for easy transport. From there, it goes on to fulfil domestic and foreign energy demands. Total Austral's project is helping Argentina to take a large leap towards an energy-sufficient future.
"Advances in shale gas extraction, such as we are seeing in Vega Pleiades, will help place Argentina among the biggest players in the energy market,"
says Lazaroni.