The inaugural PLANTWORX construction equipment exhibition earlier on this month (Stoneleigh Park, UK) proved to be a roaring success for County Down based Hill Engineering securing the company with sizable orders that could result in up to sales of over 700 products!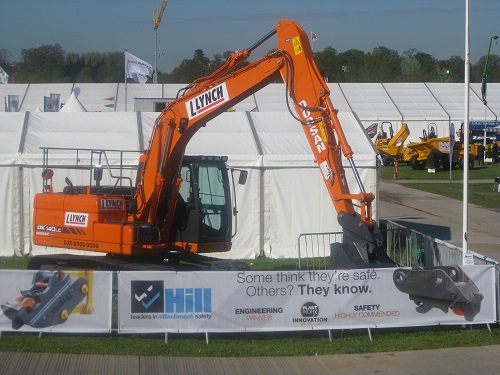 Hill Engineering was also the overall winner in PLANTWORX Engineering Innovation Award category for the TEFRA Quick Coupler and a close contender with a Highly Commended Award in the PLANTWORX Safety Innovation category – also with the TEFRA Quick Coupler.
Kevin Minton, director of the Construction Plant-hire Association (CPA) was on the panel of Judges for the PLANTWORX Innovation Awards – he said, "A prototype of Hill's coupler was on display at Hillhead but production versions were officially launched at PLANTWORX."
Kevin noted that Hill's coupler has an indicator which signals to the operator that the system has lost hydraulic pressure although the attachment will not detach from the coupler. The whole system gave 'can't-get-it-wrong' confidence."
Hill Engineering is now known as one of the UK & Ireland's market leaders in quick couplers, the new PLANTWORX exhibition provided Hill the opportunity to exhibit their core range of products and the impressive 48m3 stand space and demonstation area showcased their award winning TEFRA double-locking quick coupler range as well as a selection from the TITAN bucket range.
PLANTWORX resulted in Hill Engineering securing substantial orders for products across their range including the HILL TEFRA coupler and new orders for its External Coupler Sounder (ECS) which could rise to sales of 600 units to one major rental company alone .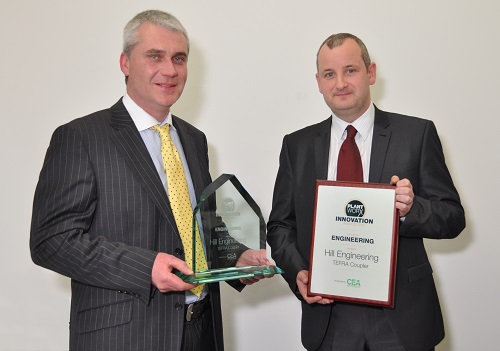 Excavator units supplied by Lynch Plant Hire and HM Plant showed the patented TEFRA in action. Jarlath Gilmore sales & marketing director Hill Engineering said, "The TEFRA range offers the coupler with the least moving parts of any product on the market providing strength and simplicity. It also incorporates many unique features and benefits such as the patented Hill Smart valve which ensures release in only the safest position."
You can watch a video of the product in action here



courtesy of Diggers & Dozers, who were filming at PLANTWORX.
Following on from the success of the PLANTWWORX event, Mr Gilmore added, "Hill Engineering is delighted with the Plantworx exhibition, the show proved a great success for us. We have been thrilled to be a winner in the innovation awards, which we feel is a recognition of our designs and our hard work to give the industry the best and safest coupler on the market."
"Our on-going rapid growth in sales cements our position as number one in our home market. We recognise how important our customer needs are and we will continue to do all we can for our customers to ensure that they continue to receive the best products and unrivalled support from Hill"

Source: Hill Engineering