In the Canadian city of Coquitlam, 4,000 tons of glacial clay is being excavated every day across a 90-hectare aggregate open-pit mine.
LaFarge in North America is the largest diversified supplier of construction materials in the United States and Canada. For the last decade the company has used Greater Vancouver-based contractor, Vertex Excavating, to work across its 90 hectare aggregate open-pit mine, exposing and transporting some of the best concrete aggregate material available on the market.
The mine is located in the heart of the Pacific Northwest rain forest, where the average annual rainfall exceeds 50 inches (1,270 mm). In the winter months it's even more challenging with more than 60 inches (1,524 mm) of snow falls on mountainous land. Sunshine is scarce, and mountain roads are steep, with many paths on an incline of 20 degrees or higher.
"We are dealing with a lot of steep hills," says Mike Pratchett, president of Vertex. "We also have to deal with almost two-mile (3.2 km) haul cycles and rain for 10 months of the year, resulting in muddy slippery slopes. You could say we have tough working conditions to contend with almost all year round."
Premier league
Vertex not only excavates clay and till at the mine but also clears the mountainside of logs, strips off the over-burden (that in some areas can be over a hundred feet deep), controls mine waste management and works with the provincial and local authorities on water management and environmental issues, as well as road building.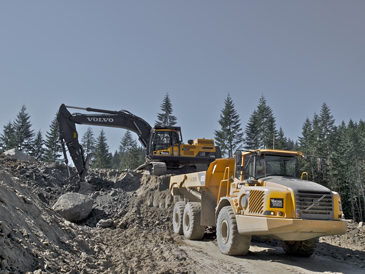 With this amount of responsibility, Vertex needs reliable and efficient machinery it can count on. Volvo Construction Equipment (Volvo CE) machines help to expose some of the best concrete aggregate – 4,000 tons every day. Vertex has no equipment in its fleet without the Volvo name on it. Its current taskforce consists of a pair of Volvo EC360B excavators, five Volvo A25D articulated haulers and a Tier 4-compliant Volvo EC380D crawler excavator.

A new breed
One of the first of its kind to be delivered in North America, the Volvo EC380D has set the standard with its powerful Volvo D13Tier 4i engine rated at 283 hp (208 Kw), maximum digging reach of 38.45 ft (11.7 m), maximum digging depth of 26.74 ft. (8.1 m), and a maximum operating weight of 39,399 kg (86,860lbs). This heavy-duty production machine can be used for quarrying, road building, truck loading, mining construction, mass excavation, utility trenching and more.
"When the machine arrived, we added a few additional accessories to it, such as the larger 60-inch (1,524 mm) digging bucket, a hydraulic thumb and, because our contract calls for log clearing, we added the falling object protective structure (FOPS) to guard the cab from falling debris," says Patchett. It's a tremendous machine, plenty of power, great stability, superior lighting and a cab full of creature comforts. Even in this till and clay that has been compacted for centuries, the excavator has allowed us to improve our cycle times."
Growing up with Volvo CE
The Vertex team is pleased with the performance of its Volvo A25D articulated haulers. "My dad started his business using Volvo machines, and I've been around them all my working life," Patchett explains. "When it came time to buy my own trucks, I wouldn't consider any other brand. Because of the efficiency of the transmission retarders and exhaust brakes, we haven't had to replace a single brake pad."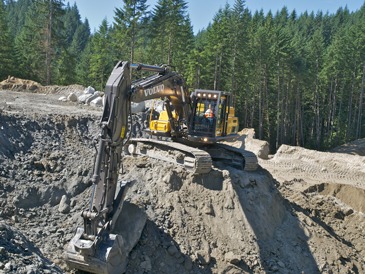 "We do everything that our customer asks of us," he continues. "If we don't have the equipment or the manpower, we'll go and get it. A satisfied customer is a happy customer, and we have a terrific working relationship with Volvo CE's dealer in the region – Great West Equipment. We do the daily maintenance, but when it comes to larger issues, we just give them a call and they're here."
Source: Volvo News Room