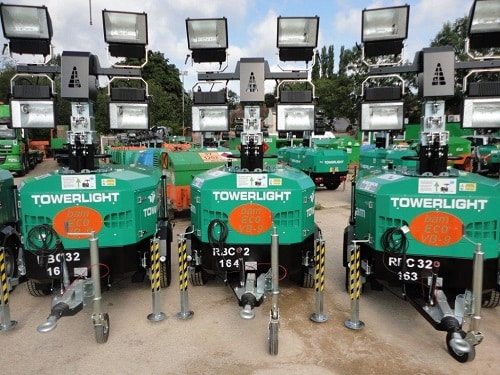 TowerLight UK have confirmed an order for fifteen VB9 lighting sets from the construction giant, BAM Nuttall Ltd. The VB9 is Tower Light's flagship product and incorporates a host of environmentally biased features which combines reduced operator costs alongside making a significant contribution to help preserve the wider environment.
BAM Nuttall, who are listed as a Sunday Times Green Company, place sustainability at the heart of their UK business strategy, therefore the environmental attributes of Tower Lights VB9 became a key driver in their decision to make this purchase.
"Due to the emphasis we place on maintaining and enhancing our environmental values, we always seriously consider the sustainability measures of all the plant and equipment we add into our fleet, "explained Andrew Haythorne, BAM Nutall's plant manager. "We were impressed that the Tower Light VB9 has incorporated many important environmental features without compromising its lighting output or its robust construction. We are sure that the VB9 will be welcomed on all our sites to provide safe lighting levels, whilst helping to keep fuel costs under control," confirmed Mr. Haythorne.
The principal feature of the VB9 is a 170-litre capacity fuel tank, with a running time between refuelling of 340 hours, an increase of 435% when compared to a traditional lighting set. This means that operators are spared from refuelling each light once week, to just once a month and the VB9's environmental credentials are further advanced with a carbon output of only 0.7kg/CO²/hour. Tests have indicated that the VB9 will reduce fuel usage by up to £336.00 per month by simply utilising a smaller diesel engine coupled with a series of electronics. This combination ensures that the metal halide lighting output is not compromised and remains at the HSE recommended levels, whilst the wider environment benefits from a lower carbon output, reduced by nearly 900kg.
These new VB9 lighting sets will be deployed on BAM construction projects throughout the UK delivering safe and secure lighting to BAM site personnel, sub-contractors and plant operators.
BAM Nuttall is an operating company of the Dutch company Royal BAM Group and offers a full range of civil engineering activities through a network of regional offices. These are supplemented by specialist group companies and a geotechnical division. Royal BAM Group consists of 25 companies around the world with employees totalling 28,000.
Tower Light UK Limited opened for business in Milton Keynes in May 2010 and is a wholly owned subsidiary of the Italian company Tower Light Srl. The company distributes the complete range of Tower Light products throughout the UK and Ireland. They are currently undertaking some manufacturing and assembly assignments on behalf of their parent company. Tower Light Srl is part of the US based Generac Power Systems Group.