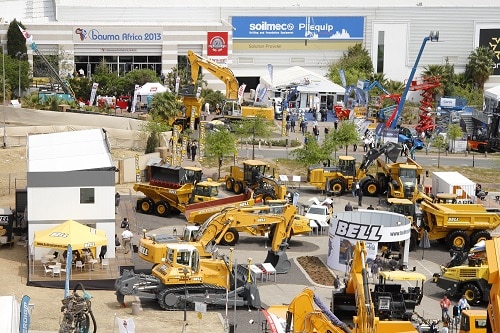 Photo:  Messe München
South Africa has some of the oldest and busiest cities on the continent, and with Africa's second largest economy it's a natural hub for the region's construction industry. Extensive infrastructure and a growing tourist industry mean there are always many projects under way, and plenty international contractors are active in South Africa. Bauma Conexpo Africa 2015, running in Johannesburg next month, is your chance to make an entry into this thriving market.
Bauma brings global industry to South Africa, with exhibitors booked from the UK, China, India, Europe, Australia and the USA. Local firms are also planning a strong showing, so expect all the latest from South African industry to be on display along with international products. Exhibits will include the full range, from materials and small fittings to heavy plant. South Africa is also one of the world's natural treasure houses of raw materials, both processing and extraction. Local projects can take advantage of this by sourcing many essential materials within the country and taking control of the whole process from mining to building site; Bauma will showcase extraction and processing systems to enable this.
Building in Africa can be a challenging experience for European or North American firms. It's always helpful to develop an understanding of the local business culture and regulatory environment, so events like this are a great opportunity to network with people who're already working there. Bauma Conexpo makes this easy with a pre-event matchmaking service; attendees can review other participants in advance and decide who they want to meet during the show.

There's a bonus expo running alongside Bauma this year – the first IFAT Environmental Technology Forum Africa will also be open for visitors at the same time. Products and services on display here tie in neatly with what's happening at Bauma – if you want to make your project as resource-efficient as possible you'll find everything you need. Environmental awareness and regulations are evolving swiftly in Africa and this is a very active market, so there are some great opportunities for anyone who's looking to get involved in the sector.
Bauma Conexpo Africa 2015 will take place at the Johannesburg Expo Centre from 15-18 September. JEC is one of South Africa's largest events venues and has outstanding facilities for an event like this. It's located within half an hour of OR Tambo International Airport and there are some excellent hotels in the immediate area. You'll also have easy access to central Johannesburg. Entry to Bauma Africa 2015 is free, and you can pre-register on the
event website
.