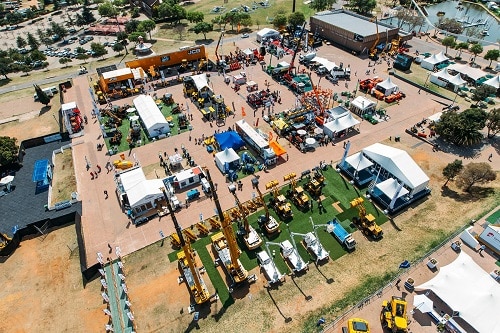 Significant increase in professional attendees from Southern Africa
616 exhibitors from 42 countries
More visitors from sub-Saharan Africa, and high-caliber participants: BAUMA CONEXPO AFRICA, which took place from September 15 to 18, 2015 at the Johannesburg Expo Centre, has established itself as the most important event for the sector in Africa.
14,300 visitors from 75 countries attended the second edition of the International Trade Fair for Construction Machinery, Building Material Machines, Mining Machines and Construction Vehicles. 13 percent of the visitors came from outside of South Africa with a significant increase in percentage from sub-Saharan Africa. The top five visiting countries from Africa besides the host country were (in this order): Zambia, Zimbabwe, Namibia, Mozambique and Botswana. In addition, for the first time there were delegations from Ethiopia, Kenya, Mozambique, Nigeria and Zambia.
Stefan Rummel, Managing Director of Messe München, expressed his satisfaction: "We have achieved our goal of welcoming more and higher-quality visitors from the sub-Saharan region. BAUMA CONEXPO AFRICA has now without doubt established itself as a platform for the industry that brings together African and international companies." Megan Tanel, Vice President for Exhibitions at the Association of Equipment Manufacturers (AEM), agrees: "Africa continues to be an important market for our North American equipment manufacturers. BAUMA CONEXPO AFRICA is the event to not only enter into the market but also to engage with existing customers."
In total 616 exhibitors from 42 countries showcased their new products and innovations for the African market on 68,000 square meters of exhibition space. The top ten exhibiting countries were (in this order): South Africa, China, Germany, Italy, the UK, India, the US, France, Turkey and Spain.
Despite the economic climate, the exhibitors made special mention of the quality of the visitors at this year's BAUMA CONEXPO AFRICA. Stephen Jones, Marketing Director at Bell Equipment, was satisfied: "The quality of the visitors has been really good – there were proper buyers." John Beukes, Managing Director at ITR South Africa, was also very positive: "Here at BAUMA CONEXPO AFRICA the quality of visitors, the seriousness is a lot more intense compared to other shows. It's a great mix of local visitors and neighboring countries. We had really serious people from the sub-Saharan region."
For the mining sector BAUMA CONEXPO AFRICA was once again the most suitable show, as Pierre Roche, Sales Manager at AARD, confirmed: "BAUMA CONEXPO AFRICA definitely is the right platform for the mining sector in Africa. We have seen our major clients but also new customers. We had visitors from countries like the Democratic Republic of Kongo, Zambia, Zimbabwe or Botswana. The sub-Saharan region was definitely well represented."
Rocco Lehmann, General Manager at Ammann, summed up the mood: "BAUMA CONEXPO AFRICA is the most important show in Africa. You have to be at BAUMA CONEXPO AFRICA – it's a must."
The next BAUMA CONEXPO AFRICA will take place in 2018 in Johannesburg.