During 4 days the 16th BAUMAG was the turning point for lucrative business, an information platform and meeting place for sustainable customer contacts. Building professionals from all over Switzerland and the neighboring countries gathered information about the latest technological innovations and novelties.


Ribbon cutting with the occasion of the BAUMAG 2013 inauguration, on February 21st: Andreas Hauenstein, Fair manager; André Biland, Business management ZAR Fachmessen Ag, Robert Küng, Government, construction, environment and economy manager of the Canton of Lucerne; , Dr. Daniel Lehmann, Director of the Swiss Contractors' Association; Hans Biland, VR-President of ZT Fachmessen AG. Marco Biland, Business management ZT Fachmessen AG (l-r).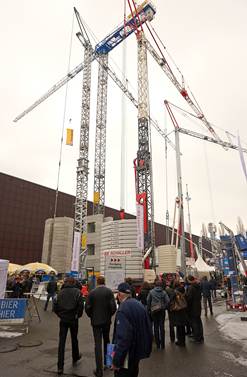 The quality trade fair took place in 4 halls, a tent and an expanded outdoor area as well as the demo site on the fields of Lucerne and enthused the 16,000 visitors who had traveled in, but also the over 200 exhibitors. Despite low temperatures, the industry specialists came to Lucerne to gather information on innovations in machinery, equipment and services in the construction sector.
On Sunday evening the exhibitors were highly satisfied with the show and the quality of the visitors, as confirms fair manager Andreas Hauenstein. "It is the only 2013 construction equipment exhibition in Switzerland, where exhibitors benefit from numerous personal meetings with customers and establish lasting contacts". On 20,000 m² the visitors were offered a representative cross selection of the branch technology. Efficiency up, emissions down was the motto of the innovative industry specialists. The specialized and interested public traveled from all over Switzerland and in considerable numbers also from the surrounding countries.
The brick laying demonstrations and mini-excavator competition were crowd pullers
In addition to the brick layers qualifications of Region for a possible participation in the Swiss Cup 2014, the popular mini-excavator competition during BAUMAG was a crowd-pleaser for all ages. While some presented with highest quality and full concentration the craftsmanship of bricklaying, others had their fun with the mini excavators.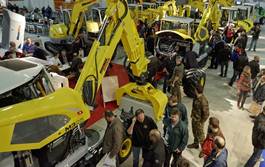 The 17th construction machinery fair takes place again in Lucerne from 22 to 25 January 2015