Show presence and establish new contacts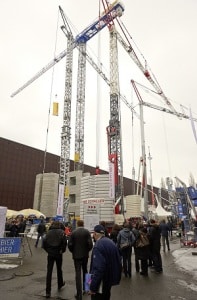 The bi-annual Construction Machinery Trade Fair BAUMAG starts on Thursday, 22nd January with approximately 200 exhibitors at the Allmend Lucerne and ends on January 25th, 2015.
The trade fair will be opened with opinions and statements from Politics and Economy by Mr. Jörg Krähenbühl, President of the Great City Council of Lucerne, Dr. Daniel Lehmann, Director of the Swiss Contractors' Association and Philippe Wingeier, President of the Swiss Concrete Drilling and Cutting Company (SVBS). The trade fair manager Andreas Hauenstein from ZT Fachmessen AG will moderate the opening ceremony and media briefing. At the end of the ceremony, the BAUMAG will be officially opened by the Managing Director of ZT Fachmessen AG, André Biland.
BAUMAG is aimed at entrepreneurs, decision makers and experts who are looking for solutions to manage future challenges efficiently and well equipped. As a trade fair for both experts and the public, it plays an important role for the entire economic sector and is also a top networking platform to gain lasting contacts and for information exchange.
Visitors have four halls and an open area in which they can see the variety of exhibited machinery and latest technology for themselves, participate in expert discussions and look into the various offers.
Controlled demolition in Action
For the second time, several companies from the concrete industry have come together for a special controlled demolition demonstration. In the rear of Hall 1, there is a wide range of spectacular equipment to be seen: Nine leading-edge suppliers of demolition machines and tools will present their equipment for core drilling, cutting and wire sawing of concrete on a 1200 m2 area. In Machinery Park there are also demolition robots and special equipment for deconstructions.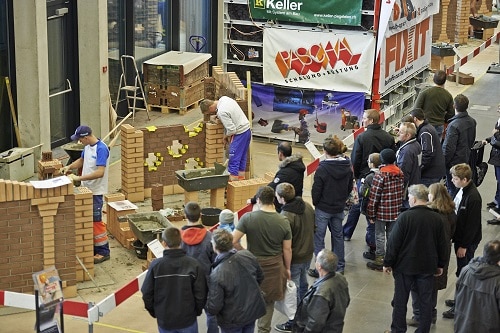 Highlights: Masonry Demonstration and Mini Excavator Competition
This attraction is not only interesting to an expert audience: Three young professionals who were already successful at the Swiss professional championships "SwissSkills" will create artistic objects from brick and cast stone with different colours and finishes, during the trade fair.
"One of the objects are the letters of BAUMAG and the other, the logos from Debrunner Acifer and HG Commerciale," announced Hanspeter Suppiger from the Mason Teaching halls, Sursee. Mr. Suppiger is responsible for the Masonry Demonstration.
Experienced and aspiring excavator operators can demonstrate their expertise and sensitivity, in three different disciplines. The trade fair Partners baublatt will reward the most skilled participants with attractive prizes in the popular Mini-Excavator Competition.