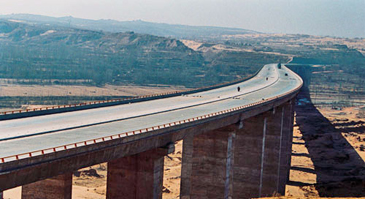 Four Volvo Construction Equipment pavers are being used to renew the surface of China's first desert expressway – stretching through more than 134 km of barren land to the borders of Inner-Mongolia.

Running through the Mu Us desert in China, also known as the Ordos desert, the Yulin-Jingbian Expressway connects Yulin city with Manggaitu on the border between Shaanxi Province and Inner Mongolia. The Shaanxi Expressway Group in the northwest of China contracted the Second Expressway Engineering Bureau of China Communications Construction Company Ltd. (CCCC) to complete a two-year asphalt paving project running through 160 km of barren desert land.
The impressive expressway, which was first built in 2003, plays a significant role in boosting the region's economy. It provides a fast route for commerce and freight travelers while providing them with an extremely smooth and peaceful ride.
The main section of the highway covers about 116 km and has three connection lines in Yulin, Hengshan and Jingbian, adding a distance of 18 km to the highway. The overall construction of the expressway – which cost 416 million CHY (50 million USD) – is now a decade old – and is in need of a smoother, more even surface, sufficient for speeding vehicles travelling up to 140 kmh.
Long and winding road
Call in the cavalry – Volvo Construction Equipment (Volvo CE) pavers are already on site. The new construction project is in motion with two Volvo P8820 tracked asphalt pavers and two Volvo DD118 double smooth drum rollers paving the vast 24 meter-wide road.
"We use Volvo Construction Equipment because it ensures excellent road quality, and if our customers need 24 hour service, Volvo and its agents offer a specially formulated maintenance plan with an excellent warranty," says Bai Feiyang, CCCC's section chief manager of operations. "Meanwhile, Volvo's values of quality, safety and environmental care are very attractive to us and our customers."
To enhance the road's environmental value, a manmade 'green ribbon' of vegetation runs parallel to the expressway – to protect the road surface from sand dunes being blown onto the road by all too common gale-force winds that ravage the desert. To block off the elements, this area covers more than 100,000 m2 being artificially greened with aerial seeding and planted with more than 60,000 trees, 28 million shrubs, flowers and grasses.
A big history
CCCC has 34 wholly owned, controlled subsidiaries across a number of construction segments. Based in Beijing, China's capital city, it is China's first state-owned transportation infrastructure group entering the overseas capital market and employs an incredible 113,000 people.
The company used to source its road machines from Ingersoll Rand (IR) and has followed on the tradition after Volvo CE acquired IR's road development equipment division. After 25 years, CCCC is still one of Volvo's long-term partners and continues to have a strong relationship with the company. However, as one of China's major construction enterprises, the Second Expressway Engineering Bureau of CCCC faces demand for high-quality engineering in a short timeframe. Volvo CE's short lead times helps the company to meet these criteria.
Quality and quantity
"We are up against the clock on this project," says Feiyang. "Working in the middle of the desert can sometimes cause logistical difficulties and we have less than two years to complete the asphalt paving. Knowing that we have the best Volvo machines on site makes me feel positive about hitting the deadline, as well as delivering excellent road quality."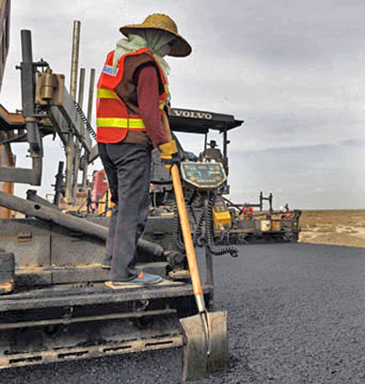 The quality of the paving needs to be faultless, as it has to pass the Shaanxi Authority Road Bureau acceptance test at handover and again after 10 months of operation. "Equipment reliability is a key factor for paving quality since frequent downtime can result in the need for re-paving," adds Feiyang. "It's handy that the Volvo DD118 double drum compactors come with a wide range of amplitude and frequency settings and are capable of producing a smooth finish with fewer passes, thereby reducing our job time."
Volvo's DD118 compactors are more than capable of handling the job, as they have been specifically built to handle diverse weather conditions – perfect for the Chinese desert. Powered by a quad-cylinder, turbocharged engine, the paver has an adjustable dual-pressurized water system, allowing operators to work at a far more efficient rate.
The DD118 paver goes hand-in-hand with Volvo's P8820 paver, powered by a 182 kW (247 hp) unit engine, which can climb steep dunes with ease while saving up to 30% fuel through its smart power function.
Dedication
Volvo CE's dealer for the region, Xi'an Tongguan Construction Machinery Co. Ltd. (XATG), provides a service plan for all Volvo machines onsite, and has a representative from the dealership working with the construction team at all times to ensure the machines' productivity and efficiency.
Two Volvo EC210B crawler excavators are also being used to deliver materials to the site and are heavily relied upon for the transportation of supplies to and from the team's location. About 120 employees work at the nomadic construction site, moving up and down the desert highway. The working conditions can be particularly problematic, giving rise to a number of challenges.
"The wind and dust reduce our visibility, which is hazardous because this job is all about creating a smooth and straight surface," says Feiyang. "So it's a good thing that the Volvo P8820 machines offer our operators an all-around view and provide a direct line of sight into the hopper."
The machine's ergonomically designed environment, the auger channel and work area provide the best conditions for achieving high-quality paving. The sitting position can be adjusted, as can the control panel, and the central control panel, featuring the latest Electronic Pavers Management II system (EPM II), can be swiveled, tilted and extended – all for the operator's comfort.
Once the road project is complete, travelers and commuters will be able to just sit back, and enjoy the smooth ride.
Source: Volvo News Room