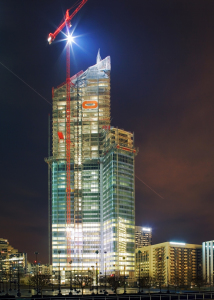 Bouygues Construction, a subsidiary of the Bouygues Group, is a French construction company specialising in building, civil works and electrical contracting and maintenance.
Established in Paris, 1952, as part of Enterprise Francis Bouygues, the company boasts an impressive portfolio of 52,600 employees and seven divisions. Today, Bouygues Construction is a major player in the international construction field, with a presence in every continent and overall in more than 80 countries worldwide, and has built up a reputation for excellence through challenging projects such as the High Environmental Quality renovation of the high-rise First Tower in Paris, which at 231m will become the tallest tower in France when work is complete.
The recent past has seen a number of new enterprises and efforts from Bouygues Construction, not least a dedicated effort to promote more environmentally-friendly building creations.
Similarly, the company's blog, 'Building Challenges', does exactly what it promises, by focusing on demanding feats of construction from the intriguing to the extremely innovative. It also reflects the company's dedication to the notion of sustainable construction and its 'green building strategy'.
Evidence of Bouygues' dedicated strategy is reflected across the company's portfolio, with perhaps one of the most shining examples apparent in 'Galeo', the new Bouygues Immobilier corporate headquarters built by Bouygues Bâtiment Ile-de-France (Bouygues Construction) in Issy-les-Moulineaux (southern suburbs of Paris). Galeo is an immediately arresting spectacle due initially to its illuminating blue shell. Go beyond the exterior, and what you witness is a myriad of cutting-edge building techniques. In keeping with the company's environmental theme, the building contains a number of features to help achieve a 'green' working ethic with minimum effort, as Community Manager and company blogger Franck explains:
"Clad with a double-skin composed of a concrete wall and glass "fish scales" that let the light through, this HQE building is the shape of office buildings to come: hot water is provided by solar panels, air conditioning and lighting adjust automatically depending on the weather, the flat roofs are green, and the office furniture and fittings are all eco-designed."
Over the recent past, the company has driven forwards an increasingly environmentally-friendly corporate plan, by not only making continued efforts to construct 'greener' buildings, but also to raise awareness of the possibility of doing so through social commitments and events, such as the signing of a five-year partnership with the Worldwide Fund for Nature's (WWF) Forest and Trade Network. In September, the company also received a prestigious Award for Strategic Change in the BFM radio Green Business Awards.
For further information on upcoming projects and events hosted by Bouygues Construction, you can access the company blog here.
Rebecca Byers