The 2010 event will once again feature an impressive and interesting program and act as a value-added feature of the annual ConBuild Vietnam series
The Infrastructure Vietnam program of Conferences, seminars and technical workshops are regular informative industry discussion platforms held during ConBuild Vietnam.
ConBuild Vietnam 2010, the 4th International Trade Fair for Construction and Building Machinery,Equipment, Materials, Vehicles, Technology and Services will open its doors in Hanoi from 1 – 4 December,the event having become a benchmark for the construction and building industry and is recognized as beingthe platform th at helps to form strategic alliances between local and overseas specialists.
The event, organized every year since 2007 by Messe München International (MMI) in close co-operation with the Vietnamese Ministry of Construction, is supported by approximately 28 other ministries, government departments, institutes and associations most directly involved in the nation's massive programme of infrastructure development.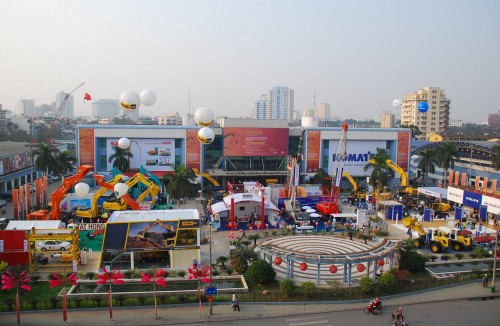 With over 200 exhibitors from 20 countries including national pavilions from China, Germany and Singapore,the international exhibition and conference is taking place at a time when overseas manufacturers and service suppliers are taking a keen interest in the Vietnamese market.
The conference and seminar program held in conjunction with the exhibition have been designed as a twoway industry flow, so as to keep both the international community and the Vietnamese public and private sectors fully advised of the latest developments, projects, and state of the art new innovations and technologies that are relevant for the industry to build on.
As these sessions are always in high demand and with limited seats, the organizers have set up preregistration support which is available at the ConBuild Vietnam website http://www.conbuild-vietnam.com.
The ConBuild Vietnam series has emerged as the cutting-edge leader in the building and construction sector for networking and exchange, and incorporates various accompanying programmes that facilitate business opportunities for all participants.
2nd December:
· German Precast Technology & Machinery Conference
· Unfired Wall Materials – Energy Saving and Environmental Friendly Material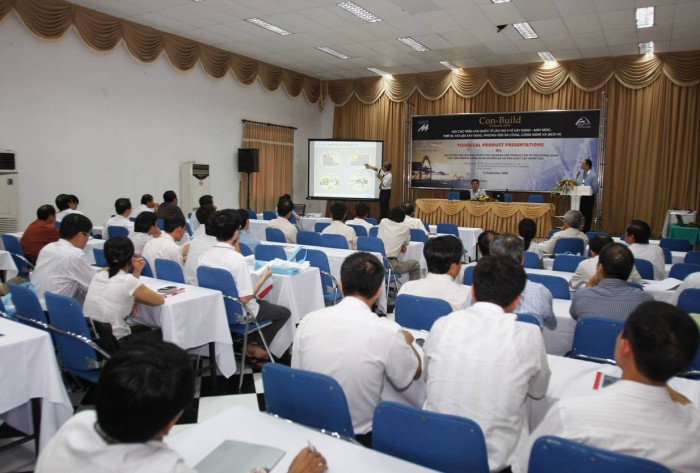 There will be two tracks on the 2nd December both running parallel to each other. The German Precast Technology & Machinery Conference will feature specialists in precast concrete presenting some of the most recent advances in this increasingly versatile and cost-effective material, with particular reference to its suitability for Vietnamese builders. Speakers will focus on subjects such as the way in which flexibility in design and economical production techniques are changing the entire concept of precast concrete, how 3D software can be used for precast concrete elements for use in walls, stairs, columns and beams, and how a new form of concrete uses waste materials to reduce product costs yet increase concrete strength.
The conference organized by the Vietnam Association of Building Materials, entitled "Unfired Wall Materials
– Energy Saving and Environmental Friendly Materials", has a programme providing an array of related topics such as:
· Gypsum Wall Materials Using Gypsum Taken from Thermo-Power Station Plants
· Aerated Autoclaved Concrete (ACC) Production Using Thermo-Power Station Waste (Fly Ash)
· Production and application of AAC Blocks and Panels
· Design and Manufacture of a Complete Equipment for Block Concrete Production
· Aerated Autoclave Concrete (ACC) Production
3rd December:Building Materials and Build Machinery "Made in Germany" Conference
This programme is organized by the Weimar Institute for Precast Technology and Construction (IFF) in cooperation with the CST and the Construction Equipment and Building Material Machinery Association of the German Engineering Federation (VDMA).
It includes a presentation from the Vietnamese Centre for Construction Science Training and TechnologyTransfer (CST) on new developments in Vietnam's construction sector, and the Vietnamese Ministry of Labour will describe ways in which working conditions are being changed and improved within the construction industry,
Presentations will focus on the development of building materials, processing technology and processing engineering, flexible manufacturing equipment and quality assurance and application of concrete products and precast components. Experts will describe experiences in setting up a precast factory in Hanoi, fast and economical techniques for manufacturing concrete pipes, and testing to international standards.
Besides this there will be keynote addresses delivered by renowned infrastructure experts at the Infrastructure Vietnam Conference, visiting delegations from the relevant Vietnamese building and construction industry bodies and associations who will be on hand at the event to meet with all participants at the event. Exhibitors have also a full programme of technical workshops lined up for the event. For moreinformation on all of the above visit www.conbuild-vietnam.com.
Some of the key international and local manufacturers and suppliers showcasing their latest equipment,products and supplies to meet the present and future demands of the immense construction and building growth of the Vietnamese infrastructure domain include Volvo, Kobelco Construction, Soilmec, Wirtgen, Johs-Rieckermann, Sakai, Linnhoff, Santa Margherita, Sichuan Construction Machinery Group, Dynapac, Demag, M & H Industries, Vietraco, Hormann, Vietserve Technology, Guangxi LiuGong, Cavico Construction, Breton SPA, Balkrishna Ind Ltd, and VLong.
ConBuild Vietnam 2010 will cover an area of over 10,500 sq metres of indoor and outdoor space at the Vietnam Exhibition Fair Centre (VEFAC), Hanoi, from 1 – 4 December 2010, and will be attended by visitors from throughout the country.
Source: MMI Asia Pte Ltd