The 5th edition of the event will show innovations that go far beyond paving in the construction and maintenance of roads and highways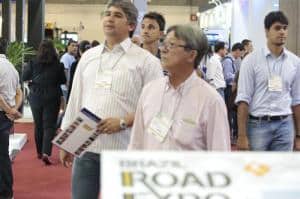 Brazil is still highly dependent on highways to flow its production, and, due to that, the quality of roads is a very relevant subject to the country in terms of competitiveness. In face of this scenario, the 5th edition of Brazil Road Expo, the main Latin America Road Infrastructure event, will be a stage for presentation of main innovations from manufacturers and distributors of equipment and products for construction and maintenance of highways and urban roads, bridges, viaducts, tunnels, asphalt and concrete paving, drainage solutions, slope retention, road safety, signage and management. The fair will be held 24 – 26, March, at Transamerica Expo Center, São Paulo, Brazil.
During the three days, the event expects to gather around 13 thousand professionals from agencies linked do the Ministry of Transportation such ad DNIT, ANTT and EPL, in addition to highways concessionaires, municipalities, machine and equipment rentals, contractors, engineers, and designers, among others. The expectation is that the event will generate business amounting to R$ 650 million. "Around 250 exhibitor brands will have the opportunity to present their novelties to a public of professionals with great decision power and who visit the fair looking for new solutions to their works", says Fernando Merida, Brazil Road Expo Commercial Manager.
And the sector highly demands new technologies. According to CNT Research on Roadways 2014, for example, which was released October last year by the National Confederation of Transports, from the over 98 thousand km of roadways assessed across the country, 47% presented some type of deficiency in pavement, with holes, cracks, depressions, waves. Signaling problems like age worn road markings or lack of signs represent 67%. The largest percent of problems concern roads geometry: 78% present deficiencies like lack of roadside, dangerous curves and long extensions of two-ways.
Novelties
This year the novelty in the content program is a managerial level conference to discuss matters like Differential Public Procurement Regime (RDC), Public-Private Partnerships (PPPs), National Plan for Logistics and Transports (PNLT), Roadways Concessions, among others. As occurred in previous editions, the program will also count on technical sessions on themes like equipment, asphalt paving, geotechnics, draining, urban mobility, signage and safety.
One of the highlights is that the event will host an Ordinary General Meeting of the Brazilian Association of State Departments of Roadways (ABDER), which will gather around 30 participants: DERs superintendents and executives from several Brazilian states, in addition to the entity members and guests.
Other novelties are being prepared to the exhibition, like the creation of areas dedicated to some key segments. One example is the Road Safety and Signage cluster, which resulted from a partnership with International Road Federation (IRF), and the Yellow Line Machinery cluster, led by São Paulo Association of Contractors and Earthwork Machines and Compressed Air Rentals (APELMAT).
Brazil Road Expo counts on the support from some of the leading entities in the sector like the Brazilian Association of Highway Concessionaires (ABCR), National Association of Roadway Works Companies (ANEOR), Brazilian Paving Association (ABPv), among others.
Service
Brazil Road Expo 2015 – 5th edition
Date: March, 24 to 26, 2015
Location: Transamerica Expo Center
Address: Av. Dr. Mário Villas Boas Rodrigues, 387 – Santo Amaro – São Paulo
Further information: http://www.brazilroadexpo.com.br/