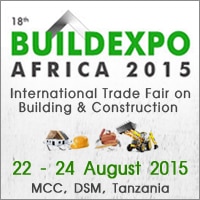 Dar es Salaam is a city of superlatives. The largest and richest city in Tanzania, the most populous in eastern Africa, the greatest concentration of Swahili speakers in the world. As well as Tanzania's business capital it's the country's gateway to international travel and business, and a major regional financial centre. It's also growing and modernising rapidly, and that means it has one of the busiest construction sectors in Africa. The 18th annual BuildExpo Africa will showcase that from 22-24 August, at Dar es Salaam's Mlimani Conference Centre, and it looks like being a spectacular event.
BuildExpo Africa, as the name suggests, is more a regional than a national event. That makes it a natural venue for international companies as well as locals. Exhibitors registered so far come from at least 20 countries, in Africa, the Middle East, Asia, Europe and even Australia. The full spectrum of industry products will be on display, from small fittings and building materials to plant and environmental systems, as well as some leading specialists in tools and finishes. Both major project contractors and small builders will be well catered for by the broad range of exhibits. You'll also be able to talk to contractors and manufacturers familiar with Tanzania and its neighbours, and pick up some invaluable advice about how to plan and run a project there.
BuildExpo Africa is organised by conference specialist Expogroup, who have almost two decades of experience in the Middle East and Africa; it's also supported by Tanzania's National Housing Corporation and the Association of Citizen Contractors, each of whom brings a wealth of local knowledge to the event. Bidding for or working on a project in Africa often needs a different approach to what works in North America or Europe, and that's where networking with veterans of the region really pays off. You'll also have the chance to look at emerging players in the international industry – Turkey is scheduled to have an impressive presence on the exhibitor's list, for example, and neighbouring Kenya will be well represented too.
The Mlimani Conference Centre is conveniently located in Dar es Salaam's Oyster Bay district and has good links to both Julius Nyerere International Airport and the city centre. While Tanzania's capital is now located in Dodoma most government offices are still in Dar es Salaam, making this expo an unmissable opportunity to build links. BuildExpo Africa 2015 is free to attend and bookings can be made through the event website.