Medium-term prospects for Bulgarian residential construction market are cautiously optimistic, with a moderate positive outlook for long term developments. The stabilisation of the market in regards to housing prices that occurred in 2012-2013 will probably spread to construction output in 2014. Nevertheless, large-scale residential projects are unlikely to happen in the next three years, with maybe one of two exceptions a year.
In 2013 slight improvements have been noted with a 17% growth on the number of transactions in the luxury apartments segment in Bulgaria. Increased activity near the end of 2013 and the beginning of 2014 was noted by various sources, from architects to real estate agencies. These signs are a good reason to believe that 2014 will be a much better year for residential construction, with increased demand, improved mortgage financing and a slightly improved overall economic situation.
The preferences will remain for smaller, cheaper flats with a price range of around BGN 95,000 (€48,573) in the prime locations. In recent years Bulgaria also noted a regained popularity among foreigners interested in buying a second home/vacation house, mostly among Russians. It is believed that the recent price growth for the resorts on the Black Sea coast is mostly due to the increased number of foreign homebuyers.
In 2013 Sofia continued to lose its status as the country's major building hub, on the account of which the coastal cities of Varna and Burgas continue to record high numbers and should be expected to meet the level of the previous few years in both building and dwelling completions quite soon. It seems that the capital city is most affected by the oversupply from before the global economic crisis. This is why more than half of the current offer on the real estate market comprises dwellings completed during 1998-2012.
As with most of the new project developments, the residential building completed in 2013 are smaller than 10,000 m², most frequently in the range of 2,000-3,000 m². With 4.2 dwellings per completed building, the trend of smaller residential buildings development brought a decline from the average 4.7 dwellings per completed building in 2011. Thus, a substantial decrease in the number of dwellings per building can be noted especially when compared to 2010 (6.7 dwellings per building) and 2009 (7.4).
Prime locations on city centre main streets or on the outskirts of the big urban areas but with good infrastructure are still highly desirable. But, unlike the pre-crisis period, few if any bigger residential projects are being developed or announced. Large scale multifamily complexes are especially lacking, as investors seem to be more interested in individual housing solutions.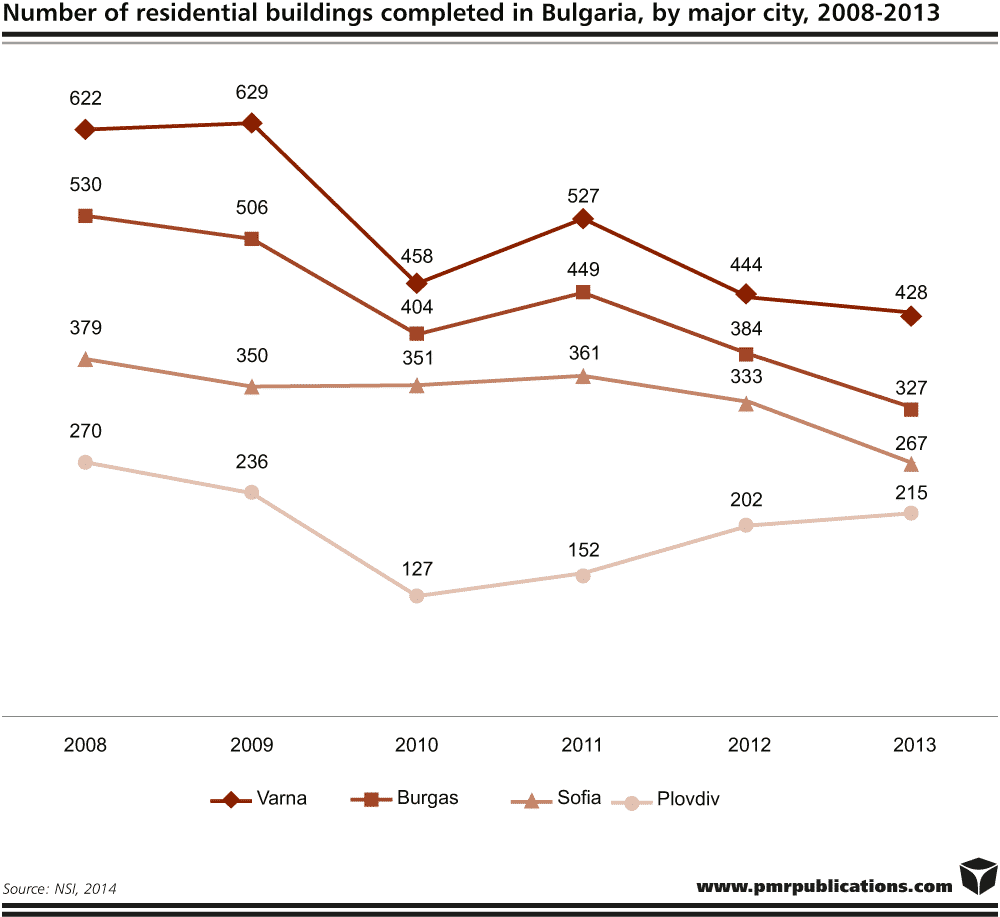 The number of projects started in 2013 is almost identical to 2012 in all three categories – the number of buildings; the number of dwellings, and the gross area of the dwellings completed. Nevertheless, these numbers are still only very slightly different from those in 2011, again proving that the market has found its equilibrium and that positive growth should be expected by 2015, or maybe even as early as in 2014. The levels of the peak years in 2007-2008 are still far from being seen in the next three to five years.
Source: pmr