Since its launch in 1998 ScotPlant has been promoted as 'the exhibition where deals are done' and the 2014 event is on track to successfully showcase quality equipment to the right buyers once again. Young Plant Sales, a leading Hyundai dealer based in Doune Scotland, has signed on the dotted line to exhibit and will be at the show with lots of kit including new Hyundai machines.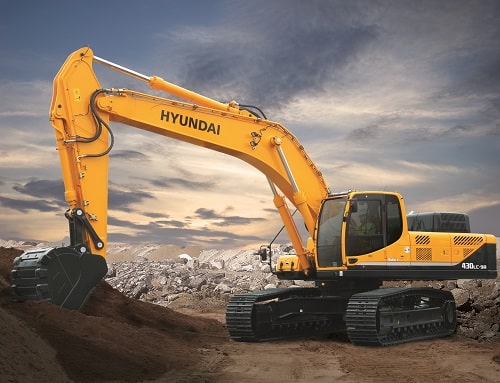 The brand new Hyundai R430LC-9A will be taking centre stage at the show – this will be the first time this new machine has been seen in the UK.
The R430LC-9A, has an operating weight of 42,600kg. This machine slots in between the existing R380LC-9A and the R480LC-9A, offering customers an even greater choice with this new weight class. An ideal machine for bulk earthmoving, large civil engineering and quarrying work, this new machine is fitted with the latest Tier 4 interim engine technology, which meets the latest emissions standards.
Also on the stand will be the R220LC-9A, which made its UK debut at Plantworx 2013. This mid-size excavator provides operators with a certified Interim Tier 4 engine upgrade, improved hydraulics, increased operator comfort and added durability. This model is ideal for mid-size excavating projects, road and utility work and demolition.
The R220LC-9A boasts an operating weight of 22,500kgs, a maximum dig depth of 20ft 5 inches and a bucket breakout force of 13, 597kgs.
The new Hyundai wheeled excavator R140W-9A will also appear alongside its tracked equivalent the R140LC-9A. Both machines have an operating weight 13, 980kgs.
Young Plant Sales is hoping to have the newest wheel loader model, which made its debut at Conexpo, the HL760-9A (this is subject to availability) This new model is set to provide end-users with many improvements from previous models including a certified Interim Tier 4 engine upgrade, improved durability and enhanced operator comfort. The HL760-9A is part of Hyundai's new line of 9A series wheel loaders, all of which meet Tier 4 Interim standards
Hyundai -9A series excavators are engineered to be extremely fuel efficient with a proven 5% fuel savings in comparison to previous models. New innovations like the variable speed remote fan, two-stage auto decel system and the new economy mode help to conserve fuel and reduce the impact on the environment.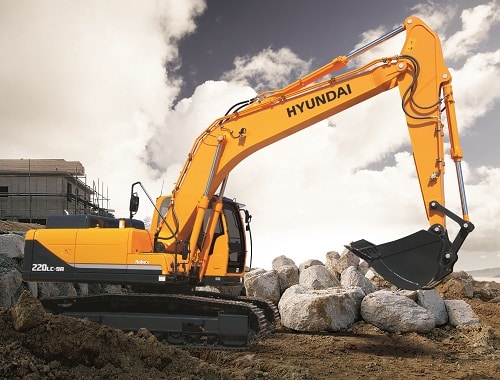 All models in the -9A series feature Hyundai's Computer Aided Power Optimization (CAPO) system. Using this system, the operator can set their own preferences for boom or swing priority, power mode selection, including three working modes, P (Power), S (Standard) and E (Economy), and optional work tool settings at the touch of a button, to suit the task in hand. Optimum precision has been achieved in the redesigning of the hydraulic system. Improved pump flow control reduces flow when controls are not being used to minimize fuel consumption. Thanks to improved hydraulic valves, precision-designed variable piston pumps, fine-touch pilot controls, and enhanced travel functions, the operator has super fine control of the machine during all operations.
Hyundai -9A series excavators (12t and above) also provide a smart key system, with anti-theft transponder, as standard. This allows the operator to start the engine by the push of a starter button, without inserting a key in the ignition.
These new machines feature Hyundai's HI-MATE telematics remote management system, which provides operators and dealer service personnel direct access to vital service and diagnostic information on the machine from any computer with internet access.
Users can pinpoint machine location using digital mapping and set machine work boundaries, reducing the need for multiple service calls. HI-MATE saves time and money for the owner and dealer by promoting preventative maintenance and reducing machine downtime.
Visit the Young Plant & Equipment Sales stand from the 25th – 26th April at the Ingliston showground, Edinburgh.
Source: Hyundai Heavy Industries Europe nv (HHIE)