Based in Inverclyde, Scotland Chris Wright & Sons is one of the leading Demolition Contractors in the UK. The company was formed in 2004 by managing director Chris Wright, who was joined seven-years ago by his son Kris Wright, who is now company secretary.
Kris still keeps his hand in with the machines, despite the office position, as he is a self-confessed 'digger fanatic'! The latest machine Kris has bought for the company's fleet is a brand new Hyundai 20 tonne R220LC-9A excavator, complete with full demolition specification, from Hyundai dealer Young Plant, based in Stirling.
"We have 14 machines in our fleet – our two newest machines are both Hyundai R220LC-9A's. The 20 tonne Hyundai's are bang on the right size for demolition work"
said Kris.
"The latest machine arrived a few weeks ago and is fitted out with full demolition protection which Young Plant organised. The other R220 demo machine we have had since September of last year."
Leigh Dalgleish, Young Plant said,
"The conversion was completed by us (Young Plant) with Hyundai's own top and front cage protection which was fitted by Walkerweld Engineering in Glasgow. The boxing ring was supplied by Cabcare."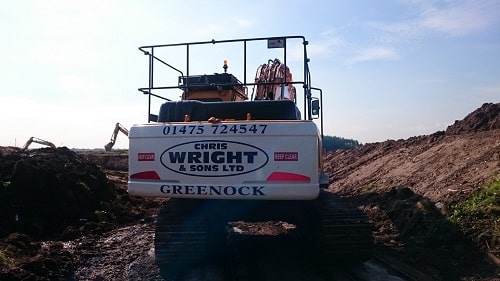 Other 'demo extras' on the R220 include a bucket ram guard, hydraulic aux lines for rotating attachments, grab bracket for attachments, boom ram protection, side demo skirts, heavy duty belly plates and turret guard, heavy duty track motor plates and last by no means least – extra LED work lights.
Powering the R220LC-9A is a low emission, low noise, 157 hp Cummins Interim Tier 4/Stage IIIB, QSB6.7 engine. The engine features the Cummins Direct Flow air filter which delivers better performance with faster cycle times and improved fuel economy over previous models.
"The R220 is a good machine" added Kris. "It's a smooth operator – I also like the touch screen monitor and the cab is one of the best cabs I have seen. The price was also very good – phenomenal in fact compared to other brands – the machine also has a two-year warranty where other manufactures only offer 12-months."
Richard Boyd operates the newest R220LC-9A on the former Royal Ordinance Factory in Bishopton, Renfrewshire, which is currently under development, he said,
"We have another R220 on site as well so I have had a chance of operating that machine too. I am currently on the new machine. The demo conversion and spec on the machine is tidy and solid – and looks smart. I've found it copes well with the work it is currently undergoing which includes exposing foundations, earth moving, loading dump trucks and it handles it all well too. The operator cabin is top notch, everything is in the perfect place, easy to keep tidy and clean. Overall it's a good 'all-round' machine."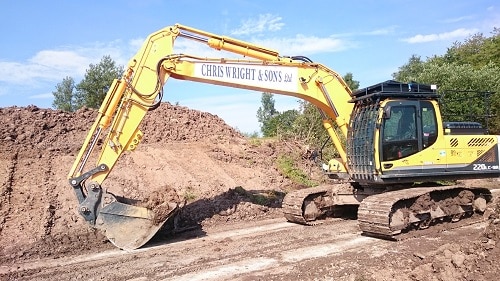 Stuart Bennett also works for Chris Wright & Sons and has the pleasure of operating the older of the two R220LC-9A's he said, "Comfort for me is the first thing! My cab is so comfortable! The controls too are very smooth. I have been on this machine since we got it just under a year ago and it has done 1783 hours and never missed a beat onsite. It's had to work hard and has proved to be right up there with the best – an excellent performer!"
The two Hyundai R220LC-9A's are currently on hire to D Morgans PLC working on one of Scotland's largest brownfield sites – the former Royal Ordinance Factory in Bishopton, Renfrewshire. The 964 hectare site is owned by BAE Systems and over the last century was used for the production of munitions.
Manufacturing at the factory ceased in 1999 and planning consent is now in place for the remediation and redevelopment of the site as a new mixed use community growth area which will include 2,600 homes, 150,000 square metres business park, recreational facilities, school, and infrastructure to include a motorway junction.