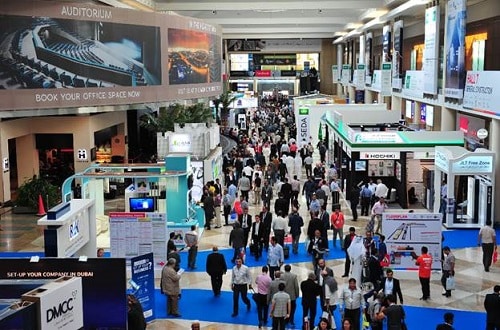 Positive outlook on horizon for GCC construction markets
Many sectors defying oil prices amid renewed confidence
The Big 5 2015 to support industry growth and innovation
27 August, Dubai – Construction in the GCC will increase in value despite a slight dip in the overall contract awards this year, according to the man behind the region's biggest construction event.
Andy White is vice president of dmg events ME, the company responsible for The Big 5 International Building & Construction Show in November. The show at Dubai World Trade Centre is the biggest and most popular in the MENA region and regularly attracts thousands of participants. Last year the show had more than 80,000 participants from 147 countries
Citing a report published by Ventures Onsite for The Big 5 he said:
"The Big 5 in Dubai is a main focus for suppliers to the region from across the world. Major infrastructure projects in Saudi Arabia and UAE have and will continue to drive diversification, but what we've also seen is large-scale investment being sustained across Oman, Kuwait, Qatar, and Bahrain."
The report, titled GCC Construction Industry – Trends and Challenges for 2015 says the value of contract awards this year in the GCC could reach over $194 billion. That's two billion down on last year, but lower oil prices will mean building materials and transport costs will fall and that will filter down to contract values.
White said: "A lot has been said about how oil prices might affect construction markets. But each of the GCC nations has continued to invest heavily in infrastructure, housing, and healthcare.
"Kuwait has more than trebled its contract awards this year, the Saudi government has made it clear that it will continue to invest, and the UAE has revealed more spectacular projects. The GCC Secretariat General has also announced that the Gulf Rail network is meeting construction deadlines and is on track to meet its 2018 deadline."
In preparation for steadily increasing demand for certified equipment, building materials, and expertise, The Big 5 will increase in size again in 2015. This year, the show will fill the brand new hall space at World Trade Centre with a section called The Big 5 Focus.
White said:
"The Big 5 is the global meeting place for the construction sector and The Big 5 Focus has been designed to make it even easier to find certified products that are available locally."
As in previous years, two major shows will be co-located with The Big 5. These are Middle East Concrete 2015 and PMV Live 2015, the show for all mechanical vehicles involved in construction.
Nathan Waugh is dmg events' Portfolio Director for the two shows. He said: "The global construction equipment market is forecast to reach US$241 billion by 2020 and growth in the Middle East is a major part of this figure.
"With 36,000 international visitors attending Middle East Concrete and PMV Live last year, we're excited by the chance to work with exhibitors in showcasing what promises to be a spectacular range of vehicles, heavy machinery, and concrete."
The Big 5 Dubai 2015, together with Middle East Concrete 2015 and PMV Live 2015, will run from November 23-26 at the Dubai World Trade Centre.