In March 2017 Magni Telescopic Handlers will participate in the Conexpo trade fair to be held in Las Vegas. This is an opportunity for us to once again emphasize our presence on the US market, a relatively new market for rotary telescopic handlers, but one that has developed and expanded to a great extent over the last few years. The positive feedback from customers and end users is further evidence that this type of product is certainly successful for these markets with vertical development and also has a wide field of use.
It will be our pleasure to present to visitors at the Fair our RTH models with increased lift height: RTH 5.30S, RTH 5.35S and RTH 5.39S, the highest rotating telescopic handlers in the world, with maximum working height 30, 35 and 39m, respectively. These are, in fact, the most suitable models for use at urban construction sites in cities with high population density, like New York, where work spaces are often limited and working at considerable heights is inevitable. In such situations it is thereforeimperative to have the possibility of using compact machinery that can perform a number of functions at the same time; VERSATILITY is, in fact, a crucial feature of our models: the characteristic of being able to change the accessory on the vehicle easily and quickly makes it possible to have a single vehicle that performs three different main functions; for example, telescopic handler when equipped with forks, aerial platform if equipped with basket, or crane if equipped with winch or with jib with winch.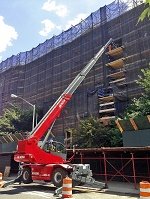 There is also a range of special attachments which make our rotary machinery even more versatile: a clear example in this case is the Romastor fork; a fork with 2.5 ton capacity which allows rotation of the load through +/-90° and which, if combined with turret rotation, makes it possible to work in really limited spaces because it allows different types of manoeuvres without the need for shifting with the vehicle. Another example is the special basket that helps increase the operativity of the machines at heights or allows the possibility of also having a negative work area.
A HTH 16.10 will also be on display, representing our HTH heavy duty range, consisting of models with capacity ranging from 10 to 45 tons and highly suitable for working in quarries, mines, oil and gas and heavy industry.
Thanks to the compact dimensions, this model fits easily into narrow spaces and areas with limited room for
manoeuvring, but still maintains optimum performance to carry out the "heavier" duties required by the
construction site.
For a first-hand experience of our products, come and visit us at Stand G1018!