Construction equipment manufacturers debuted more than 1,000 new products during the CONEXPO-CON/AGG 2014 trade show and exposition held in the United States in Las Vegas from March 4-8. The event is one of the world's largest trade shows for construction equipment and is held every three years due to the massive logistics of putting on a show with massive equipment on display.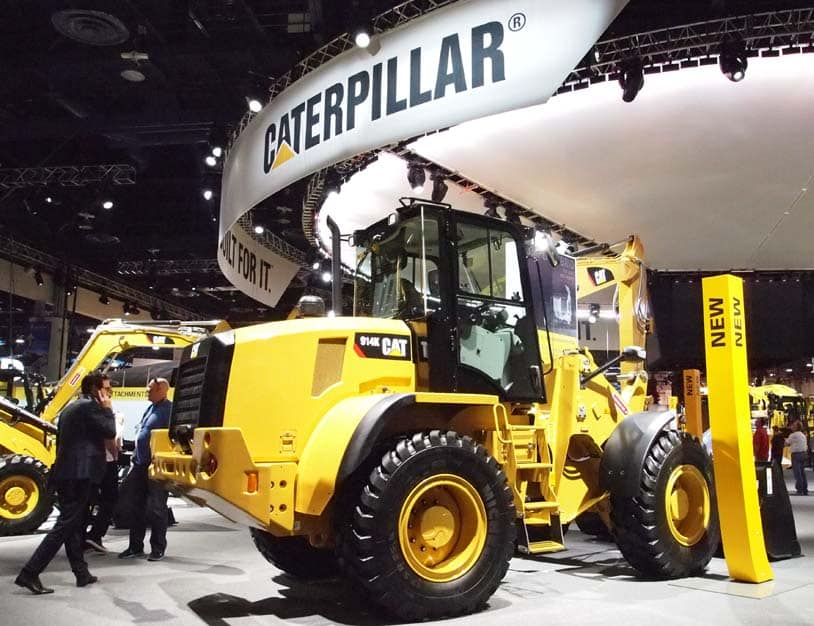 Work got underway about a month before the start of the CONEXPO-CON/AGG show began with the construction of a crane exhibit in one of the surface lots at the Las Vegas Convention Center. Cranes soaring many meters into the Las Vegas skyline heralded the show's start weeks in advance while exhibitors like Caterpillar, Volvo, Crane, Komatsu, Hyundai and others utilized many and massive exhibits with some measuring more than 10,000 square meters.
Many exhibitors reported having success with taking on-site orders, which pleased show organizers, who said on-site sales were unprecedented for CONEXPO-CON/AGG. Officials for crane manufacturer Zoomlion held a contract-signing ceremony for a $20 million contract done during the event. Zoomlion, a Chinese company, has worked out a partnership with international crane-machinery distributor Global Cranes to market its products, and the new contract is a product of that collaboration.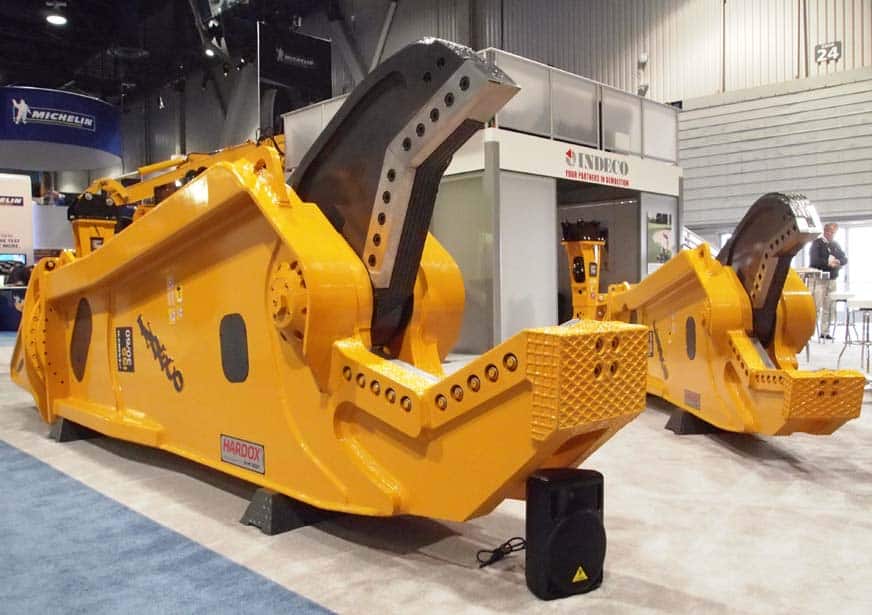 "We are pleased to work with Zoomlion. Their products are stable and reliable," said Uri Toudjarov, CEO, Global Cranes. "The products they present are catered to the Northern American market. This strongly brings up the confidence of our cooperation, which will be a great success."
Already established in North America, for Caterpillar officials, CONEXPO-CON/AGG was ideal for launching dozens of new products ranging from excavators and off-road trucks to compacting and paving equipment and many other types of construction equipment. Two pieces in particular proved to be award-winning.Caterpillar's 336H Hybrid Excavator earned an Innovation Award from show officials for its environmentally friendly and fuel-efficient nature. Also winning an Innovation Award was Caterpillar's D Series line of skid steers and compact track loaders.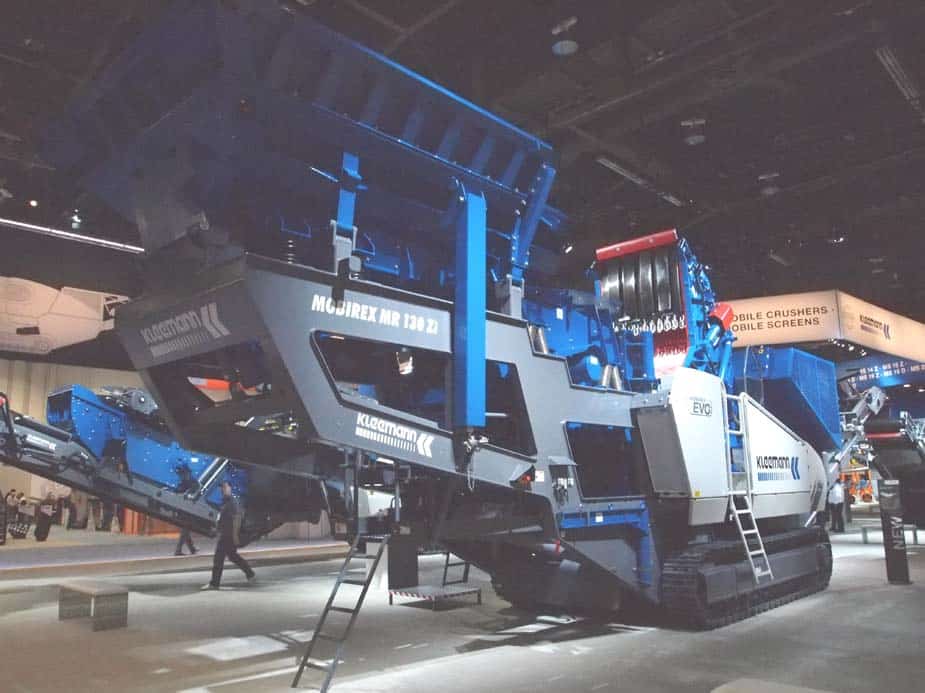 Including its award-winners, Caterpillar featured a new set-forward axle truck among its heavy-duty line of class 8 work trucks. The Cat CT681 Vocational Truck with the set-forward axle offers a longer wheelbase for those who prefer trucks with long wheelbases. The set-forward axle also helps the new truck to comply with weight restrictions for bridges and roads while also enabling it to work well off-road and under tough conditions. The CT681 Vocational Truck has a Cat CT-Series engine and has an option for a Cat CX31 automatic transmission.
"Customers who are hauling heavy loads or working in extreme conditions truly appreciate the CT681's rugged durability and styling," said Dave Schmitz, Global On-Highway Truck Product Manager. "We designed it to work hard and last for years, even in the toughest applications."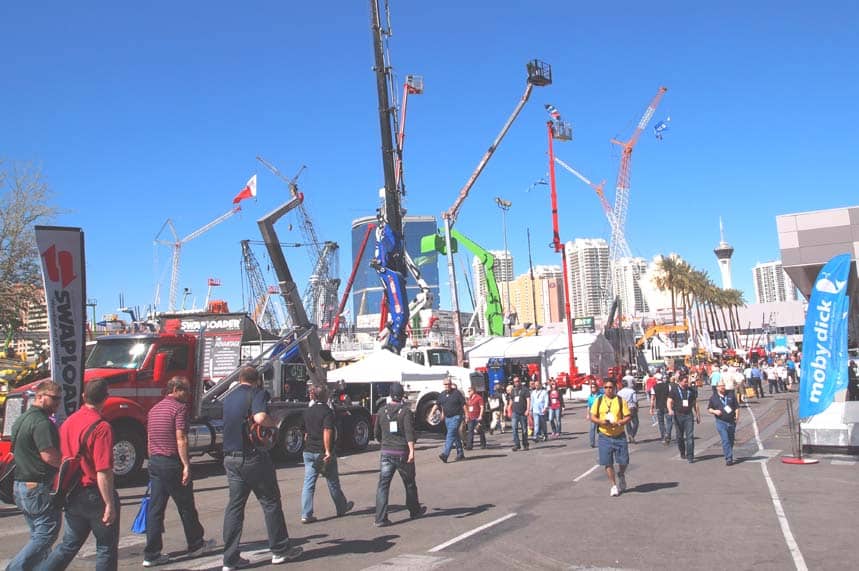 While Caterpillar has a new truck available, its excavator line also continues evolving with improvements to the popular 336F and the new 336H Hybrid. The 336F soon will be powered by a U.S. EPA Tier 4 Final Cat C9.3 ACERT engine that offers improved fuel efficiency and 303 horsepower while also meeting federal standards for emissions. The engine has an automatic engine speed-control system that adjusts engine speed when carrying no load or a particularly light load and help save on fuel and reduce emissions. An engine idle shutdown system stops the motor after a specified idle interval, and operators can tailor machine performance for the task at hand when using the ECO mode, and the engine runs well when using biodiesel fuels with blends of up to B20.
The 336H Hybrid uses and electronic standardized programmable hydraulic pump to save on fuel usage and costs by matching the engine output with the load requirements. The excavator also utilizes the recovered energy from the swing to reduce fuel consumption by up to 33 percent. The Cat Swing Energy Recovery valve enables the excavator to capture some of the kinetic energy released during the swing deceleration and recycles it for further use, which reduces the need for energy and optimized fuel consumption. The excavator also features a unique Cat Adaptive Control System valve that manages the flow and restriction of hydraulic fluids to optimize performance and provide hydraulic power exactly when it is needed.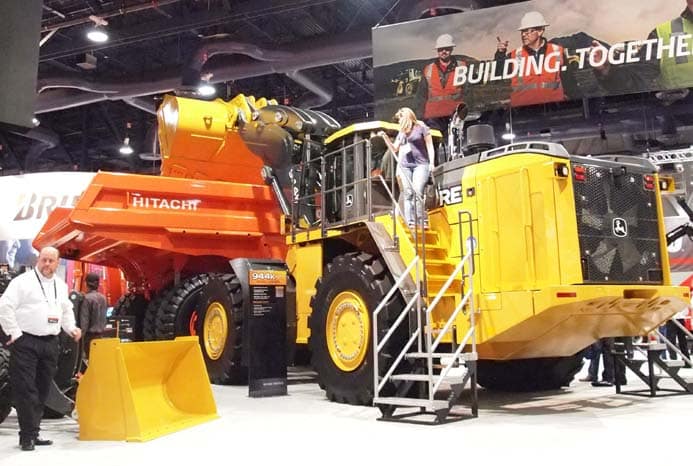 Caterpillar had a total of four exhibit areas that occupied a combined 20,000 square meters of exhibit space. The company exhibited more than 40 machines and other products featuring integrated technologies to maximize efficiency and use potential by operators. More than one dozen machines made their debut for Caterpillar during CONEXPO-CON/AGG while the company focused its exhibits on four essential product lines: tools, Tier 4 final engines, parts and components.
Komatsu also offered intelligent-design machinery. The heavy-equipment manufacturer featured several intelligent Machine-Controlled (iMC) dozers and other machines among its large exhibit of trucks, excavators and other heavy construction equipment. Komatsu has created a new support service for the iMC machines with dedicated technology solutions experts who will be based at a distributor and assigned to specific clients to assist with training and tackling any technology issues that might arise. The service does not cost clients and helps to improve their productivity and ability to better use the dozers and other iMC equipment.
"Introducing and providing a dedicated support position for our iMC machines exemplifies the kind of service that our customers have come to expect from Komatsu," said Jason Anetsberger, iMC product manager, Komatsu America Corp.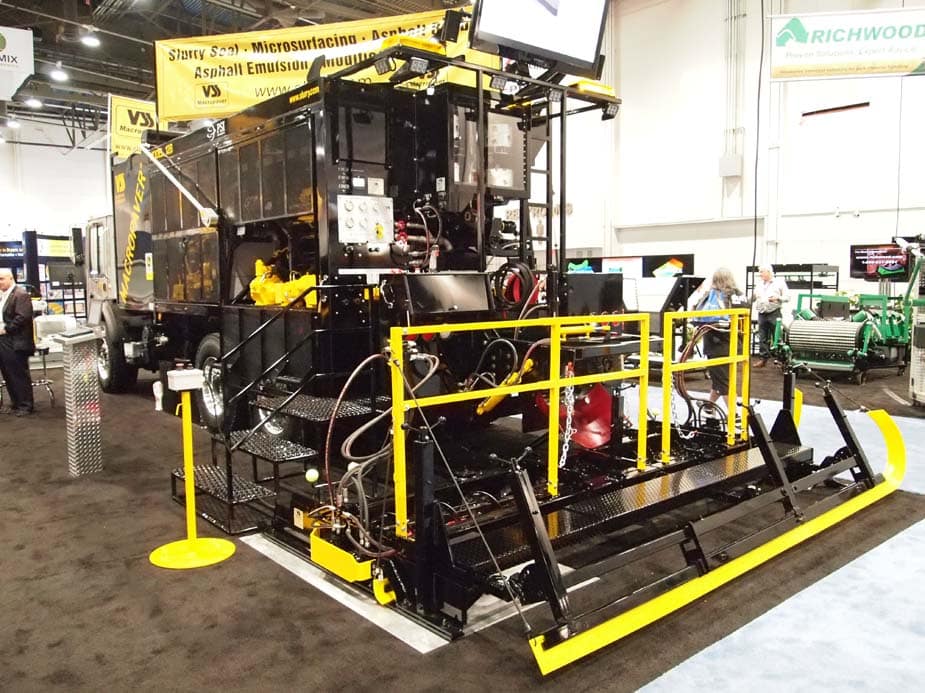 In the case of the iMC dozers, the enhanced technology enables the dozer to perform rough dozing to finish grading with a high level of quality. The dozers can be automated from rough cut to finish grading with complete blade control available to make adjustments as necessary. Komatsu's iMC system uses a GNSS receiver, control box and antennae to communicate with the dozer and site manager. The site manager can view a 3D rendering of the job in progress while still in the office and update data if any changes are to be made and send them back to the dozer with no need to involve additional personnel.
Another example of remotely operated construction vehicles was provided by Volvo, which gave attendees a glimpse into how construction sites with the battery-powered GaiaX remotely operated concept compact excavator. Instead of running the machine from a cab, the operator can use a handheld remote control device that uses "human-machine interface" technology to control the compact excavator's movements. The GaiaX uses four small track drives instead of two traditional tracks to move about. The operator can stand near the excavator and supervise while the electric-powered unit operates in relative silence in urban centers, residential neighborhoods and other areas where size and noise can be detrimental. The operator also directly can control the GaiaX from its one-man seat while using more traditional foot and hand controls. The machine can be used while it is plugged into a power source, but its rechargeable batteries are intended to last a full work day. Although not yet available, the GaiaX is a prototype of Volvo's compact excavator planned for 2030.
Komatsu, Caterpillar and Volvo were just some of more than 1,000 exhibitors who made CONEXPO-CON/AGG 2014 a very successful event. Exhibitors debuted more than 1,000 innovative new products, conducted business and closed deals during the five-day exposition.

SIDE BAR: Brisk Business Pace As CONEXPO-CON/AGG Grows
The 2014 CONEXPO-CON/AGG provided highly successful at its latest location at the Las Vegas Convention Center in Nevada with many exhibitors inking large deals during the event. Organizers anticipated 125,000 visitors during the five-day event held March 4-8 and exceeded that amount midway through the third day of the massive construction trade show and exposition.
The 2014 CONEXPO proved more successful than the 2011 event and exceeded it in many areas. The 2014 show featured more than 2.35 million net square feet of exhibition space, which is 7 percent more than during the 2011 expo. Organizers estimate just fewer than 130,000 people were projected to attend CONEXPO-CON/AGG over the show's five days, which is 8 percent more than in 2011. Attendance among international participants also was up 8 percent from the last event with more than 31,000 people from outside the United States attending, according to Megan Tanel, CONEXPO-CON/AGG show director.
While CONEXPO-CON/AGG increased in size, organizers were particularly pleased with the pace of business being done during the event and what it might indicate for the construction industry in general.
"The biggest news for us is just the vibe about the industry. Construction has had its ups and downs in the last couple of years and it seems that the economy is really coming back," said Tanel. "What we've heard from exhibitors is they were surprised at the number of requests they got to purchase equipment on-site. They said this has never happened before. "
The average booth size among exhibitors was about 3,000 square feet, but large exhibitors, such as Case and Caterpillar, had exhibits as large at 40,000 square feet. More than 2,500 companies participated in the exposition, which featured more than 1,000 new-product launches. General contractor GES used nearly 500 full-time employees to help set up the event that kept about 1,500 Teamsters members and other workers busy all day during the event and during the weeks-long installation and dismantling. GES was the general contractor and has served as the exposition's general contractor for more than 40 years.
The Association of Equipment Manufacturing owns the CONEXPO-CON/AGG show and puts it on every three years instead of annually in order to better plan the logistics and other factors that go into putting on an exposition of such magnitude. Site building began about a month in advance with cranes and other equipment being erected in the Las Vegas Convention Center's gold parking lot, which housed the majority of crane exhibits as well as several outdoor exhibits and others being put on inside temporary structures.
Show organizers already have agreed to hold the next CONEXPO-CON/AGG in 2017 at the Las Vegas Convention Center and will continue to work to make it easier for people to get around the very large event.
"We are excited to be back here in Las Vegas again in 2017," said Tanel. "We'll be looking to continue on with our strategic plan that we launched with this show. We're really putting a focus on customer service. We're putting a focus on ease of getting around a show of this size and continuing to expand on our attendance numbers with a large focus on international, specifically, South America."
Organizers estimate Las Vegas benefited with an estimated $156.7 million economic impact from the exposition.
Author: Mike Heuer