Despite a very weak 2010 and a poor start to 2011, the Hungarian construction market will begin its recovery from 2012 onwards. Public infrastructure projects will be the main driver of this growth.
The first edition of the report "Construction sector in Hungary 2011 – Development forecasts for 2011-2013", published by the research company PMR, suggests a moderately bright outlook for the construction market for the years 2012-2013. This will partially be as a result of the low comparative base rate that will result from a weak 2010-2011.
In 2010, total construction output in Hungary fell by nearly 10%: the monetary value of construction output was just under HUF 1,800bn (€6.7bn).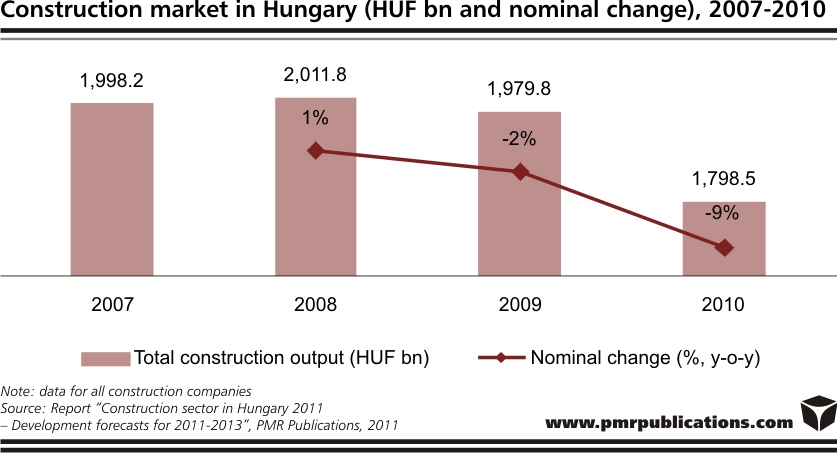 Although it cannot be said that 2011 will be a good year for the construction industry in Hungary, economic growth is expected and this should serve to stimulate the construction sector towards the end of the year. However, overall for 2011, PMR analysts expect a single-digit year-on-year decline in construction output. From this year-on-year perspective, a return to growth should occur in 2012, although this will be minimal. Stronger growth is expected in 2013. This growth will be driven in no small part by the realisation of projects financed using EU funds.
As with almost all industries, the building materials industry has been hard-hit by the economic crisis. Since the downturn set in mid-2008, the industry has suffered double-digit year-on-year declines in output. In 2010, cement consumption in Hungary fell from to approximately 2.5 million tonnes, down from 4 million tonnes in 2008. The 2010 figure is also similar to that which was recorded way back in 1992. PMR does not expect a significant upturn to take place until 2012 and even this will be modest, at around 2-4%.
In the coming years, public infrastructure projects will provide the majority of the demand in the construction industry and this will be predominately through the New Szechenyi Plan (a plan aimed at improving the competitiveness of Hungary as a country). Between 2011 and 2014, the programme will see HUF 7,000bn (€25.4bn) allocated for innovation and advancement in the areas of housing, business development, the health sector, employment and transportation.
This press release is based on information contained in the latest PMR report entitled "Construction sector in Hungary 2011 − Development forecasts for 2011-2013".

For more info: PMR