It brings 8 languages in one book: German, English, German, Italian, Spanish, French, Russian and Chinese! The guide provides not only technical data but all relevant data for a well-founded valuation of used machinery over the last 10 years – the online version the last 18 years.
28 different machinery categories
170 manufacturers
9.970 machine models
more than 80.000 prices!
It is very simple to do an individual valuation by considering the actual working hours, condition and the configuration of the particular equipment. The market Overview and value orientation for construction machinery, include list prices, technical specifications, dealers purchase and sales prices.
LECTURA "Offer Analysis" offers additionally an advanced European overview including statistics and tables.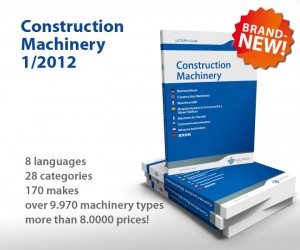 Visit Lectura website here for more info!
Lectura is looking forward to meeting you at the INTERMAT 2012 exhibition
Stand 6 A 016