The past 18 months were particularly tough for the construction industry and companies operating in the sector. Declines in construction and assembly output combined with negative performance thinned out competition within the construction market. Numerous companies went bankrupt or were forced into restructuring, which in many cases led to lay-offs. However, the latest data shows a forthcoming stabilisation and an outlook for a more robust recovery in 2015.
The results of a survey of high-level professionals from the management and operating divisions of 200 largest Polish construction companies, which the market research company PMR conducted for the purpose of the report "Construction Sector in Poland H2 2013 – Development Forecasts for 2013-2016", show that nearly one-third of building contractors did not make a profit in 2012, and one-fifth of them reported financial losses.
Data obtained from the largest contractors are also confirmed by GUS statistics. In 2012, the cost-to-revenue ratio in the construction industry stood at 100.2%, which practically meant that costs borne by construction companies slightly exceeded revenues they generated. Civil engineering construction projects proved to be the least profitable as contractors involved in them were required to pay an average of 1.5% of contract amount out of their own pockets to bring contracts to an end. Although companies still have a hard time dealing with the consequences of poor results, the situation appears to be improving slightly as the profitability ratio for the construction industry, though still remained in the negative territory, improved from -2% in H1 2012 to -0.1% in H1 2013.
However, the proportion of profit-making construction companies is not expected to increase this year. A mere 65% of the largest contractors expect a net profit in 2013, down by 5 pps from 2012. Still, there will be improvement in the structure of companies which will not report a profit. 15% of construction contractors will post a net loss, compared to 19% in 2012. Besides, the share of companies expecting to break even at the end of 2013 will grow to 20%, according to projections provided by respondents.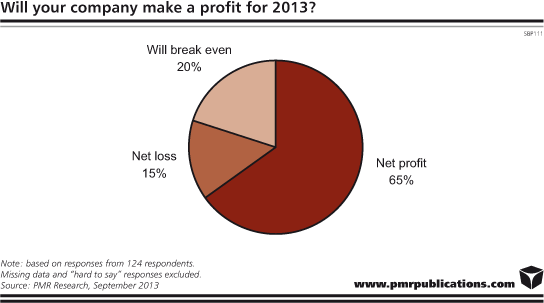 Furthermore, the cost-to-revenue ratio improved, too – it stood at 99.7% in H1 2013. Those respondents who reported a net profit were also asked to estimate the level of margin generated by their companies. The average margin was 4.5%, and the most frequent response was under 3%.
As the condition of the construction industry continues to be poor, hope is bolstered by the fact that many entrepreneurs are capable of obtaining loans for their investment projects due to low interest rates. This also improves the structure of demand for building services and provides contractors with an opportunity to build up their backlogs. Forthcoming projects that will be funded under the new EU's financial perspective will be the additional factor expected to have a positive bearing on the outlook for the construction industry, but its effects will be felt by the market only in 2015.
Source: PMR