Building on the success of previous events, the 2015 World Demolition Summit will return to its normal venue, the Krasnapolski Hotel in Amsterdam, on Friday November 6, 2015. As has become traditional, it will consist of a one day technical conference that will include technical reports on some of the most challenging demolition and associated recycling projects undertaken around the world in recent months, as well as other special topics of particular importance and relevance to the industry.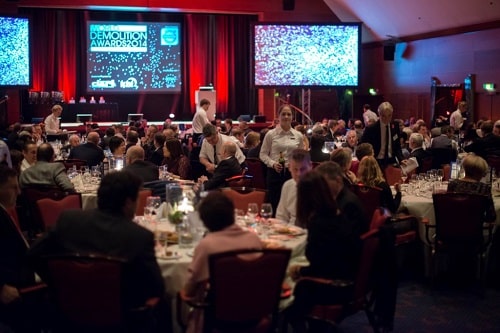 Should you current be working on, or are about to start work on, a particular project that you feel would prove of major interest to the international audience that will be in attendance at the event, please contact D&Ri editor Lindsay Gale (linds[email protected], tel: +44 (0)1892 786210) in the first instance.
The evening of November 6 will also see the presentation of the 2015 World Demolition Awards, which makes up the second component of the World Demolition Summit. The Awards will open for entries on January 5, 2015, with entry forms for the various categories downloadable from www.demolitionsummit.com.
The closing date for entries to the 2015 Awards will be July 31, 2015. Entries can be made for projects that were either started, ongoing or completed during the period June 2014 to July 2015. Any queries concerning the Awards should be referred to Lindsay Gale.
The 2014 event attracted delegates from all four corners of the world, making it truly the most international of annual gatherings of the world demolition industry. The 2015 event promises to be even better – see you in Amsterdam.