Flannery Plant Hire (Oval) Ltd was established by Patrick Flannery in 1972, when he purchased his first machine, a JCB 3C backhoe loader, for the princely sum of £5195.00. Since those early days, the business has always been at the cutting edge of plant and machinery technology, to ensure that its customers are always supplied with the best and most modern equipment on the market today.


The company, which today has an annual turnover of 50 million, has expanded massively over the years with the current fleet tally totalling around 1700 units, operating out of 3 main depots headed by Wembley, Manchester and Cardiff, with satellite depots in Birmingham and Northumberland. Flannery Plant Hire machines are hard at work for some of the largest blue chip companies in the country, including Balfour Beatty, Bam Nuttall, Barhale, Carillion, Galliford Try, Morgan Sindall and Skanska to name but a few. The fleet, which features machines from some of the largest manufacturers in the world, is regularly updated and the latest additions are a raft of machines from Chinese manufacturer LiuGong, which have recently been purchased in a deal from Portsmouth based UK dealership Construction Plant and Machinery Sales (CPMS).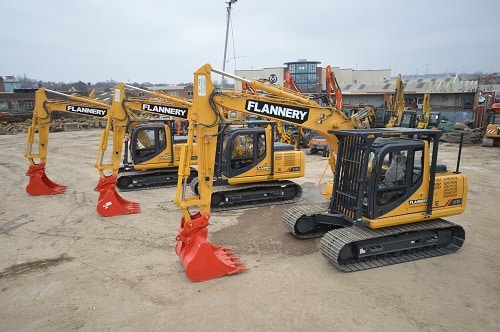 The new arrivals consist of 5 x 908D's, 5 x 915D's and 5 x 922E models, which have all been supplied fitted out to Flannery Plant Hire's own demolition specification and feature bucket ram guards, heavily armoured side skirt protection and full ROPS & FOPS cab protection. "Boxing ring"' fall from height protection will be added by Flannery Plant Hires own technicians.
The 8 tonne class 908D is powered by a 76hp (56.5kw) Yanmar engine, the 14 tonne class 915D takes its power from a 104hp (76.2kw) Cummins engine and the 22 tonne class 922E takes it power from a Stage IIIB Cummins unit, with a power output rating of 157hp (117kw).


Talking about the company's decision to choose the LiuGong machines, Managing Director Martin Flannery said,
"We initially tried a wheeled loading shovel and a 14 tonne class excavator and were impressed by them, they have proven to be robust machines for the demolition sector, with stronger panels than some competitive machines, in addition if they do suffer damage, which often happens in the tough demolition sector, we have found that the replacement panels are much more economically priced compared to other manufacturers"
"We have also been delighted with the operator feedback we have received so far, with most commenting that the machines are very smooth to operate, have plenty of power and are economical on the fuel consumption side of things. We feel confident that we will be ordering more LiuGong machines as a result of this feedback".
Talking about this exciting new deal, Grant McGregor of CPMS said,
"We are delighted to announce that a prestigious company such as Flannery Plant Hire have placed this order with us, for what is a comprehensive package of LiuGong excavators, in what can be seen as a real testament to the equipment's reliability, productivity and value for money".
Nick Drew 21-03-2015