Volvo ABG pavers are working on one of Europe's most significant high-speed rail construction projects in northwest France.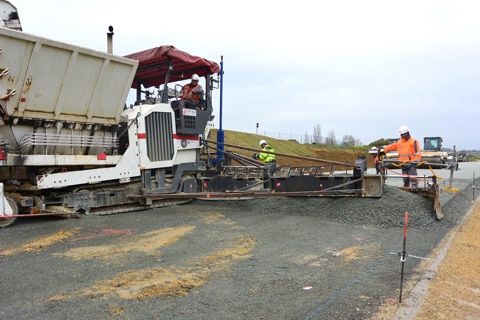 Le Mans is well known as the home of motorsport's toughest test of speed, endurance and efficiency – the 24 Heures du Mans race. Now, just like the cars at the Circuit de la Sarthe, Volvo ABG pavers are also demonstrating their prowess in these fields as they prepare the way for another type of high-speed vehicle, France's iconic TGV (Train à Grande Vitesse), to pass through the city.
The work, carried out by one of Europe's largest contractors, Eiffage, is part of a €3.4 billion project, funded by national and local governments and France's state-owned rail network RFF (Réseau Ferré de France), to extend the LGV Atlantique railway line from Paris to Le Mans as far as Rennes in Brittany. The new line, LGV Bretagne-Pays de la Loire, will stretch 180 km and reduce the journey time from Paris to Rennes by 37 minutes, thanks to the TGV's top speeds of 320 km/hr (199 mph).
Excavations for the new line began in May 2013 and after Eiffage's motor graders had prepared a granite base layer, three Volvo ABG pavers – two 9820s and one 525 – were called in to do what they do best. So far the pavers have laid 800,000 tonnes of light ballast made from unbound aggregates – 30mm deep and at a width of 14m. After a quick once over from Eiffage's compactors, the pavers then spread a layer of asphalt (300,000 tonnes in total) and another layer of ballast, on top of which the railway tracks will be installed. The entire project is set for completion in May 2015.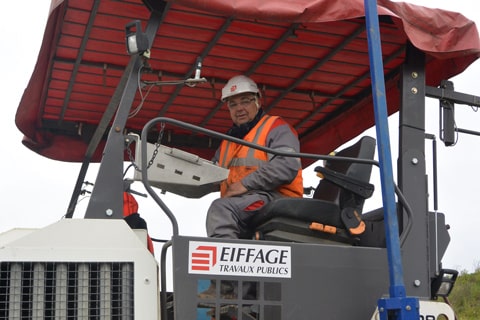 No pit stops necessary
The Volvo ABG pavers are currently operating at a constant speed of 2-3m per minute, not least due to the modifications made to the machines. Each paver is fitted with a custom hopper, supplied by Louchet that can hold as much as 25 tonnes of material. (The standard hoppers used with Volvo ABG pavers hold 17 tonnes). This allows the machines to pave a maximum of 7m per load across a 14m width, instead of the usual 5m – buying Eiffage's dump trucks extra time to seamlessly refill the machine.
Moreover, by feeding the new material into a material transfer vehicle (a Franex F606), the pavers do not even have to stop. (A sensor ensures a safe distance is maintained between the material transfer vehicle and the paver at all times.) This not only increases the progress of the pavers but prevents any damage to the surface caused by stopping and starting the machine or jolts from the truck. Normally, these types of marks are not a major concern for contractors, but when paving across a large width (the maximum width of Volvo ABG pavers is 16m), they are time-consuming to remove. The variable double tamp (VDT 120) fitted to each Volvo ABG paver also helps to improve progress on the jobsite, since it achieves 88-90% density even before compaction, leaving less work for the rollers.
Prize performance
The Volvo ABG pavers working on the railway line have been part of Eiffage's fleet for a number of years and show no sign of slowing down. The two 9820s were purchased in 2010 and the 525 arrived in 2000. "These are impressive endurance machines – we do not envisage having to replace them any time soon," says Denis Landaes, site manager.
Landaes, who has been with Eiffage for 22 years, has long been a champion of Volvo ABG pavers and even bought the second ever ABG 525 (serial no. 0002) to roll off the production line in Hameln, Germany. He especially appreciates their ease of maintenance, helping Effiage to achieve maximum uptime and productivity on the jobsite.
"It is quick and easy to make modifications to Volvo ABG pavers to meet our needs," says Landaes. "It is also very simple to change wear parts and most of the maintenance can be carried out by Eiffage's own technicians."
Operator, Michel Lenglen, who has worked on rail and road construction sites for more than 30 years, using many competitor machines, is now also a fan. "These are good machines that give such high performance," he says. "The Volvos have powerful steering and acceleration and are very responsive. They also have excellent visibility and a spacious cab that helps us achieve high quality results."
With glowing testimonials like these and the paving work right on schedule, this is an endurance race Volvo ABG pavers look certain to win.