Floating effortlessly and able to be positioned with great accuracy, drones – also referred to as unmanned aerial vehicles (UAVs) – are becoming an increasingly popular tool in the construction industry.
Named after stingless male bees, drones were originally a military technology, dating back to the siege of Venice in 1849, when pilotless flying machines were used as weapons. However, it wasn't until 1935 that the first truly successful drone, the de Havilland DH82B Queen Bee, joined the service in Britain.
Fast-forward some 82 years later. Military UAVs account for nearly 90% of worldwide spending on drones and recreational models aimed at consumers are on the rise – in 2016, around two million recreational drones were sold. As technology progresses, so will sales. That's because drones are becoming powerful business tools, according to 'Drones Reporting for Work', a 2016 report commissioned by Goldman Sachs. The report predicts that of the $100bn likely to be spent on military and civilian drones between 2016 and 2020, the commercial segment would be the fastest growing – with construction accounting for $11.2bn, agriculture $4.9bn, insurance $1.4bn and infrastructure inspection $1.1bn.
DRONES: THE ULTIMATE COMPACT EQUIPMENT
The construction industry is looking at the technology from a birds-eye-view, admitting job sites are large and often inaccessible. Drone technology could change that.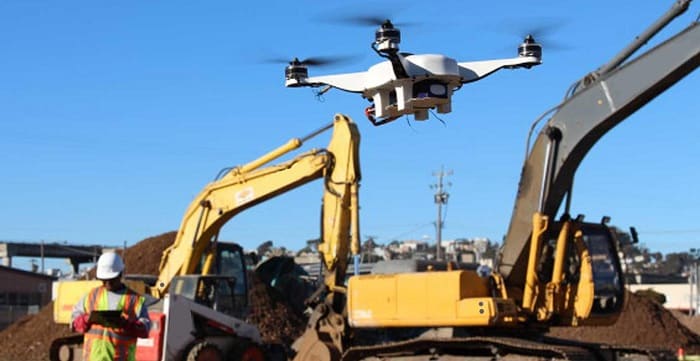 Drones offer a faster and more accurate way of surveying sites and gathering measurements. This information can then be used to create a corresponding digital model of a site, helping contractors save time and money – and get greater accuracy – on-site surveys and project set up. Drones that have the ability to scan using lasers can also enter the results into Building Information Models (BIM), providing a digital representation of a site's physical characteristics for other project professionals to use, as well as a verifiable record of progress. Drones can also take aerial thermal imaging recordings, which can be used to monitor gas emissions and identify gas leaks – a potential hazard for workers.
Everyone wants to make construction safer, and drones have the potential to do just that. Drones can be sent to high-risk areas that are too dangerous for workers to access. Footage can then be monitored in real-time from the safety of off-site offices. In addition, drones are able to monitor workplace conditions and transmit photos of a proposed work site, enabling workers to prepare prior to entering the area.
FLYING YELLOW METAL?
Construction companies are catching on to the benefits of this technology and responding by creating partnerships with drone suppliers. Volvo Construction Equipment (Volvo CE) is taking a measured approach to ensure the technology produces the most appropriate solutions for its customers. "Drones will definitely play an important role in the construction industry, but exactly how Volvo CE will engage with this technology still needs to be worked out," says Jenny Elfsberg, director of emerging technologies at Volvo CE. "Our advanced engineering team is exploring this rapidly developing technology as well as several of the different players in this industry. With standardization not yet in place and different approaches being taken in different countries, we are keeping a close eye on the rules and regulations."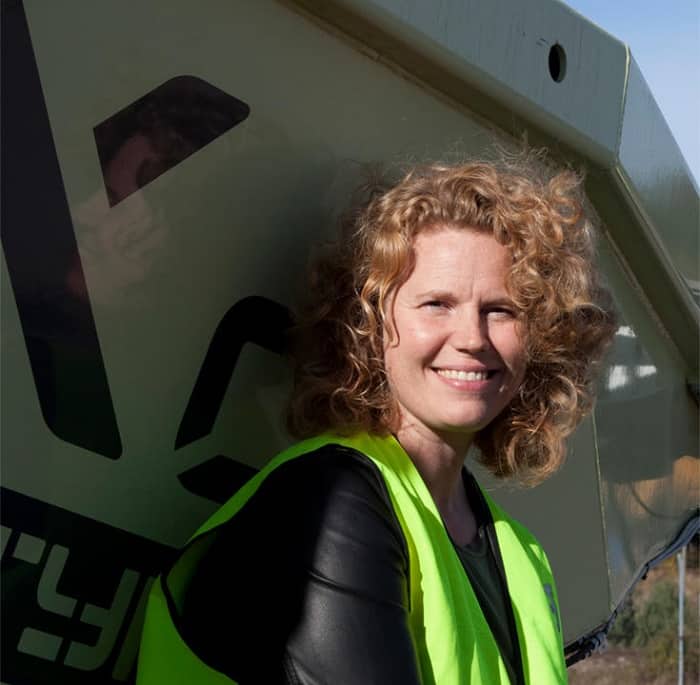 "We have carried out research in this area, mainly exploring site management and site surveillance purposes, and we are continuing this work in collaboration with partners. If we ever decide to go into drone development ourselves, we would need to work with partners such as data science and flight experts."
RULES AND REGULATIONS
The construction industry still has a lot to learn about the potential of drones and will need to stay aware of rules and regulations concerning their use. For example, under new UK laws, individuals that own drones over 250g – heavier than the average consumer product – will be required to register it and take a safety awareness test. The government plans to bring forward and expand the use of 'geo-fencing' in the UK, which acts as an invisible field to stop drones from entering sensitive zones, such as airports.
It is still early days but it is clear that drone technology has some interesting applications within the construction industry, especially when used in cooperation with heavy equipment. From small beginnings, the sky's the limit…