Working effectively—even in confined areas
Economically producing soil cement
Mastering extreme transport jobs
Improving cleaning, crushing, excavating and lifting
The driving force behind the new development and optimization work in the construction industry is increased efficiency. At bauma 2019, the world's leading trade fair for construction machinery, building material and mining machines, construction vehicles and equipment, manufacturers will demonstrate their efficient solutions to meet the market's current needs and challenges. Here are a few examples:
Atlas GmbH is one of the companies that regularly use their bauma booth as a way of keeping their finger on the pulse of the market. During the last trade fair in 2016, customers continued to express the need for a mobile excavator that could work in very restricted spaces—like road construction. The company based in Ganderkesee, Germany, responded to this need by developing the short-tailed excavator 175Wsr. This excavator will be demonstrated to the industry for the first time at bauma 2019, which will be held from April 8 to 14 at the Munich fairgrounds. The machine is very secure despite is short design. Thanks to a 5,300 kg counterweight, it can easily lift heavy loads.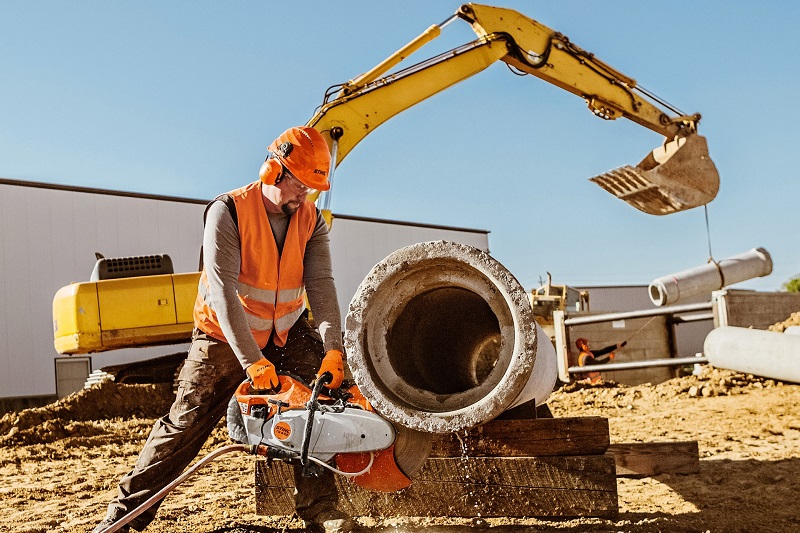 The ability to safely and efficiently work in confined spaces is the main strength of the new TS 440 cut-off saw made by Stihl in Waiblingen, Germany. The key is the saw's quick-stop wheel brake technology. If a strong kickback occurs during operations when the guard is in the open position, a sensor-activated system will stop the rotation of the cutting wheel in fractions of a second. This innovation facilitates expanded guard adjustment. It is an improvement that significantly simplifies the job of cutting the underside of pipes made of concrete, metal, cast iron or stone—particularly in small ditches.
Producing soil cement on site
A new way to economically produce soil cement is the Schökem process developed by Kemroc Spezialmaschinen GmbH of Leimbach, Germany. Its main element is a 5-meter-long front-end attachment for medium-sized excavators. It mixes the ground to be treated without any need for elaborate sheeting or soil excavation and then adds a grout material. The soil cement bodies created in this process are homogeneous, water-impermeable, frostproof and joint-free. They are used in such places as transport route construction, immobilization of harmful substances and flood control. In every usage case, the process conserves resources because the transport of excavated and back-fill materials is kept to a minimum.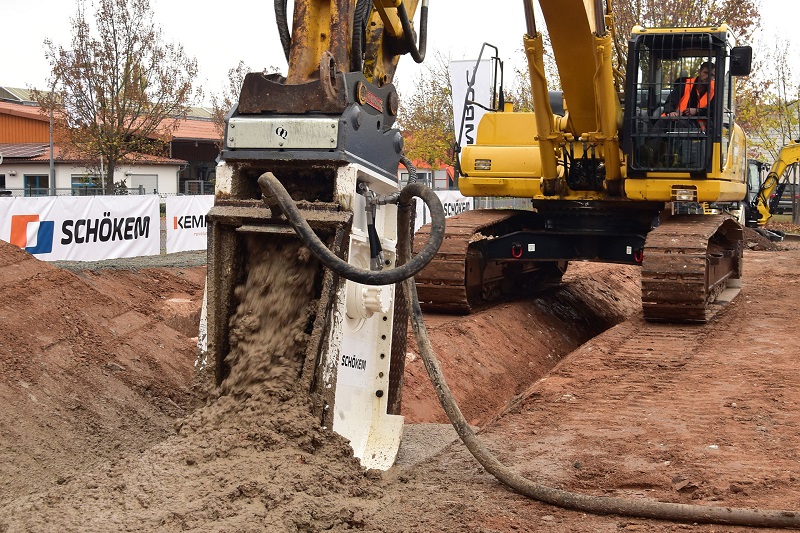 Professional cleaning processes in the construction industry without a power plug—this is the efficiency gain produced by the new battery-driven high-pressure washer HD 4/11 C Bp made by Kärcher of Winnenden, Germany. Two 36-volt lithium-ion rechargeable batteries supply enough power to run the machine for up to 40 minutes in the energy-saving mode. With an operating pressure of 110 bar and a flow rate of up to 400 l/h, the cleaning performance of the approximately 35 kg machine reaches the level of line-powered high-pressure washers of comparable size.
Efficiently transporting huge rotor blades
The performance of wind power systems continues to improve—and rotor blades are becoming longer and longer in the process. This, in turn, increases the demands placed on transporters. For wind turbine blades that are more than 80 meters long, the TII Group based in Heilbronn, Germany, will launch sales of a new transport system at bauma. The system consists of a two-axle jeep dolly with a free-turning device and a four-axle trailing unit. The blade root can be easily and efficiently lifted from the ground with a unique lifting device and a few auxiliary aides. The system also includes one other sophisticated detail: For empty runs, all elements can be assembled to create a unique single semi-trailer combination. At this length, the vehicle does not require any special permits for use in Europe.
Keestrack, a company based in Munsterbilzen, Belgium, will present its B7e jaw crusher for the first time at a major international trade fair. This hybrid solution is powered by a 132 kW electric motor. An additional 55 kW electric motor drives the working hydraulics for the track drive system, the hoist cylinder, the vibrating feeder with double-deck primary screening and all conveyor belts. In emission-free plug-in operations served by the power grid or an additional generator, Keestrack says energy savings of up to 80 percent are possible.

Higher maximum load capacity, longer service life
Liebherr will present one of its new flat-top cranes at the trade fair in Munich. Three of the eight cranes are equipped with fiber rope. The fiber cranes have up to 20 percent higher load capacities than steel rope models. In addition, the fiber rope can be used four times longer than steel rope. The fiber rope weighs only about one-fifth of the steel rope. The job of reeving the hoist rope becomes much easier as a result. Maintenance can be performed easily as well because the fiber rope does not require lubrication. These features—together with continued ergonomic and comfort improvements—have resulted in the nomination of the crane 370 EC-B Fibre for the bauma Innovation Award in the "Machine" category.

Source: bauma News