Hyundai dealer EP Industries is exhibiting at the Great Yorkshire Show 2015 at the Great Yorkshire Showground in Harrogate from Tuesday 14th – Thursday 16th July with a range of Hyundai machines including the new HL955 Wheeled Loader, which made its UK debut at the recent Plantworx exhibition.
More than 130,000 visitors flock to the Great Yorkshire Show every year for a grand day out like no other. The biggest show of its kind in the country, now in its 157th year, the event is an agricultural show with a difference, packed full of not only agricultural and construction machinery, but with horses, livestock and much much more! This year's event has attracted the interest of the BBC's One Show, who will be broadcasting live from the show on the opening day.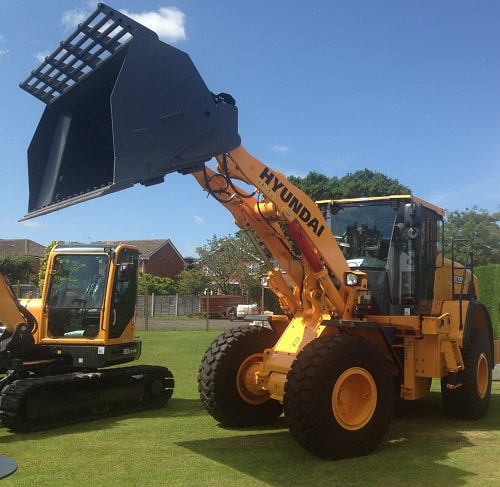 On the EP Industries stand (003) visitors can expect to see the 1.6 tonne R16-9 mini excavator, the new 2.5 tonne R25Z-9A zero tailswing mini excavator, the six tonne R60CR-9A midi excavator, the R80CR-9A midi excavator and the extremely popular, 14 tonne R140LC-9A crawler excavator.
Taking centre stage on the EP Stand will be the new HL955 wheeled loader fitted with an Ulrich Attachments quick hitch and an Ulrich Attachments 3 cubic metre high tip bucket specifically designed for the waste and agricultural markets. The Hy-Tip bucket increases discharge height by up to 1.7m for light material re-handling into high sided trucks and hoppers.
Increased discharge height is achieved by mounting the bucket on a carrying cradle with a pivot located just behind the cutting edge.
The dump action is activated by two hydraulic cylinders mounted in the bucket sides allowing the bucket to be forward dumped while the cradle and loader linkage remain in the high carry position.
Fully interchangeable with standard and multipurpose buckets, the Hy-tip bucket uses the third spool of the loader control and pipework for operation.
The new HL955 has an operating weight of 15 tonnes the new machine is powered by a powerful, stage IV compliant, 149kW (200 HP) Cummins Engine. The HL955 is up to 10% more fuel-efficient in truck-loading – than its d 9A series predecessor.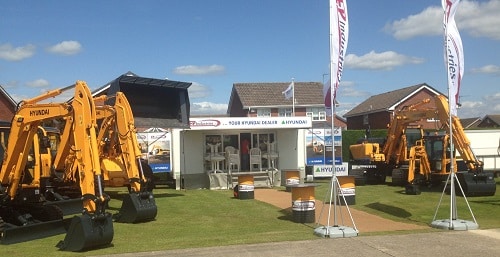 New weighing system
The HL series has an improved weighing system, with an additional weight calibration and an automatic or manual accumulation of the weighed material to support efficient production management.
Green features
When operators use the accelerator pedal, the ECO pedal, can distinguish between economical operation and power operation and recognises the economical operation which in turn reduces the fuel consumption.
It allows the machine to turn off when it enters an 'idling' state to minimise unnecessary fuel consumption and emissions. Operators can select 'idling' time depending on work environments. The 5 speed lock-up clutch on this machine also aids fuel consumption depending on the working conditions.
New cabin design
The cabins on the new HL machines have been designed with the operators' safety and comfort in mind. As well as more space in the cabin – there's a bigger and more comfortable seat with an adjustable arm rest with integrated control levers for attachments.
The cabin is also fully sound-proofed which ensures maximum silence (68 dB) when working in noisy environments such as quarries or waste handling depots – the new HL machines benefit from a 4dB reduction in cabin noise over the d 9A Series.
Ease of maintenance
The HL Series has a large-volume air cleaner, an automatic dust ejector and a three-stage turbo pre-cleaner, as an option, to improve the replacement cycle and durability of supplies. The machine also has a fully sealed engine room, designed to prevent the possibility of fire caused by the inflow of foreign materials. The fully retractable and electrically openable engine hood allows easy cleaning and maintenance. The initial replacement cycle of oil and filter is extended to 250 hours to further reduce the maintenance costs.
Larger dumping height
The new wheel loader is also available in XT version (larger dumping height) and is offered as a TM (Tool Master) with parallel kinematics.

Exhibition: Great Yorkshire Show
Venue: Great Yorkshire Showground Harrogate
Date: 14th – 16th July 2015
Stand Numbers: 003