Ernst van Hek has established a new trading company called Van Hek & Partner. His business partner, Austrian ing. Msg.(FH) René Stich, is responsible for sales management. The portfolio of the company includes the highly successful brands, Jekko, Power Tower, MEC and ATN. The new company, is exclusive dealer for these brands in Austria, with additional focus on neighboring Eastern European countries. Van Hek & Partner, launched the new company in August 2011 and is based in Tyrol, Vomperbach, Austria.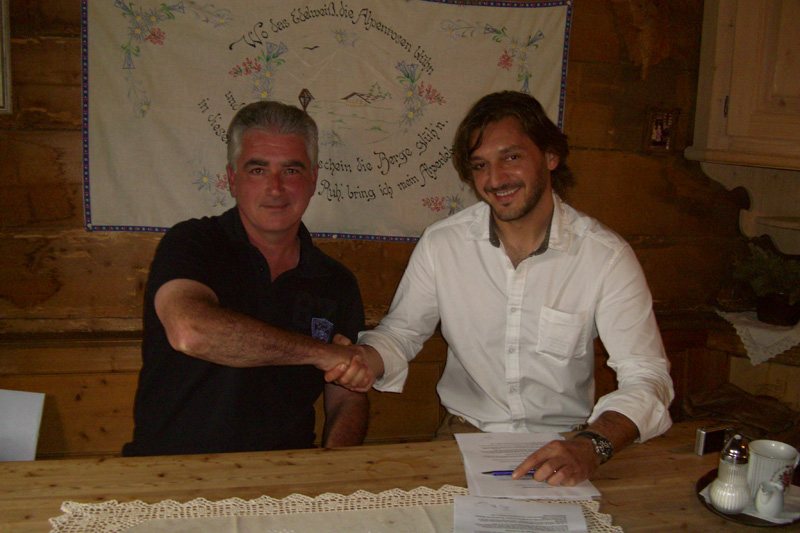 "We are proud that we could win these experienced partners for our project, because each one offers innovative and reliable solutions, which are not yet represented in the local market. We see great potential in the market between Austria and in neighboring countries", said van Hek. " Therefore we will have a very strong focus on setting up a dealer network in some Eastern European countries and are looking for cooperation partners in this area."
With the units of the British manufacturer POWER TOWER van Hek & Partner is the first full-service provider in Austria in the segment of Low Level Access. The compact, lightweight devices are designed for indoor use to increase safety and to exclude risk of ladder-falls. Power Tower devices fit through conventional doors, can be transported in passenger lifts and offer working heights of up to 5.10 meters. There are self-propelled platforms, as well as devices that are easily pushed to the job.
The Italian JEKKO Minikran range for working in confined spaces includes five models with lifting capacities from 1.2 to 4.0 tons, which can be operated electrically or by diesel engine, as well as a large range of boom and glass accessories.
The French company ATN designs and manufactures aerial platforms since 2000 and offers a range of devices, which are characterized by low-maintenance, full-hydraulic design, a sophisticated fault diagnosis system and easy component accessibility.
The renowned American platform specialist MEC offers a range of innovative machines such as the TITAN boom or the re-designed SPEED-LEVEL series. The 170,000 square foot manufacturing facility is located in Kerman, California. The MEC TITAN platform is a mix of boom lift, scissor lift and telehandler. This unit has a very large deck and can lift loads of 1,800 kg at a height of around 14 meters. The TITAN took home the Product of the Year award in the Self Propelled category at the 2011 IAPA Awards.
Van Hek's business partner, Ing. Mag.(FH) René Stich, is to take over the sales management. "JEKKO mini cranes offer some unique advantages over the devices of the established manufacturers. ATN was developed by an experienced French rental company so this machines meet 100% of the needs of the rental industry. In the field of Low Level Access, we are generally the first and only provider in this country and with POWER TOWER we can offer the probably best devices for this segment. The reliable equipment of MEC rounds out our portfolio and makes us a complete supplier, and in special with the MEC TITAN we can offer a new platform-solution which is was not yet available in Austria and neighboring countries", declared Stich the product range.
Lease financing of the machines is done in cooperation with the Raiffeisen Leasing GmbH and the maintenance will be managed over a number of independent companies.
Besides the new equipment by the manufacturers listed, van Hek & Partner also offers used machines, with a pool of several hundred machines, as well as a large assortment of spare parts for all major brands.
Both, Mr. Van Hek and Mr. Stich will be present at the APEX Show working with their partners and welcome costumers. APEX will take place 14 -16 September 2011, Maastricht, The Netherlands at the MECC exhibition centre (www.APEXshow.com). Please visit us at: Power Tower | stand no 1530, ATN | stand no 1760/1750 and MEC | stand no 1810.
For more information please contact:
Ing. Mag.(FH) René Stich, Sales Manager
Tel: +43 (0) 664 134 20 19
E- mail:rene@hekundpartner.com
Ernst van Hek, Managing Director
Tel: +31 (0)6 53 16 27 65
E-mail: Ernst@hekundpartner.com
Joanna Vervoort, Public Relations
Tel: +31 (0)6 52 53 26 08
E-mail: joanna@MKBS4U.nl
van Hek & Partner OG
Stublerfeld 2
A – 6123 Vomperbach
office@hekundpartner.com
Tel.: +43 (0) 664 134 2019