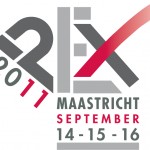 The seventh APEX aerial platform exhibition takes place in Maastricht, The Netherlands, in four weeks time. From 14-16 September all the important suppliers of access equipment and decision makers of rental companies will come together at the MECC exhibition centre.
International show"
We have the right to say that APEX is a real international show. Almost 100 companies from different countries like China, USA and a lot of European countries, will show their products and services at this show" said Tony Kenter, Managing Director of exhibition organiser Industrial Promotions International BV (I.P.I.).
"Beside that we are very pleased about the number of persons who pre-registered to visit the exhibition. A large international attendance descended from all parts of the world; Europe, USA, Far and Middle East."
Visitors can pre-register for free entrance to the APEX exhibition. Pre-registration can be done via www.APEXshow.com, under the button Visitors Information, Pre-registration.
Taking place the day before the exhibition, and also at the MECC exhibition centre, will be the Europlatform conference, jointly organised by Access International and IPAF. The theme of the conference is 'Financing growth'.
The entire conference will be simultaneously translated into German, Spanish and Italian. (Simultanübersetzung auf Deutsch. Traducción simultánea al Español. Interpretazione simultanea in italiano.)
Editors are very welcome to attend the Europlatform conference. There are no costs involved. Please find enclosed the invitation. More information about the conference, programme and hotels can be found on www.europlatform.info.
APEX fun-run/walk to raise money for local charity
A fun-run and walk to raise money for a local Maastricht charity is being organised by Access International and APEX on the final morning of the exhibition.
The 6 km run will be held at 7.00 am on Friday 16 September and starts at the Forum square next to the NH Hotel at the MECC exhibition centre.
Funds raised will be given to Ronald McDonald House, a worldwide charity that provides accommodation to the families of children being treated for serious illnesses. The run is being sponsored by KHL Group (publisher of Access International), Riwal, Terex AWP/Genie, Bronto Skylift and JLG Industries.
"The run should be good fun, but is also an opportunity for us to support a charity that is local to the APEX exhibition", said Murray Pollok, managing editor of Access International. "So the message is, when you come to Maastricht in September, bring your running shoes."
For more information see our website www.APEXshow.com.
Preview Information)
ATN will present new 12 m and 15 m CX scissor lifts. They have been especially designed and developed to provide a dual extension deck of 7.30 m and 1100 kg of load capacity for the CX-12 and 700 kg for the 15 m. On board there is a LCD colour diagnostic screen system, which scans and detects any potential problems.
Stand no 1760/1750
Dinolift will introduce the new articulated boom lift, the DINO 185XTS – marking an entrance into this sector of the market for the Finnish company. This machine has a platform capacity of 250 kg and an outreach of 11.7 m. It has a gradeability of 45% and levelling capability of 5°.
Stand no 2110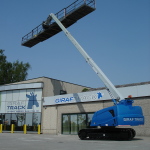 Giraf Track will introduce the Unipair attachment linkage system on the Giraf Track GT580B and GT580C models, meaning that users can use existing attachments from other manufacturers. In addition, all Giraf models are now using a Giraf-designed high performance boom that boosts lifting capacities by 500 kg to 4.3 tonnes. All versions can be ordered with the unique VBLADE anchoring and leveling system, enabling work on steep slopes up to 19° (34%).
Stand no 2020/3600
H.A.B. will launch its new compact S 105/125-16 E2WD scissor lifts. The two lifts are equipped with the new direct electric drive system for a better efficiency, gradeability and higher drive speed that is well known from the H.A.B. S 142-12 E2WD. The all new 105 and 125-16 can be used outside and carry up to 450 kg on the main deck and the 1.2 m extension. The machines do not need a pothole protection system that eliminates the ability to drive the unit on uneven ground. H.A.B. will also show the "Modular-Mega-Basket" system for its telescopic booms T20 and T24.
Stand no 1970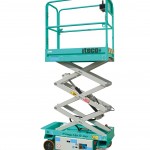 Imer Group will introduce the new mini scissor platform EASY UP 5 SP. The EASY UP 5 SP version features a large work platform (626 mm x 1250 mm) and reaches a maximum work height of 5.2 m, ensuring a particularly short lifting time of just 21 seconds. The maximum load capacity is 150 kg (1 person and 70 kg of materials and tools) and guarantees the operator's safety with an inclinometer with tolerance of 1.5° and an overload sensor.
Stand no 1670

IPAF will focus on the proper assessment of ground conditions and the correct use of stabilisers, outriggers and spreader plates. With the help of posters and videos, experts are on hand to explain the potential risk of tip-overs in cases where ground support requirements have not been adequately addressed. Visitors can also experience first-hand, using a simple but effective model, the "wobbly" and destabilising effects when spreader plates are not used.
Stand no 1145
IPS, the international supplier of replacement parts for powered access platforms and lifting equipment, will be introducing a range of products and initiatives, including the 350 fast moving parts catalogue, decal catalogue, price match promise, range of eco lift outrigger pads and parts pal.
Stand no 1460
The Kemp Group is the Dutch distributor for Maeda and European distributor for the Japanese Nagano machines. The Maeda range has recently been expanded with the addition of the LC383M-5B. Primarily developed for use in areas such as city centres due to its slim footprint and no outriggers required, the LC383M-5B has a 1.46 t pick and carry capability.
Stand no 1220
Matilsa will show three machines: the Parma 7 and Parma 12T, trailer mounted platforms with working heights of 7.3 m and 12 m; And the new Parma18D, a self propelled aerial work platform with 18 meter working height and a 180º rotating jib.
Stand no 1410

Palazzani Industrie will introduce two new tracked aerial platforms, the Ragno TSJ 30.1\C and Ragno TSJ 35\C. The TSJ 30.1\C has a compact and light structure, suited to work either out- and indoors, especially in restricted areas and on delicate flooring. The maximum working height is 30 m and the maximum outreach is 15\13 m with one or two persons. The TSJ 35\C has a maximum working height of 35 m.
The outriggers are of the variable geometry type with independent set up on three different positions.
Stand no 2310
New Italian company Sky Aces will introduce the truck-mounted platform TUN LIFT 737-500. With a large platform deck and 500 kg capacity it is designed to provide access inside tunnels. Stand no 1140 | Pictures available on request
Skyjack will have on display an overview of their robust and reliable scissor and boom line-up. Scissor models will consist of the SJIII 3219, SJIII 3226, SJIII 4632, SJIII 6832RT, SJ 8841 and SJ 9241. Rounding out its products on
display will be the SJ 51AJ articulating boom and the SJ12 vertical mast lift.
Stand no 1610
Technobalt will introduce its new component production facility for lifting equipment. It offers the production of pins, shafts, chain- and gearwheels, as well as subcontracted manufacturing. Technobalt has a 5000 m² production facility, equipped with modern laser and plasma cutting machines, bending machines, CNC-milling centre and turret lathes, system for surface treatment and several painting ovens.
Stand no: 1120
The Trionic Group will release its innovative SEM600 Dual Motor Controller. Patented technology eliminates the need for speed, position, and steering sensors by implementing an automatic differential lock that senses when a wheel loses traction and directs torque to the other wheel. This allows for significant reduction of cost and complexity when combined with separately excited motors. Also new is the TS100 controller, a low-cost, self-contained controller designed specifically for the needs of low level access with permanent magnet motors and caster wheels.
Stand no 2040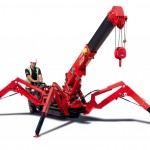 Unic Cranes Europe will be showcasing two of its most popular compact spider cranes: the URW-295 and URW-706.
Measuring only 0.60 m wide, the compact Unic URW-295 has a 2.9 tonne capacity and maximum working radius of 8.41 m, making it an ideal machine for lifting in restricted access environments such as in between floors, underground and within congested sites. The larger URW-706 is still only 1.67 m wide yet delivers a bigger lifting capacity of 6 tonnes and has proven its worth in the construction, defense, marine, infrastructure and rail industries.
Stand no 1400
US Battery will present its new AGM line of maintenance free batteries. A lot of access equipment is used inside buildings like airports, hospitals and production plants.
Regulations for these buildings are more strict by using standard open wet batteries inside machines. US AGM maintenance free batteries could be the solution for this.
Stand nr 1800

Source: APEX News Room