The positive response to the first bauma Africa show – which took place at Gallagher Convention Centre in Johannesburg from September 18 to 21 – highlighted the craving for such an opportunity in Africa's burgeoning construction industry, according to a leading industry voice.
Lawrence Peters, Chairman of CONMESA (Construction and Mining Equipment Suppliers' Association), said. "We've been starved of a credible platform to promote our products to markets in South Africa, the rest of Africa, and the rest of the world, for ages. I'd say it was eight or nine years overdue. Taking into account the current economic climate, bauma Africa was huge for CONMESA members and has put a lot of the South African companies on the world map."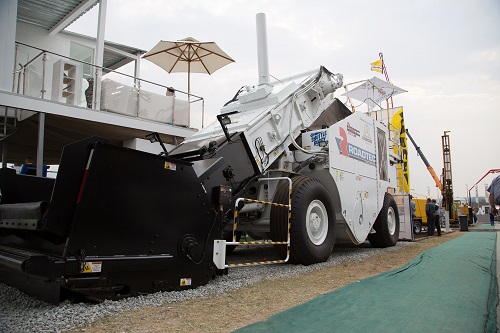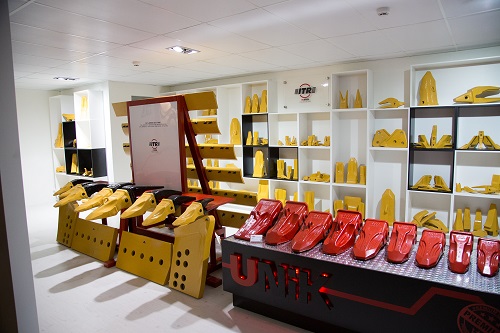 Elaine Crewe, the CEO of the show's organizer, Messe München International (MMI) South Africa, said the show's success had far exceeded initial expectations. When MMI first planned it, they expected 20,000 m2 would be enough to house 200 exhibitors. But demand was so great that estimations kept getting revised upwards. In the end, the show attracted 754 exhibitors from 38 countries, taking up 60,000m2 of exhibition space.
There were 123 exhibitors from South Africa, but the intense interest from abroad was the most revealing aspect of the show. In all, 631 exhibitors with their headquarters outside Africa booked stands. The top exhibitor countries were China, Germany, India, Italy, Korea, Spain, the UK and the US.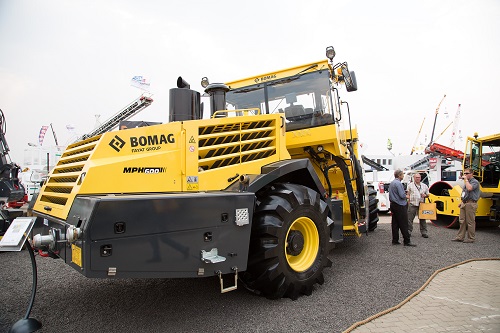 Following the show, the exhibitors were universally enthusiastic about how well it had gone. Several manufacturers sold all the machines they had on display. "Selling off the stands at a trade show is not common in South Africa, but time but again and again we heard the same story from the exhibitors about people buying their machines," said Crewe. "ELB Equipment, for example, sold all their machines, and so did Putzmeister. JCB and Bell also sold a lot."
The response of the local South African companies was summed up by Quintin Booysen, Sales Manager at Pan Mixers South Africa (PMSA). Booysen said: "We really went beyond our expectations. Next time we will be back with twice the space because I'm sure that there will be twice as many visitors. Those who missed out missed an exceptionally good show."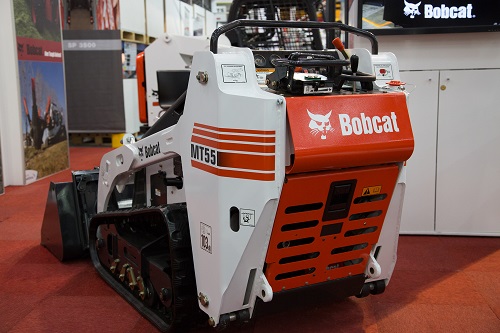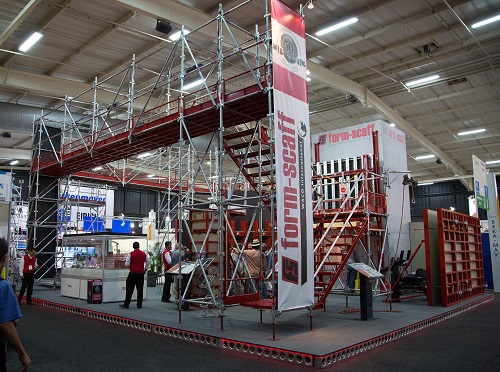 CONMESA's Lawrence Peters put the success down to the show's focus on the construction industry. He said previous shows in South Africa had been more about encouraging free market enterprise. "This was a proper international show. In the past it was just window shopping, whereas at bauma Africa our companies had a higher order rate than ever before," he said.
Although there were no exhibitors from African countries outside South Africa, Peters counselled against reading too much into that. He said that in most African nations companies were either dealers representing international manufacturers or providers of original equipment which was sold under a different name.
The 14,700 registered visitors came from 110 countries. About 84 per cent were from South Africa, six per cent from other African countries and ten per cent from other continents. The top 10 visitor countries were South Africa, Mozambique, Germany, Botswana, Zimbabwe, Zambia, Italy, Namibia, United Kingdom and India. China was not far behind in 11th position.
Elaine Crewe, the CEO of MMI South Africa, said: "The total of 10 per cent visitors from outside Africa was very satisfactory. To put it into context, bauma India only gets about 2 per cent of its visitors from outside India. But we do want to increase the percentage of foreign visitors at future shows," she said.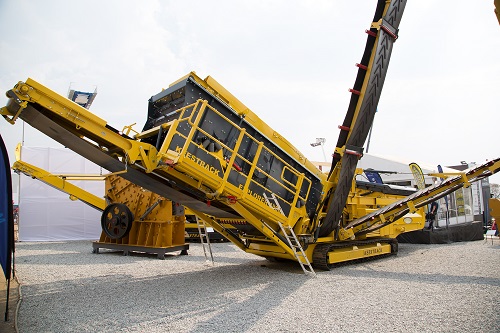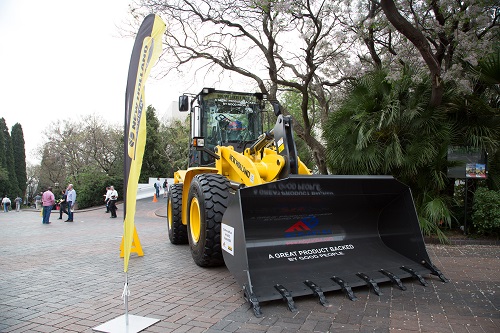 The high interest from overseas reflected increasing opportunities in Africa's construction market, Crewe felt. "The growing pool of international entrants is a telling sign of just how important Africa is becoming and the need for specialised players. In South Africa alone, the Government's current five-year National Development Plan has set aside ZAR 800 billion (US$82.1 billion) for construction projects," she said.
Other countries in Africa also have major infrastructure needs. And their economies are booming. Data from the African Development Bank suggests Africa's economy is growing faster than anywhere else in the world. In its Annual Development Effectiveness Report, the Bank said over a third of African countries have economies with GDP growth of more than six per cent.
The Chinese, in particular, have recognised the importance of Africa. They are investing heavily there and had a strong presence at bauma Africa. For example, Chinese machinery giant Shantui had a large stand. Shantui started exporting to Africa in 1986 and expects the continent to account for 20 per cent of its global sales by 2018. Meanwhile, its rival Chinese machinery firm XCMG, also a major presence at bauma Africa, recently committed US$14 billion in infrastructure development in Africa over the next five years.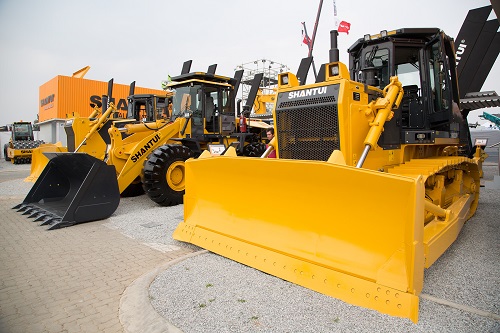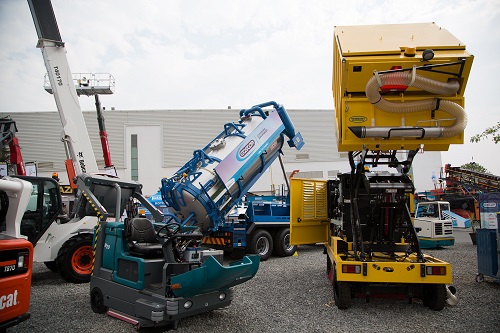 Another prominent Chinese presence was SDLG, which showed a range of wheel loaders, excavators, motor graders and road rollers alongside its South African national dealer Babcock.
Other international companies, including JCB and Terex Finlay, used bauma Africa to launch products specifically targeted at the African market. JCB, for instance, launched its 20-tonne JS205 crawler excavator which will be sold throughout Africa, as well as India and Asia. JCB's director of overseas regions, Patrick Massardy, said the machine's 5.9-litre six-cylinder engine was suitable for remote parts of Africa because it needed little maintenance.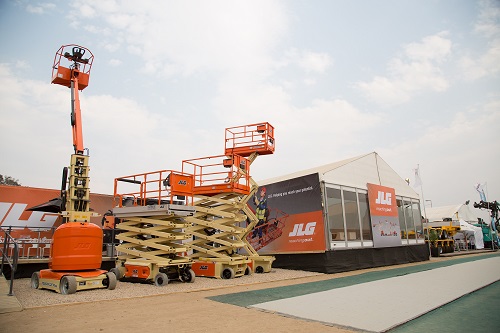 Meanwhile, Eazi Sales & Services, which distributes JLG and Magni equipment in South Africa, used the show to launch its new three-in-one rotational machine, as well as the world's largest telehandler. And South Africa's Pilot Crushtec International launched a fleet of new products at the event, including one of the largest mobile crushers ever seen in Africa.
Perhaps the most enthusiastic endorsement of the potential in the African market came from Giuliano Parodi, vice-president of sales, at South Korea's Doosan Infracore Construction Equipment. Describing the continent as "the future", he said his company's major focus for the next 20 years would be on Africa.
A venue and date has not yet been established for the next bauma Africa, but it is likely to take place in two years and become a bi-annual event. It is also likely to be twice the size next time around.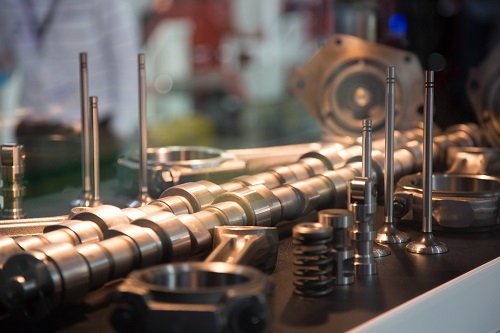 Elaine Crewe said the event would be marketed more widely in Africa. "Although we're very happy with the figures for this year, one of our major objectives will be to get stronger representation from the rest of Africa next time. For the first show, we focused more on sub-Saharan Africa, but we intend next time to market it more strongly in the West African countries and elsewhere in Africa," she said.
"Marketing the show will be a lot easier second time around. Bauma has been well-known in Asia and Europe for some time, but it was new for Africa, so we had to find ways to get the word out. But thanks to the first show, the bauma brand is getting stronger in Africa now."
Author: David Smith
Photos: Paulo Toureiro