The Sichuan Lomon Corporation (Lomon Group) in China is the largest supplier of phosphate in Asia – ranking fifth globally – and is the largest extractor of titanium dioxide in China. The company's green mine in Panzhihua produces 35 million tons of chemical products a year.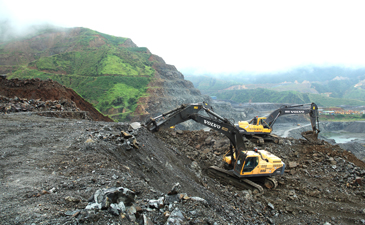 Panzhihua is a city in China's southwestern Sichuan Province that was once home to the giant panda. Beneath the sea of green that can be seen from the air are large deposits of valuable minerals, so much so that 35 million tons of chemical products are mined every year, with the help of Volvo Construction Equipment (Volvo CE).
Sichuan Lomon Corporation, founded in 1985, is a large private chemical corporation specializing in phosphorous, titanium dioxide, bioscience, and mineral products in China. Its products are used for making steel or consumer goods such as paint, sunscreen, paper and plastics. The corporation has 10,000 employees including more than 2,000 technicians. The company's total sales amount to RMB 1.5 billion (USD 220.2 million).
Lomon established its Panzhihua operations in 2003 and in 2007 purchased a local phosphate mine. As one of the biggest mines in China – and after 40 years of development – the region has become an important producer of vanadium and titanium dioxide and western steel. Panzhihua's economy relies on its treasure-trove of precious minerals; growing demand has seen other areas being developed.
The company's operations can cause dust and release emissions into the atmosphere, but as a national-level green mine demonstration base, the mine implements rigorous requirements on vegetation coverage, dust prevention and emission control. The site encounters yearly visits from the government's environmental protection department to conduct inspections and ensure responsible mining.
What's energy efficient, strong and high quality?
The company's mining equipment must therefore combine steel quality, strength and energy saving features, which is why it chose to expand its existing Volvo Construction Equipment (Volvo CE) fleet, recently purchasing eight more machines – four Volvo EC360 and EC460 C-Series crawler excavators.
The company now has 23 active Volvo units in total and has calculated one Volvo excavator can mine 3,500 m3 of minerals a day. Since using Volvo construction equipment, Lomon has achieved a stable maintenance base in Panzhihua to enhance its production – increasing its equipment efficiency by 90%. "Volvo has now become the main force of our mining operations," says Mr. Wu, management engineer at the mine."
The mine is dusty and humid during summer with the temperature exceeding an unforgiving 40℃. However, the Volvo excavators respond well to the harsh working conditions and can adapt to different environments and climates. "One of the mine's Volvo excavators has clocked up more than 18,000 hours and is still going strong," says Zhang Shiyin, operation manager of the company. "Since using Volvo excavators – not one has been scrapped."
The Volvo value
Over a two-year period it's understood that one Volvo excavator is expected to help the company recover the costs of buying Volvo Genuine Parts for all of its Volvo machines, instead of buying less expensive, but less efficient parts from a different manufacturer. The Lomon Group has even conducted a Volvo parts comparative test, which proved Volvo parts increased machine life and productivity.
Panzhihua plans to overhaul its maintenance program to ensure its fleet's quality. The company's operators must have operating permits issued by the state, and undergo an assessment every year. The site allocates special funds for staff so that Volvo can provide professional training, which enhances the operators' skill set and knowledge. Volvo CE's approved dealer for the region, Chengdu Engineering Machinery Co., Ltd. Fu Sheng, also gives professional guidance to instructors.
"Fusheng have dedicated service teams that visit whenever you need them and even when you don't," says Shiyin. "Thanks to the support of Volvo, our production times are getting quicker. Volvo is our closest ally and an integral part of our strategic partnership."

Source: Volvo CE