BC India, international trade exhibition for construction, building material and mining machineries and construction vehicles, took place at Greater Noida (a place 35 Km away from national capital, New Delhi) in India. Construction vehicles and allied products used in the construction were also at display at the expo. Construction Shows, which was in attendance at the four day ( Dec 15- 18th 2014) show took an extensive tour of the show and tried to know the view point of participants about the show and state of Indian construction equipment industry in India in this article.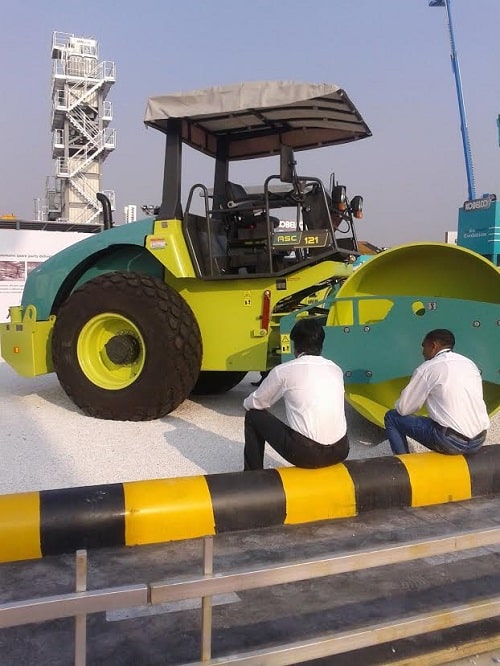 If number of visitors is any indication of success of an event, BC India 2014 was a huge success. Long queues at registration counters and number of people thronging the entrance reflected the optimism in Indian construction sector. Covering an area of 170,000 sqm of exhibition space through six halls and open area ( open area hosted the largest players, each occupying half an acre of area to display their machineries),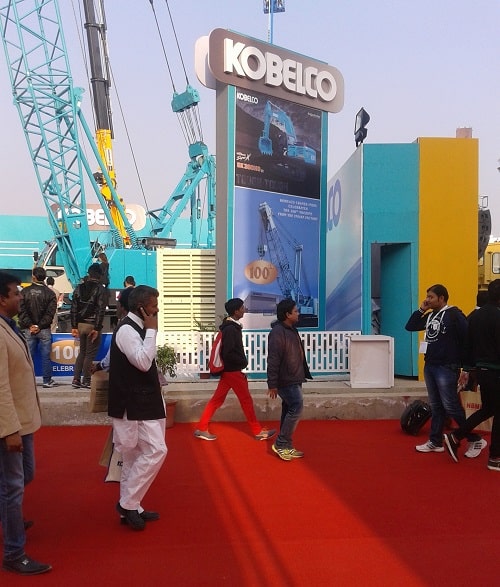 The exhibition looked impressive, large cranes and other construction equipment were displayed in the open exhibition area. Putzmeister, Komeco, Caterpillar, ACE, Liebherr, Sotitz India and Volvo were some of the exhibitors occupying the open spaces.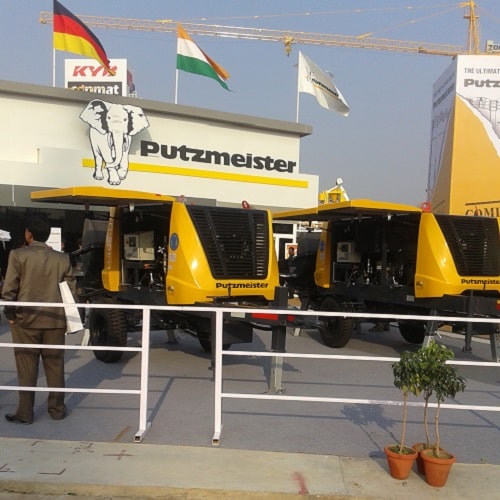 Neeraj Uddin, Sales Engineer at Putzmeister Concrete Machines Limited told construction shows "We are overwhelmed with the number of visitors at our booth. With state of the Indian economy improving and construction projects coming back to life in the country, we are hoping a revival in our business in coming months". Despite several efforts to a senior executive at Caterpillar's booth, we couldn't speak to a senior official due to an ongoing prize ceremony being organized at their booth. By the number of visitors, it looked one of the busiest areas in the entire open space.
While the general revival in Indian economy and optimism in Indian construction sector was evident on most of the participants and visitors in the open space.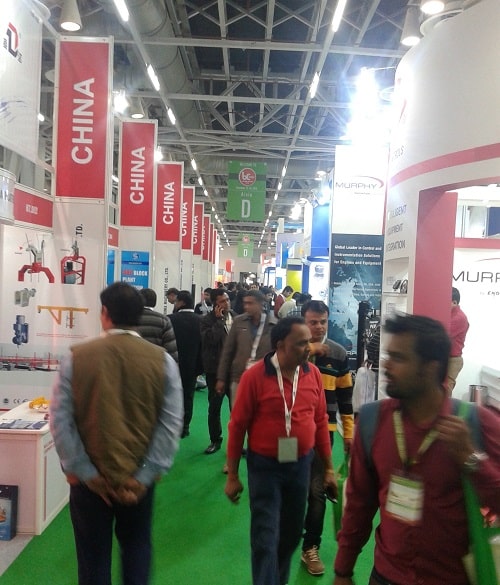 Things were a bit different in the covered area, which comprised six halls. Dotted with about 750 companies in small and medium sized booths, these halls too had a good rush, but nothing in comparison with the outdoor area.
Kevin Liu of Donyue Machinery Group told this reporter on a query, how does he see prospectus of Indian construction equipment industry in coming years, Liu's reply was a mixture of optimism and caution. "In India, policy and bureaucracy is a big impediment in the growth of construction sector. No wonders, projects in the country are stalled for years". However his compatriot, Ryan Xi, Regional Sales Manager of Techgong International Limited had a different view. She told "We are very optimistic of Indian market and looking to have a steady sales in short and medium term." On being questioned about her high hopes on India, she told "If we look at the current infrastructure in the country, India lags far behind than most of the rapidly developing countries. More prosperity will bring a spate in construction activities in the country, which is good for company like ours".
Mascons, a mid sized India based producer of concrete mixing, batching, self loading transit mixtures and concrete kerbing machines was having a huge turnout of visitors at its booth. Ajay Gupta, General Manager at Mascons told " In addition to tier I cities, construction activities in tier II cities like Ahmadabad, Pune, Rajkot and many more having most of the growth of the construction industry in the country". Steve Ryder, International Sales Manager of UK based Friction Marketing Company Limited, who was at BC 2014 for the third time told " In comparison to Mumbai, the venue and number of visitors are definitely an improvement". When queried about the quality of visitors, Steve told "It normally takes from a fortnight to a month to access the quality of enquires and visitors at a show for us. So it would be too early to comment on it now".
A total of 26,000 visitors and 635 exhibitors from 25 countries attended the third edition of this International Trade Fair for Construction Machinery, Building Material Machines, Mining Machines and Construction Vehicles. Igor Palka, CEO of the organizer, BC Expo India, is very satisfied "Exhibitors have so much trust in our brand and are continuing to support BC India in what is still a difficult economic environment. The event is now a firm date in the calendar for many companies and it has established itself. We have had a lot of positive feedback – and of course we are delighted about that."
The last edition of BC India was held in India's financial capital, Mumbai (located on Western coast of the country) in February 2013 in Mumbai attracted a total of 710 companies from 33 countries and more than 28,000 trade visitors.
Autor: Yogender Malik,
Yogender Malik is a Analyst and Freelance Journalist based in India writes on Indian construction and construction related industries. email: [email protected] phone 91-9811401006