Tower Light, the Italian manufacturer of commercial site lighting systems, recently exhibited at the giant construction machinery show – Bauma China – held in November at the Shanghai New International Expo Centre.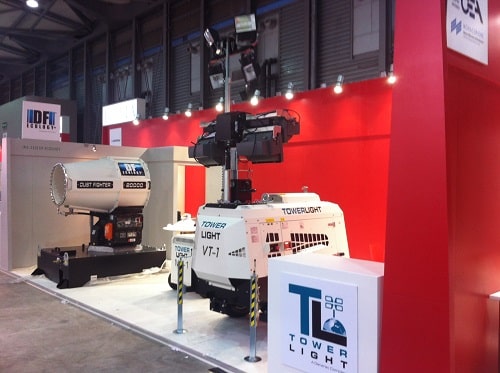 The Tower Light display area was supported by Alessandro Rossi (Tower Light global sales director), Alessandro Carenzio (Asia sales representative) and Simone Dalu (DF Ecology product manager).
The company displayed a wide range of lighting systems alongside their environmentally biased dust suppression products, manufactured by their sister organization, DF Ecology. Tower Light executives noted particular interest in their VT1 4x1500W and MT1 lighting sets together with the DF20000 Dust Fighter dust suppression unit. The VT1 is one of the most popular sets in Tower Light's lighting line up. With a 9m vertical mast fitted with 4 no. 1500 watt metal halide lamps this whisper-quiet lighting set is ideally suited to provide safe lighting levels on most types of applications, including highway contracts, construction sites and outside events. The MT1 is a relatively new product in the Tower Light range. It has a manually operated 5.5 metre mast fitted with 4 no. 400 watt metal halide lamps. This self-generating lighting tower is ideally suited for illuminating small and medium sized areas and as an option the MT1 can also be fitted with 4 no. 150 watt LED energy saving lamps.
DF Ecology's DF20000 Dust Fighter is a one of a range of self-contained dust suppression units. It produces a fine mist of water through a series of high-pressure jets, covering an area up to 60-metres. The mist is then propelled onto the site by a powerful fan, covering the area in just a few moments, rendering the area free from unhealthy and hazardous material. Power is provided from either a generator or mains power and for enhanced portability, the DF20000 is fitted onto a road-tow trailer.
The keen interest that was shown in these products throughout the three days was reinforced by the fact that all three units were sold during the show.
Following on from the success at Bauma China, Tower Light are now preparing to showcase their range of products to the UK rental industry at the Executive Hire Show in February 2015 and subsequently at Intermat (France) and Ecomondo (Italy).
Tower Light Srl manufacture the worlds largest range of lighting towers for all lighting applications in the rental, construction, mining, rail, airport and event industries. The manufacturing plant for lighting towers is based in Villanova d'Ardenghi near Milan from where their products are supported through a strategically created network of worldwide distributors. Tower Light Srl is part of the US based Generac Power Systems Group.