As part of the government's plans to accelerate economic growth, a major expansion of India's road network is underway – with Volvo Construction Equipment helping to pave the way.
Many cities in India are set to benefit from the government's ambitious plan to use infrastructure investment to boost the economy. The initiative will see the construction of new major roads and upgrading of existing roads, with the government's plan to increase the pace of road construction from 2km (1.2 mi) to 30 km (18.6 mi) a day. The country's road and transport ministry has set up a review committee that meets every month to take stock of progress.
To meet this target, construction companies are under pressure to ramp up the productivity of their operations.
There are currently 11 ongoing projects across India's road network, funded by the World Bank. Once complete, the road network will make traveling more efficient and spur economic activity across the country.
Contractor Bharat Vanijya is using a fleet of Volvo machines to work on an 84 km (52 mi) stretch of road from Bankura to Purulia. This is just one such project in the state of West Bengal in eastern India, and extends across two disadvantaged districts. With connectivity being a basic tool of development, projects such as these have a socio-economic impact and are designed to foster a successful economic and business environment.
Fast and efficient operation
Responding to the pressure from the government, Gokul Agarwar, director of Bharat Vanijya, is confident that he, and his team of 470, will get the job done. "We were given 30 months to complete the work using a fleet of Volvo machines on quality, budget and on time," Agarwar says.
The fleet in question includes 29 Volvo units, operating daily for up to 15-hours at a time. The project, which began in September 2015, involves the expansion of the two-lane road from 5.5 m (3.4 ft) to up to 10 m (6.2 ft) wide. The existing road includes seven major bridges and approximately 84 small cross-drainage structures.
The company presently has 16 EC210B 20 tonne-class crawler excavators, seven SD110 single drum soil compactors and three 10 tonne DD100 double drum asphalt compactors, combined with a PTR220 pneumatic tire roller, a P4370B ABG wheeled paver and a P5320 tracked paver. Among the fleet's attachment range is an HB22 hydraulic rock breaker, which works with the EC210B crawler excavators, providing consistent power, durability and breaking force.
With the collective force of the Volvo fleet, strong team of experienced engineers and ample supplies of sheer determination, Agarwar forecasts the project will be completed within 22 months. This is no idle boast; Bharat Vanijya has already completed three major projects in the same district in less than half the time allocated.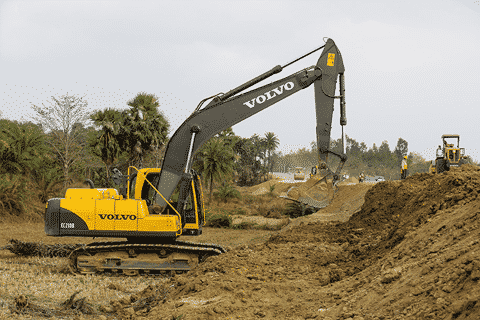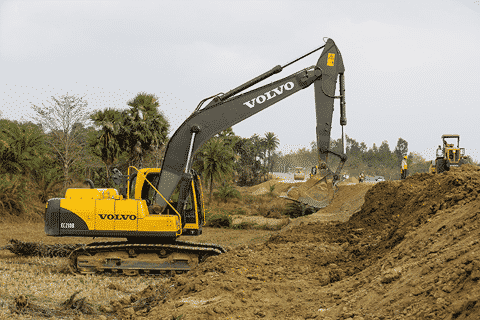 "Early completion of a project allows us to go ahead with another project, while improving company turnover and sales figures," explains Agarwal. Completing eight months ahead of schedule will undoubtedly also boost the company's reputation.
Agarwal estimates that Bharat Vanijya almost doubled its target for the beginning of March 2016. "Client satisfaction comes with progress and quality – we have achieved that in the past and we are doing it again with this project," he adds.
Long-term success
Agarwar acknowledges the major role played by Volvo CE in the success of this and previous work. "Thanks to our Volvo machines, our increased capacity helps us to complete projects on time," Agarwar says.
Having used numerous competing brands on various worksites, Agarwar praises the fuel efficiency and productivity exhibited by Volvo machines. "We compare all the figures, including depreciation, capital cost, investment cost and maintenance, and expenditure is quickly recovered thanks to Volvo's flawless performance," he says.
To keep operating costs low, the Volvo machines are scrupulously well maintained and continue to run smoothly in spite of the long hours and often very high temperature.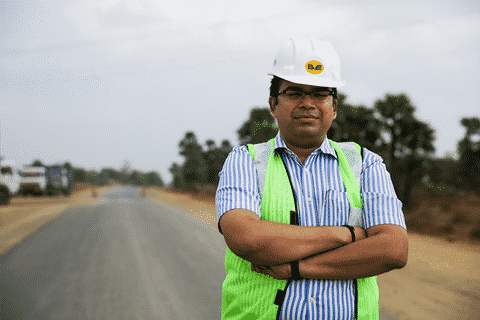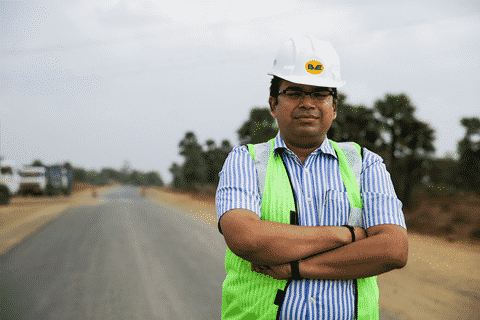 "Another machine brand might require servicing after 250 hours, but with Volvo, it might be 400-500 hours," says Agarwal. "A 14-15 hour a day with another brand, means the service time might come within 15 days, whereas for Volvo it would be more like 25 days."