Forthcoming investments in the power, gas and production sectors will help the industrial construction market get back on the path of sustained growth after a decline in 2009 and 2010. As a result, industrial construction will be able to successfully take the place of road construction as the key driving force behind the growth of the construction industry.
Ambitious investment plans in the power and gas sectors and sustained investments in special economic zones open up excellent prospects for the industrial construction market in Poland in the coming years, according to PMR's report "Industrial construction sector in Poland 2011– Development forecasts for 2011-2014".
Construction output generated by industrial construction projects in 2010 totalled PLN 15.3bn (€3.8bn). Over 40% of the market's value was represented by the construction of industrial buildings and warehouses, whereas each of complex constructions on industrial sites and long-distance pipelines and other lines contributed nearly 30%.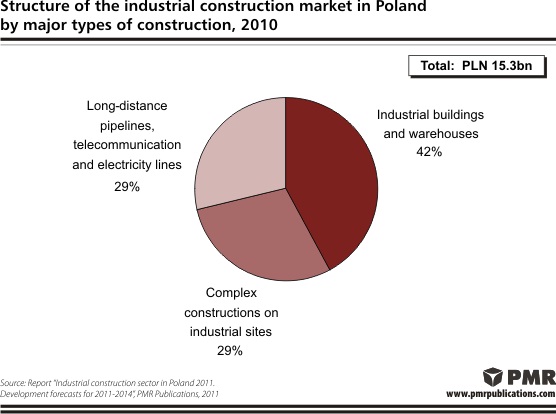 PMR analysts expect that after declines recorded in 2009 and a slight upturn in 2010, construction output from industrial construction projects will grow in 2011 by over 13% to PLN 17.4bn (€4.3bn). The growth will be driven mostly by the development of long-distance pipelines and lines (up by approx. 25%) and a resurge in the construction of industrial and warehouse buildings (expected growth in excess of 10%).
The power sector is bound to be the growth engine for the industrial construction sector in the coming years as it expects at least PLN 100bn (€25bn) in capital expenditure on new generation capacity assets and networks. However, these ambitious plans continue to face a number of new challenges. Major contracts to be awarded include investment projects involving the construction of power units at power plants in Opole, Kozienice, Jaworzno, Turow, Stalowa Wola, Wloclawek and Ostroleka. In addition, new projects are in the tender preparation phase.
The market of gas investments in Poland appears to offer excellent prospects, too. There are many investment projects planned in the gas sector for the next three years, which can potentially bring profits to Polish construction companies. These projects include both large tasks, such as the construction of the LNG terminal in Swinoujscie valued at PLN 3bn (€750m), and smaller projects involving the development of gas transmission infrastructure. In addition, there are many projects planned involving the construction of new power units in the gas technology plus expected investment projects in exploration and production of shale gas.
The third major group of investment projects in industrial construction is represented by production plans, most of which are located within special economic zones which are the hubs of industrial activity in the country. 2011 proved to be a successful year for special economic zones; the value of new investments in the zones for 2011 as a whole will significantly exceed the relevant figure for 2010. In addition, the downward trend in building permits for industrial buildings was halted in H1 2011 following challenging years of 2009 and 2010 – investors secured building permits for 2,710 buildings (up by 2.3% year on year) with the floor space of nearly 2.5 million m² (up by 17.3% year on year).
Also, preparations for the construction of several waste incineration plants have gained pace in the recent months, partly fuelled by the effective EU environmental protection regulations. Concerning the fuel industry, it is past its investment peak and it will be the least dynamically developing segment of industrial construction in the coming years.
"We expect that the industrial construction sector will maintain positive growth of several percent in 2012 and 2013 to accelerate strongly in 2014. The upturn will be largely driven by the rapid delivery of the first contracted power units. Consequently, the industrial construction sector may reach a value of up to PLN 27bn (€6.7bn) by 2014, thus taking the place of road construction as the key driving engine for the construction market in Poland", says Bartlomiej Sosna, Head Construction Analyst at PMR and the author of the report.
This press release is based on information contained in the latest PMR report entitled "Industrial construction sector in Poland 2011– Development forecasts for 2011-2014