With an unprecedented 546 exhibitors and almost 20,000 trade visitors in attendance, Hillhead 2018 was the biggest and most successful show to date
For three gloriously sunny days at the end of June, as Britain sweltered in simmering summer temperatures, Tarmac's Hillhead Quarry, near Buxton, Derbyshire, once again became the focal point for the international mineral products, recycling and construction equipment industries with the staging of Hillhead 2018 – the world's biggest working quarry show.
With every square metre of exhibition space fully occupied, this year's trade fair registered an all-time high for the overall number of exhibitors (546), while the total attendance amounted to a record-breaking 19,687 unique visitors – surpassing the show's previous highest attendance record set in 2005.
Regular attendees would have noticed the new layout inside the Registration Pavilion, which had been expanded (again) to boost its capacity to 90 exhibitors, to meet the strong demand for exhibition space at the show. The Registration demonstration area at the top of the showground was also redesigned to accommodate additional static stands and demonstrations showcasing working plant. And providing a spectacular focal point to this newly expanded area was the 'Man Engine', Britain's largest mechanical puppet, which proved to be a real crowd-puller – wowing audiences during the three-day event.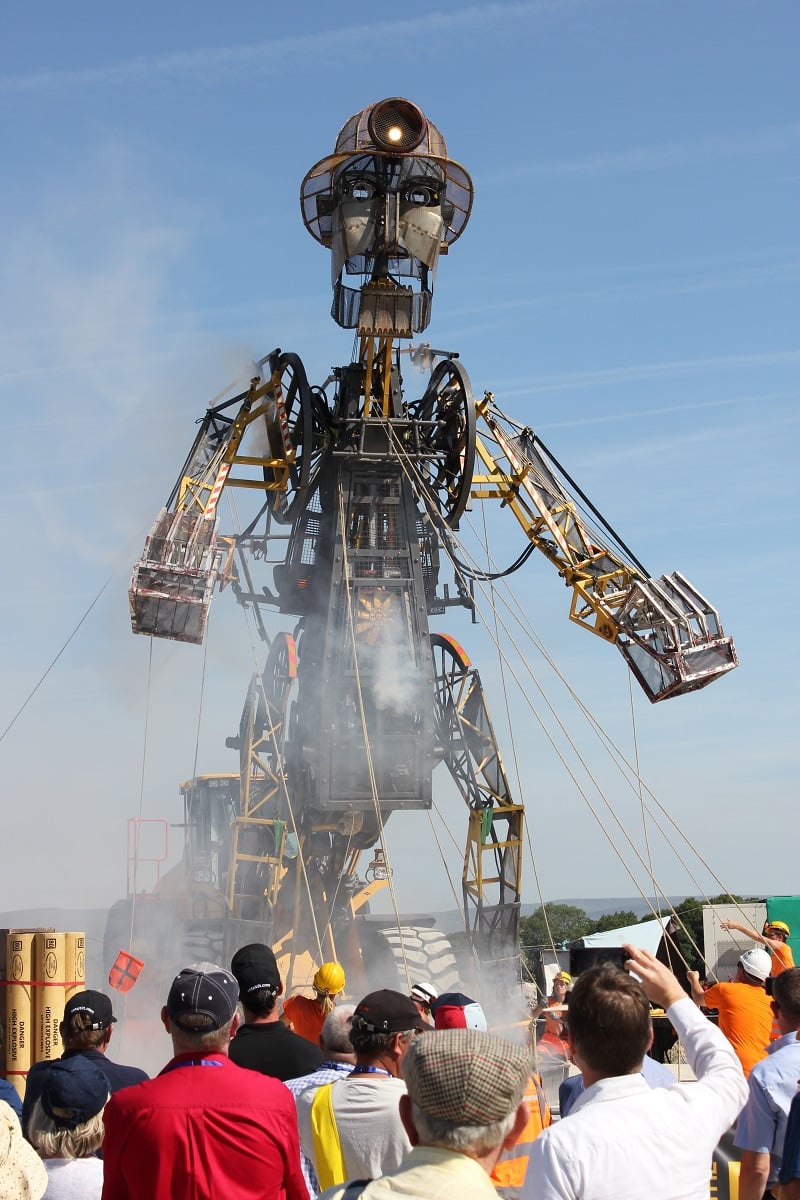 The general consensus among the exhibitors and visitors at this year's Hillhead was that this was perhaps the best show yet with more live plant and equipment demonstrations, more new product and service launches, and more technological innovations than ever before.
Expressing his delight at the show, Simon Kennedy, national sales manager for Bomag (GB), said the company had had one of its most successful Hillhead appearances to date. 'The response to our heavy compaction equipment, product innovations and aftermarket developments has been absolutely phenomenal,' he commented. 'It's been a very positive and productive event for us, with many orders taken and, unexpectedly, a number of machines on display were sold to customers visiting the stand. We had a lot of enquiries and received excellent feedback. It really could not have gone any better, so much so that we are keen to take a bigger stand at the next Hillhead show.'
Likewise, Amy Metcalfe marketing manager of SMT GB, the UK distributors of Volvo CE products, said the company's presence at Hillhead 2018 had been 'highly successful'. She added: 'Intermat was quiet and we thought perhaps people are getting fed up with shows, but Hillhead has been really busy.'
In a similar vein, David Kinloch, regional manger for UK & Ireland at CDE Global, said he was very pleased with the huge interest shown in the company's newest products at Hillhead, most notably the AggMax 163SR log-washer and two brand new Infinity screen models. 'It's been an excellent show for us, as we've picked up a substantial number of positive leads and even closed a number of deals on the stand,' he enthused.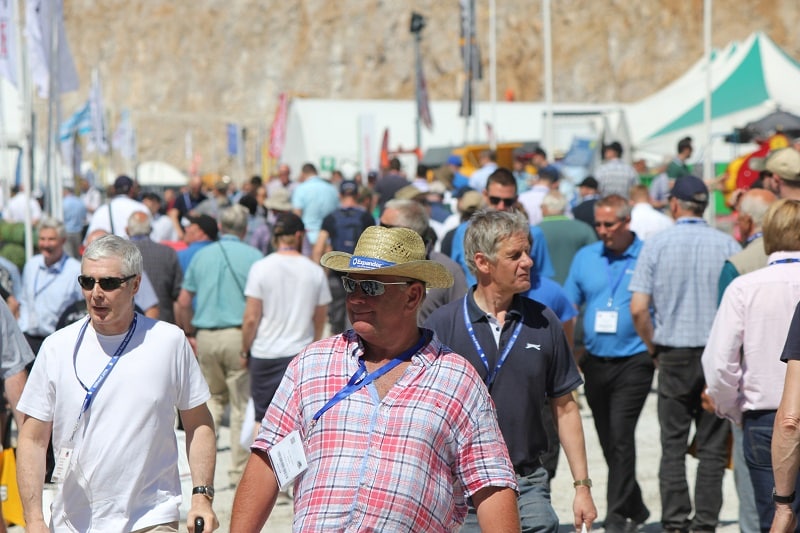 Importantly, Hillhead offers overseas companies an ideal opportunity to break into the UK and Ireland markets, and first-time exhibitors Superior Industries, based in Minnesota, in the US, were highly enthusiastic about the show. 'As a foreign business trying to break into the UK and European bulk materials handling markets, we had to exhibit at the show,' said Michael Dunne, who oversees the company's international business development. 'Hillhead is the largest exhibition of its kind in the world and we were impressed with the scale and quality of visitors to our stand. As a result, we have received a number of excellent leads and made a lot of contacts, which will help us promote our brand and products to a wider UK and international audience.'
The middle day of Hillhead (Wednesday) is usually the busiest of the three days and by the end of the morning on 27 June, most exhibitors were reporting packed stands with lots of business activity, none more so than Finning, who described this year's exhibition as 'the best and busiest Hillhead they have ever experienced'.
As well as impressive outdoor exhibits – which included a Cat 745 articulated dumptruck and Cat 320 excavator – indoor exhibits on the Finning/Sitech stand focused on future technological developments and solutions for the construction equipment industry. These ranged from state-of-the-art simulators and aerial survey drones to sophisticated 2D and 3D grade-control software, all designed to help fleet operators to manage their machines efficiently while improving safety and reducing operational costs.
'The response to the VR technology, remote-controlled bulldozers and other heavy equipment has been very positive,' said Phil Lewis, head of Finning Managed Solutions (FMS). 'Hillhead has provided a future-forward showcase that allows attendees to see and test what is out there now for companies like ourselves, and what's possible. There has been a lot of footfall on our stand during the show and we've been busy all day, every day. We couldn't have asked for a better exhibition, particularly in terms of the quality of visitors.'
Among the other exhibitors keen to show off their latest technology were Keestrack, who presented their revolutionary H4e mobile cone crusher at Hillhead 2018. Making its UK debut, the highly compact plant with optional integrated pre-screen and three-deck hanging screen was displayed as a fully hybrid electric version capable of offering significant energy savings in secondary or tertiary crushing. Michael Brookshaw, Keestrack's global distributor manager, said: 'We were really impressed by the large international attendance at this year's show. We met numerous expert visitors from all over Europe and our overseas market regions, including the Americas and Asia.'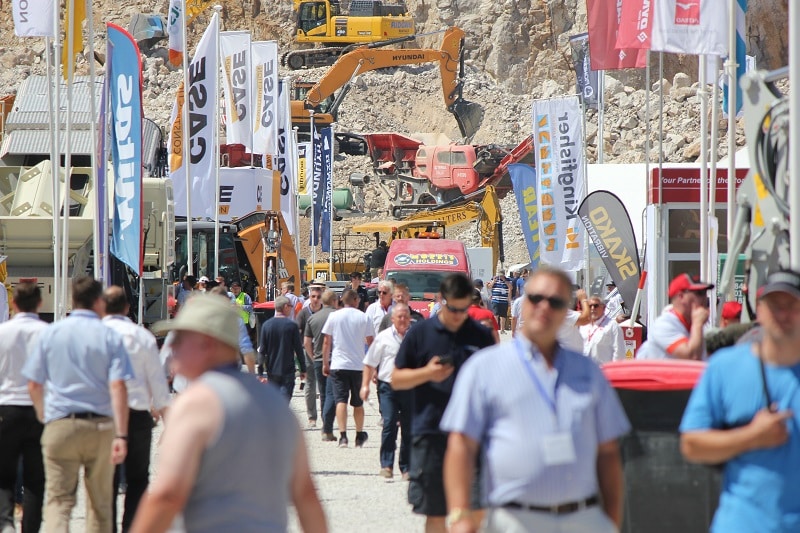 Case Construction Equipment were equally positive about the benefits of exhibiting at this year's event, as Crispin Turner, marketing manager for Case Northern Europe, explained: 'We had a very good show and were incredibly busy throughout – helped, of course, by the fine weather. It is key for us to exhibit at Hillhead because it is the premier event for the quarrying and construction equipment industries.
On the Atlas Copco stand, marketing assistant Rebecca Donovan said Hillhead 2018 was the perfect show for bringing people up to speed with the company's extensive line of new products, from generators and portable compressors to pumps and lighting towers. 'This is my first ever Hillhead and I have been particularly impressed with the scale and quality of visitors to our stand,' she commented. 'It is a unique trade show, but more importantly it gives us an opportunity to build relationships with prospective and existing customers. We've had a lot of top-level people on the stand enquiring about our new technologies and we have a number of good leads to follow up. Overall, it has been a fantastic show.'
Also attending Hillhead for the first time, recently formed Epiroc (formerly part of Atlas Copco) offered visitors the chance to view their SpeedCut 100 diamond wire cutting machine aimed at the dimension stone industry, alongside hydraulic breakers from the marketing-leading SB range right up to the HB 10000, which is said to be the largest breaker in the world. Emma Crump, product-marketing manager (hydraulic attachment tools) for Epiroc, said the show was very positive with the company's new brand identity and recently rebranded products. 'Following our separation from Atlas Copco, it was important to send out the message to customers that Epiroc products come from the same production, distribution and sales centres as they did under the Atlas Copco name,' she commented.
Another exhibitor who used this year's Hillhead show to unveil their new brand identity were Brammer Buck & Hickman, one of the UK's leading industrial supplies specialists. The company's brighter and bolder logo has been designed to further unify the Brammer and Buck & Hickman brands and to create a simpler and more modern brand identity. Chris McLaren, national key account manager – aggregates sector, for Brammer Buck & Hickman, said: 'For me, Hillhead is the best trade fair to capture an audience; the size and scale of this show are outstanding. We couldn't have asked for a better venue to launch our new brand logo and we hope to reinforce the brand in the minds of new and existing customers. The visitor response to the vast range of products we supply has, again, been tremendous.'
Echoing these sentiments was Ian Griffiths, managing director of Berkshire Engineering Supplies, who decided to relocate and take a bigger stand at this year's Hillhead. 'We took the decision to book a larger plot just outside the Registration Pavilion to showcase the full spectrum of products that we offer and it has clearly paid dividends,' he said. 'Visitor footfall on our stand has increased enormously and, as a result, we've received numerous leads, some of which will hopefully be turned into orders.'
No Hillhead show would be complete without its working demonstrations. Indeed, the sights and sounds of the various live demonstration areas set in a real quarry are what make the show unique. Having the opportunity to demonstrate and witness plant and equipment doing a real 'job of work' in an actual quarry environment is invaluable for both exhibitors and visitors alike, and this year there was more live action than ever with more than 80 machines in action in Hillhead's four demo areas, with several companies putting on demonstrations for the first time, alongside a whole host of regulars. The Quarry Face demonstration area alone – always one of Hillhead's biggest attractions – hosted more than 35 machines, including mobile crushers, excavators, wheel loaders, dumptrucks, dozers, cold planers, hydraulic breakers, screening buckets and mist cannons.
Hillhead is also well known for attracting visitors from around the world and this year's event was no exception. In fact, 2018 proved to be the most international show to date with visitors from 88 countries contributing to a 28% show-on-show increase in overseas attendees.
TEMA Isenmann were just one exhibitor amongst many who noted that their stand had welcomed more overseas visitors than at previous shows. Marketing manager Darren Bassingthwaighte remarked: 'There seemed to be more international interest in our screening media solutions this year, which shows Hillhead is recognized worldwide. We have welcomed visitors from Australia, Canada, Norway, Iceland and the Falkland Islands.'
Likewise, Reuben Bruce, managing director of Northern Ireland-based Bruce Engineering, was equally full of praise for this year's show and commented on the high-calibre international audience. 'Footfall on the stand was up on previous shows, the number of enquiries was up and the quality of the conversations was also up,' he remarked, adding that his stand had attracted visitors from the UK, France, Germany, Israel and Iran, and even from countries as far afield as South Africa, Australia and New Zealand. Quite apart from the number of visitors, Mr Bruce had further reason to be cheerful, having completed the sale of the BWPOD 100 Bruce WashPod – the centrepiece of the company's stand – during the show.
Summing up this year's show, exhibition director Richard Bradbury said: 'I'm delighted that Hillhead is still setting attendance records 36 years after it was launched and would like to thank all of our exhibitors and visitors for making it our most successful edition yet.'

Source: Hillhead Press