INTERMAT, the international exhibition for equipment and techniques for the construction and materials industries will be held April 2012 in Paris.
– The leading equipment exhibition in 2012
– A favourable global economic climate
– European growth markets
– Pre-INTERMAT
– In 2012, Pre-INTERMAT becomes Pre-INTERMAT Prestige (new)
– 2012 Innovation Awards
– An INTERMAT offering at Abu Dhabi: INTERMAT Middle East
– A website for smartphones (new)

The leading exhibition in 2012
. A global offering and visitors from across the world.
. New and exceptional events.
INTERMAT 2012 will be next year's biggest site equipment and construction machinery event. The world's second largest equipment show, INTERMAT is held every three years. Organized by SE INTERMAT, Cisma, Seimat (an association of international companies providing equipment for public works, mines & quarries, building& lifting) and Comexposium (France's leading exhibition organiser), INTERMAT 2012 will be held in the year following Conexpo, and will benefit from a climate of economic recovery. INTERMAT 2012, France's leading exhibition, with all categories combined, will be a major sector event, attracting an international offering and visitors from around the world. Continuing the tradition begun in 1988, INTERMAT 2012 will offer outstanding creativity and exceptional events to promote the site equipment sector and companies active in the industry.
These events include "Pre-INTERMAT Prestige" and the "Innovation Awards".
A favourable global economic climate
– A return to growth in the North American market
– Optimism among leading manufacturers
The construction sector, and the equipment industry in particular, experienced a major downturn in recent years. But while Western economies were experiencing a sluggish business climate, Asia was enjoying strong growth. The global economy is now back on track, with positive forecasts for 2011, and the prospect of dynamic market conditions in 2012.
The American equipment market, which went into recession before the European sector, returned to growth in 2010, with a 21% rise in per unit sales, according to estimates by Manfredi & Associates.
The trend will continue through 2011, with a 14% growth rate, according to the same source. Figures from three of the sector's leading companies confirm this return to growth.
Caterpillar, the global leader, is forecasting growth driven by rising demand in developing countries, the improvement of the North American and European economies, and an increase in orders in the mines and quarries sector to top $50 billion in 2011. It is also predicting a rise in sales by dealers in the equipment leasing business. Volvo Construction Equipment reports that the equipment market is experiencing a period of strong recovery. As its CEO, Olof Persson, explains, "We ended 2010 strongly". Volvo has also pointed out that this return to growth has been driven mainly by demand from BRIC countries, but also from Europe and North America. The Terex Group benefited from this upward trend in 2010: its CEO, Ron DeFeo, forecasts a rise in sales from 13% to 22% in 2011.
European growth markets
– Growth in 2012 for Europe
– Major investment in equipment in France in 2012
Euroconstruct has called 2011 the "Year of change" with a slight contraction in the construction market of 0.1%, with trends varying according to each country. Central European countries, according to this organization, have led the rest of the continent in terms of higher demand. Euroconstruct predicts a return to growth for European markets in 2012.
According to Euroconstruct, the Irish and Spanish markets will remain sluggish in 2011. Northern European countries will, in contrast, enjoy strong growth. Out of the biggest European markets, France is expected to be the front runner in growth terms, surpassing both Germany and Italy.
Following several difficult years, a number of French federations representing entrepreneurs in the public works sector have issued more conservative estimates for the year ahead. However, in terms of the sale and leasing of equipment, it's all systems go, with sales up 23% in 2010. Constructors are expecting a rise of 15% in 2011. Alain Rosaz, chairman of Seimat, the French association of construction equipment importers, is predicting that investment in equipment will begin to rise in
2011, with stronger growth in 2012.
Journalists from around the world to attend Pre-INTERMAT
. More than 200 specialist international journalists in Paris
. Equipment previews
. The Carrousel du Louvre, a prestigious venue
The "Pre-INTERMAT" is traditionally held at the beginning of the year, three months before the show. This event allows exhibitors to preview their latest products to be displayed on their stand at INTERMAT to some two hundred specialist journalists from around the world. The Carrousel du Louvre, a prestigious venue located close to the famous Palais and Musée du Louvre, has been chosen to host "Pre-INTERMAT 2012". In these prestigious surroundings, during their working visit to the capital, journalists will have the opportunity to attend a truly exceptional event, "Pre-INTERMAT Prestige". The results of the INTERMAT 2012 "Innovation Awards" will also be announced during "Pre-INTERMAT".
In 2012, "Pre-INTERMAT" becomes "Pre-INTERMAT Prestige": a construction summit
– A top quality event
– Attended by a complete range of construction, political, economic and technical stakeholders.
INTERMAT 2012 is the only professional event devoted to construction equipment capable of organizing such a prestigious event. Pre-INTERMAT Prestige will bring together supply and demand in the equipment sector at the very highest level. Leading figures from the international and French construction sector will be attending the Carroussel du Louvre event, along with key economic, political and economic players:
– Mr. Guillaume Poitrinal, chairman of the Unibail-Rodamco Group, Europe's leading commercial property company, plus eminent representatives of three of the biggest international construction groups,
– Mr. Patrick Bernasconi – Chairman of France's National Federation of Public Works.
Also taking part in the event will be a number of the construction industry's key political, economic
and intellectual players:
– a European commissioner,
– representatives of French and German employers,
– Mr. Christian de Portzamparc, internationally-renowned architect and town planner. Christian de
Portzamparc was awarded the "Pritzker Architecture Prize" in 1994, the "Nobel Prize" of architecture. This world-famous architect holds the "artistic design" chair at the Collège de France, a prestigious educational institution, unique anywhere in the world.
The moderator of this meeting will be:
Mr. Jacques Attali, world-renowned economist and intellectual, a doctor of economic sciences, professor and writer. He was special advisor to the President of the French Republic between 1981 and 1991, and the first president of the European Bank for Reconstruction and Development.
For the first time, INTERMAT is inviting leading players from the construction sector to take part in an unprecedented foresight event exploring innovation, training and sustainable development.
The "Innovation Awards": research and development in the spotlight
– Rewarding innovation
– An international jury
– Sustainable development in the spotlight
Construction machinery manufacturers traditionally wait until INTERMAT before presenting, often as a world exclusive, the innovations produced by their research and development departments.
INTERMAT 2012 is set to be a showcase for the sector's inventiveness.
The aim of the "Innovation Awards" is to reward the most innovative equipment and techniques from among those submitted to the jury.
The 2012 competition will give pride of place to protecting the environment, including eco-design, responsible management, lower energy consumption and pollution, the conservation of ecosystems
and biodiversity, thanks to our "Sustainable Development Prize".
More than 100 submissions are expected for the 5th Innovation Awards.
The 2012 "Innovation Awards" jury, under the chairmanship of the FNTP, the French National Federation of Public Works, will bring together representatives of European construction and public works companies, technical directors, equipment directors, leasing companies and researchers.
The following people have been approached to sit on the jury:
– FR – Michel Lallement, Vice–Chairman of the Innovation Awards 2012, President of France's civil-engineering trade syndicate.
– FR – Pascal Lemoine, Technology and Research Director at the FNTP.
– FR – Mr. Jean-Michel Bordes, Deputy Director, Equipment at Eiffage Construction
– FR – Mr. Michel Ducasse, Director of Technical Resources, Quality, Environment and Procurement at Eurovia
– FR – Mr. Jean-Paul Dury, Chairman of the Compagnie Francilienne d'Equipement, a major French leasing company.
– EU – A representative of the ERA (European Rental Association).
– SP – Mr. Ricardo Cortés, Technical Director of SEOPAN – the Spanish federation of construction companies – also a member of the FIEC (Europe).
– IT – Mr. Roberto Paoluzzi, Director of IMAMOTER (Instituto Per La Meccanizzazione Agricola E Movimento Terra), for applied research.
– IT – Mr. Claudio Panizio, Manager of Technology, Equipment and Machines Division at the Società Italiana per Condotte d'Acqua Spa, member of the AGI.
– B – Mr. Dirk Stevens from e.s.v SODEMAT.
– GER – a representative of the German construction company.
The awards will be announced to journalists from the international press on January 13, 2012 during Pre-INTERMAT Prestige, giving the event an international scope. The prizes will be awarded on the opening day of the show (April 16, 2012).
A global offering for international customers: advanced marketing
– The world's leading companies will be attending INTERMAT 2012
– Some 200,000 visitors
INTERMAT 2012 is expected to attract over 200,000 visitors – compared with 1,500 exhibitors and some 185,000 visitors in 2009 (including 33% from outside France).
The INTERMAT marketing campaign is in full swing. The INTERMAT team has traveled to Japan, Korea, China, Turkey and Europe to meet with customers. And the world road trip continues! All the
"major" international players in the construction equipment sector are once again set to place their trust in INTERMAT, and the following companies have already confirmed their attendance in 2012:
Ammann, Bauer, Bobcat Doosan, Caterpillar, Case New Holland, Groupe Fayat, Haulotte Group, Hitachi, JCB, Komatsu, Liebherr, Loxam, Mecalac Ahlmann, Manitowoc, Peri, Sandvik, Schwing Stetter, Soilmec, Volvo, Wirtgen, Wacker Neuson and many more.
A complete range of services covering all fields of construction expertise: Earthmoving, Components/equipment & Accessories, Lifting and Handling, Concrete/ scaffolding/ formwork, Drilling/boring, Roads, Mines and quarries/materials processing/recycling, Transport, Engineering and Services.
An INTERMAT offering at Abu Dhabi: INTERMAT Middle East
– A new business platform for high-level decision-making professionals in the construction sector  .
– A region rich in infrastructure projects .
– Now an annual event for the MENA zone.
The first INTERMAT Middle East,  the international exhibition for machinery, materials & equipment for construction & infrastructure, was held in Abu Dhabi from 28 to 30 March 2011 colocated with the "Arabian Construction Week".
The event was targeted at the main decision-makers in the construction sector and was attended by around 3200 buyers and opinion leaders.
The first edition of the exhibition was seen as satisfactory by the vast majority of the exhibitors who placed their trust in this new event and it exhibition attracted visitors of a high calibre. This was due to the presence of a number of construction company directors, as well as representatives of government and municipal authorities on transport, ports and airports, project managers, machinery and equipment manufacturers and distributors, and wholesalers and importers of building materials and vehicles. Visitors came from a number of different countries: Algeria, Saudi Arabia, Bahrain, Egypt, United Arab Emirates, Jordan, Iran, Kuwait, the Lebanon, Morocco, Oman, Qatar, Turkey and many others.
Multimedia: a website for smartphones
– Smartphone version with QR code connection
The new INTERMAT website gives exhibitors and visitors all the information they need to organize their participation in or visit to INTERMAT 2012.
The website can be consulted on a computer or smartphone, in a dedicated version. Thanks to a QR Code, a code identifiable via the smartphone camera, the user is automatically directed to the INTERMAT website in its mobile version.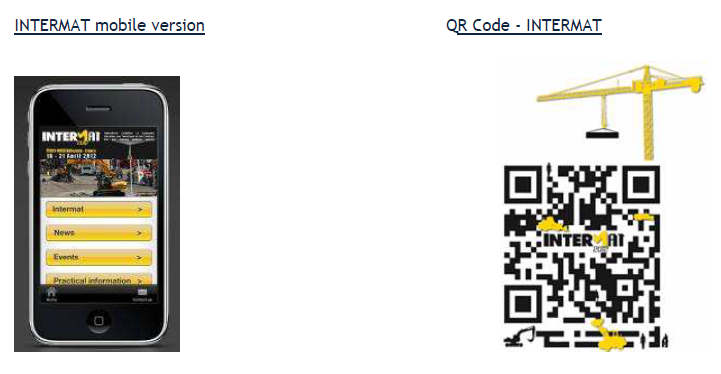 Source: Intermat Press Room