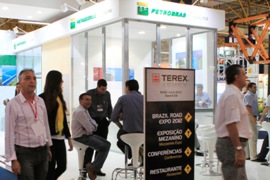 The market for road and highway infrastructure is already counting down to the second edition of Brazil Road Expo – International Paving Technology Road Construction Industry Show – which happens April 02 to 04, 2012 in the Blue Pavilion of Expo Center Norte, in São Paulo. Comprised of trade show and conference program, the event will have 250 exhibitors that will showcase the latest trends and innovations for the urban roads and highways to be more efficient and secure. The number is 47% larger than the premiere edition which put together 170 exhibitors.
Brazil Road Expo 2012 will take place in a time of great demand for infrastructure works in the country, which are becoming more urgent with the approachof both the World Cup in 2014 and the 2016 Olympic Games. "Importantly, these demands go far beyond these major sporting events to come. The Brazilian infrastructure has many obstacles that need to be overcome. This is crucial for us to continue on a path of sustainable growth that allows Brazil to replace the status of emerging country by that of a rich country," argues the CEO of the Quartier Feiras, Aldair Colombo.
And recent numbers confirm the words of the executive, especially with regard to road and highway infrastructure. Of the approximately 1.8 million kilometers of highways existing in Brazil, only 13% are paved. Not to mention the new highways that need to be open and urban roads.
Another fact that highlights the great demand for highway works was appointed by a Brazilian survey conducted in 2010 by the National Transportation Confederation (CNT): more than 56% of the paved highway network needs interventions, which include resurfacing, signage or adequacy of implementation of information and monitoring systems, etc.
An example of "new highway" is the northern section of the Mario Covas Ring Highway, which had environmental licensing approved in late June and whose works should start in 2011. The nearly over 44 km of the highway, which will still be auctioned, are budgeted at R$ 5.8 billion.
The event
Brazil Road Expo 2012 will again be a meeting point between the main players in the infrastructure market of South America such as the premiere edition that received 9,122 professional visitors, working in engineering, construction companies, highway and other companies. For the second edition, more than 12,000 visitors are expected, an expected increase of 32%.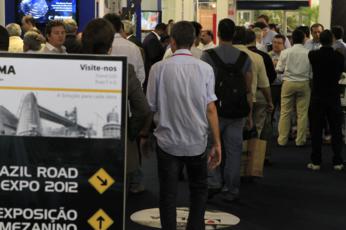 "Brazil Road Expo was one of the best events that we participated in. The professionals who visited our booth knew exactly what they sought", testified Jorge Gloria, director of Comingersoll, company that has secured space in Brazil Road Expo 2012. "The confirmation of Petrobras Asfaltos as sponsor of the second edition of the BRE is, without a doubt, a clear proof of the success of the event," added the executive director of Quartier Feiras, Guilherme Ramos.
In addition to exhibiting companies, the sector entities also celebrated the results of the event and are already preparing for the next edition. "BRE 2011 exceeded our expectations and therefore we see a lot of confidence with the realization of BRE 2012. The seminar had a highly qualified audience and with the warm-up of the market we are already experiencing in the beginning of the second half of the year, we anticipate an even greater interest in issues to be addressed in the next edition of the event," says the president of ABRASFE (Associação Brasileira de Empresas de Fôrmas e Escoramentos), Harold Miller Junior.
"In the first edition, BRE was the most sought-after event of the sector market and this eventually resulted in a queue of 40 companies. For this reason we decided to expand the exhibition area by 36% by moving the event to the 15 thousand square meters of the Blue Pavilion at Center Norte," said Guilherme Ramos.
In addition to solutions for products and equipment for paving, signage, slope retention, construction and maintenance of bridges, viaducts and tunnels, the exhibiting companies of Brazil Road Expo will present various types of machines for sale or lease, aimed at applications such as earth moving, compacting, leveling, recycling of asphalt or concrete, cut and bend of steel, among others.
Congress
Alongside the exhibition of the latest solutions for construction, maintenance and management of roads and highways, BRE has Brazil Road Summit, an important
technical forum that enables the technology transfer and exchange of best practices.
In addition to seminars on asphalt paving; concrete paving; bridges, viaducts and tunnels; formwork and shoring; geosynthetics and geotechnical engineering; and others – as in the first edition, the 2012 Brazil Road Summit will feature programs related to topics such as signaling, monitoring, non-destructive methods (MND), highway drainage, slope retention, etc.
Service
Brazil Road Expo (2nd Edition) – International Event of Road and Highway Infrastructure
Date: April 02 to 04, 2012
Location: Expo Center Norte – São Paulo / SP
www.brazilroadexpo.com.br