With population of 25 million, Basra and Southern Iraq region attract investors as the trading volume increases rapidly and the region now offers more secure environment. In 2011, Basrah, the commercial capital of Iraq, will host number of important trade events, BASRAHEXPO Fairs, with the support of Basra Governor's Office, Basra Trade Chamber and the State Company for Iraqi Fairs.
Basra is Iraq's only port, with its 2.8 million population, it is considered as one of the most strategic cities in the world, and it is located at the gateway of the Southern Iraqi market, reaching 25 million people. The city is built on the coasts of Shatt Al-Arab River in Iraq and it has the largest transportation network close to the Persian Gulf. Basra is located at the border point of oil pipe-lines and is the home to the Eden Garden, the cradle of civilizations. The region's most developed industry is its oil refineries, and tankers that make overseas transport reach Al-Basrah through the Roka Canal. In recent months, the inflation rate has been steadily declining in parallel to the growth in the Iraqi economy. Since foreign currency rates were stabilized, the purchasing power has increased significantly and the private sector has obviously become more active.
Basrah's heart beat at 2nd International BASRAHEXPO
First Basrah Trade Expo 2010 welcomed 76 companies from 11 different countries and provided a huge platform for international Business partnerships. During the exhibition, approximately $650 million trading volume emerged and with the effect of the fair, annual trading volume of 2010 is estimated as $1,5 billion. The visitor number reached to 14.000, which also included Chairman of Basra Provincial Council, local administrators, investment commission and municipality members.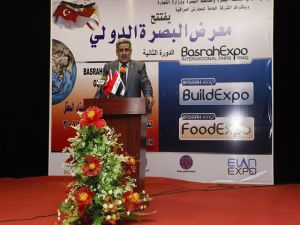 In 2011, BASRAHEXPO Fairs were organized in April in Basrah, the gate of the Middle Eastern Market. BASRAHEXPO comprises construction materials, public services, food products and Technologies, as well as decoration equipments. The fairs offer wide opportunities to all types of investors in the Persian Gulf, the gateway to the Iraqi market, whose business volume in the construction sector today has reached almost $300 billion.
Primary commodities exported in the region are oil products, grape and cereals. In the Iraqi market there is a great demand for food products, ready-made clothing as well as construction and building materials.
BASRAHEXPO Fairs offer a unique occasion to enter to this virgin market for companies who look for new markets and new investment opportunities. The fairs are sponsored by Basrah Governor, Basrah Chamber of Commerce, State Company for Iraqi Fairs and Iraqi Import and Export Association.
BasrahExpo Trade Fairs / www.basrahexpo.com

Source:  Basrah Exhibition News Room